Are you as obsessed with the new series Belgravia as I am? Four episodes have now aired on Foxtel (or catch-up on their new streaming app Binge) and I have definitely  been left with the cold reality that my  life is not a 19th century romance.
Fortunately, Romance.com.au has a swathe of Julia London's historical romance novels to fill that void. London provides an enthralling account of love and adventure in the 1800s. Her rich descriptions dismantle the barriers of time and place you side by side with her compelling characters. If you're feeling bereft now that Belgravia has only 2 episodes left to air we recommend you take your pick from our list of London's spellbinding novels and begin your next adventure now.
The Scoundrel And The Debutante by Julia London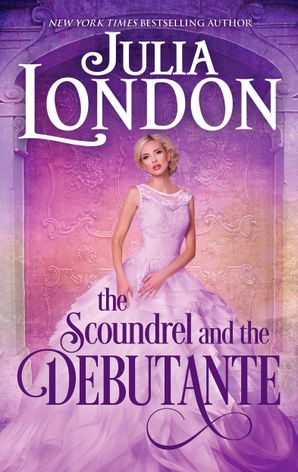 "Julia London strikes gold again. Warm, witty and decidedly wicked–great entertainment." –#1 New York Times bestselling author Stephanie Laurens on The Devil Takes a Bride
The dust of the Cabot sisters' shocking plans to rescue their family from certain ruin may have settled, but Prudence Cabot is left standing in the rubble of scandal. Now regarded as an unsuitable bride, she's tainted among the ton. Yet this unwilling wallflower is ripe for her own adventure. And when an irresistibly sexy American stranger on a desperate mission enlists her help, she simply can't deny the temptation.
The fate of Roan Matheson's family depends on how quickly he can find his runaway sister and persuade her to return to her betrothed. Scouring the rustic English countryside with the sensually wicked Prudence at his side–and in his bed–he's out of his element. But once Roan has a taste of the sizzling passion that can lead to forever, he must choose between his heart's obligations and its forbidden desires.
Indulge with this sensual new tale in New York Times bestselling author Julia London's acclaimed Cabot Sisters series!
The Devil Takes A Bride by Julia London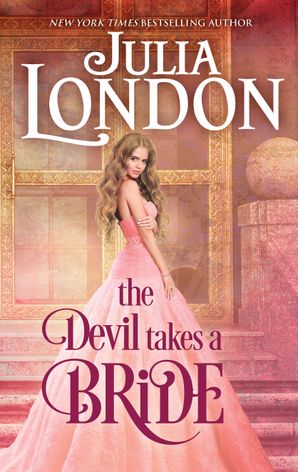 From powerful love to sizzling passion, Julia London always delivers an incomparable reading experience. Returning to her acclaimed Cabot Sisters series, we meet an earl who can only be tamed by one wicked lady…
A plan born of desperation…
Once the toast of society, Grace Cabot and her sisters now await the shame of losing high status and fine luxuries upon the death of the Earl of Beckington. The dire circumstances are inevitable unless, of course, Grace's wicked plot to seduce a wealthy viscount into marriage goes off without a single hitch. But once a stolen embrace with the wrong man leads her to be discovered in the arms of Jeffrey, the Earl of Merryton, her plan takes a most unexpected–and scorching–twist.
…and altered by passion
Governed by routine and ruled by duty, Jeffrey had no desire for a wife before he succumbed to Grace's temptation. Though his golden–haired, in–name–only bride is the definition of disorder, he can't resist wanting her in every way. But once her secrets meet his, society might consider their lives to be ruined beyond repair…while Jeffrey might just see it as a new beginning.
"London is one of the very best."–Publishers Weekly.
The Trouble With Honour by Julia London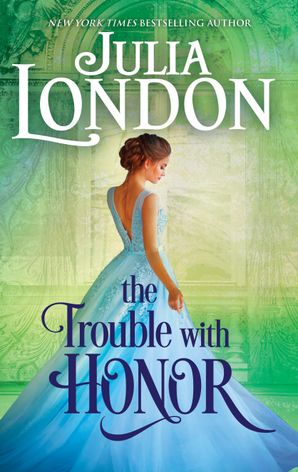 Passion and scandal collide in New York Times bestselling author Julia London's brand–new series about four sisters determined to rescue themselves from ruin…
Desperate times call for daring measures as Honor Cabot, the eldest stepdaughter of the wealthy Earl of Beckington, awaits her family's ruin. Upon the earl's death she and her sisters stand to lose the luxury of their grand home – and their place on the pedestal of society – to their stepbrother and his social–climbing fiancée. Forced to act quickly, Honor makes a devil's bargain with the only rogue in London who can seduce her stepbrother's fiancée out of the Cabots' lives for good.
An illegitimate son of a duke, George Easton was born of scandal and grows his fortune through dangerous risks. But now he and Honor are dabbling in a perilous dance of seduction that puts her reputation and his jaded heart on the line. And as unexpected desire threatens to change the rules of their secret game, the stakes may become too high even for a notorious gambler and a determined, free–spirited debutante to handle.
"London knows how to keep pages turning." – Publishers Weekly
"Julia London writes vibrant, emotional stories and sexy, richly–drawn characters." – New York Times bestselling author Madeline Hunter
Wild Wicked Scot by Julia London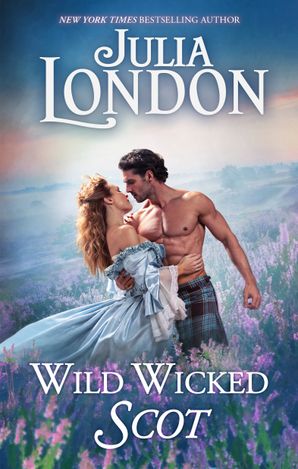 Wicked intrigue unfolds as an unlikely marriage leads to a path of risky desire in the lush, green Scottish Highlands
Born into riches and groomed in English luxury, Margot Armstrong didn't belong in a Scottish chieftain's devil-may-care world. Three years ago she fled their marriage of convenience and hasn't looked back–except to relive the moments spent in wild, rugged Arran McKenzie's passionate embrace. But as their respective countries' fragile unity threatens to unravel, Margot must return to her husband to uncover his role in the treachery before her family can be accused of it.
Red-haired, green-eyed Margot was Arran's beautiful bride. Her loss has haunted him, but her return threatens everything he has gained. As the Highland mists carry whispers of an English plot to seize McKenzie territory, he must outmaneuver her in games of espionageand seduction. But even as their secrets tangle together, there's nothing to prevent love from capturing them both and leading them straight into danger.
Sinful Scottish Laird by Julia London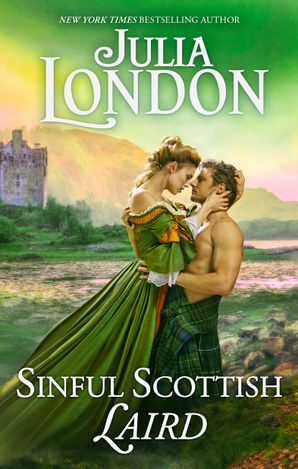 A young widow puts her sexy suitors to the test in New York Times bestselling author Julia London's scintillating return to the idyllic Scottish Highlands.
Widowed and forced to remarry in three years' time or forfeit her son's inheritance, Daisy Bristol, Lady Chatwick, has plenty of suitors vying for her hand…and her fortune. But a letter from a long–lost love sends Daisy and her young son to her Scottish Highland estate to buy time for his return. Along the way she encounters the powerful Cailean Mackenzie, laird of Arrandale and a notorious smuggler, and she is utterly–though unwillingly–bewitched.
Cailean has no use for any Sassenach in his glen. But Daisy's brazen, flirtatious nature and alluring beauty intrigue him. When her first love appears unexpectedly at her estate, Cailean knows that a passionate woman like Daisy cannot marry this man. And to prevent the union, Cailean must put his own life at risk to win her heart.
Hard-Hearted Highlander by Julia London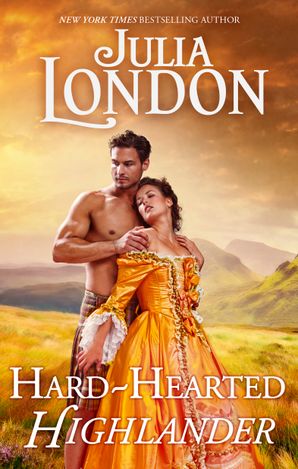 An indomitable governess…a brooding Highlander…a forbidden affair…
An ill–fated elopement cost English–born governess Bernadette Kent her reputation, her fickle lover and any chance of a future match. She has nothing left to fear – not even the bitter, dangerously handsome Scot due to marry her young charge. Naive wallflower Avaline is terrified to wed Rabbie Mackenzie, but if he sends her home, she will be ruined. Bernadette's solution: convince Rabbie to get Avaline to cry off…while ignoring her own traitorous attraction to him.
A forced engagement to an Englishwoman is a hard pill for any Scot to swallow. It's even worse when the fiancee in question is a delicate, foolish young miss unlike her spirited, quick–witted governess. Sparring with Bernadette brings passion and light back to Rabbie's life after the failed Jacobite uprising. His clan's future depends upon his match to another, but how can any Highlander forsake a love that stirs his heart and soul?
Devil In Tartan by Julia London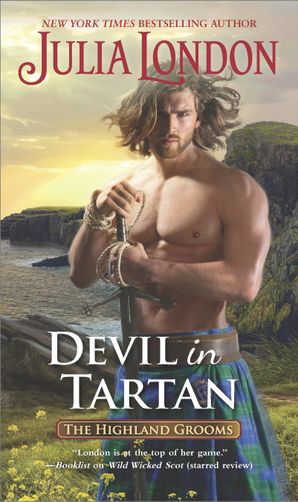 Peril and passion on enemy seas…
Lottie Livingstone bears the weight of an island on her shoulders. Under threat of losing their home, she and her clan take to the seas to sell a shipload of illegal whiskey. When an attack leaves them vulnerable, she transforms from a maiden daughter to a clever warrior. For survival, she orchestrates the siege of a rival's ship and now holds the devilish Scottish pirate Aulay Mackenzie under her command.
Tied, captive and forced to watch a stunning siren captain the Mackenzie ship, Aulay burns with the desire to seize control – of the ship and Lottie. He has resigned himself to a life of solitude on the open seas, but her beauty tantalises him to the point of fiery despair. As authorities and enemies close in, he is torn between surrendering her to justice and defending her from assailants. He'll lose her forever, unless he's willing to sacrifice the unimaginable…
Seduced By A Scot by Julia London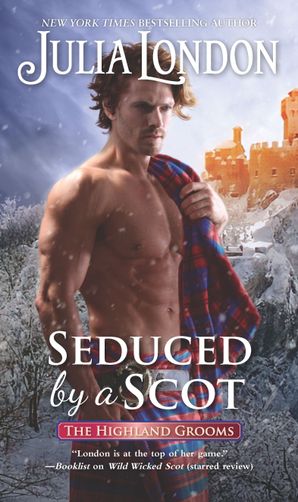 There's no matchmaking an unruly heart…
When a prominent Scottish family faces a major scandal weeks before their daughter's wedding, they turn in desperation to the enigmatic fixer for the aristocracy, Nichol Bain. Remarkably skilled at making high-profile problems go away, Nichol understands the issue immediately. The family's raven-haired ward, Maura Darby, has caught the wandering eye — and rather untoward advances — of the groom.
Nichol assuredly escorts Maura toward his proposed solution: an aging bachelor for her to marry. But rebellious Maura has no interest in marrying a stranger, especially when her handsome travelling companion has captivated her so completely. Thankfully, Nichol loves a challenge, but travelling with the bold and brash Maura has him viewing her as far more than somebody's problem. Which raises a much bigger issue — how can he possibly elude disaster when the heart of the problem is his own?
Tempting the Laird by Julia London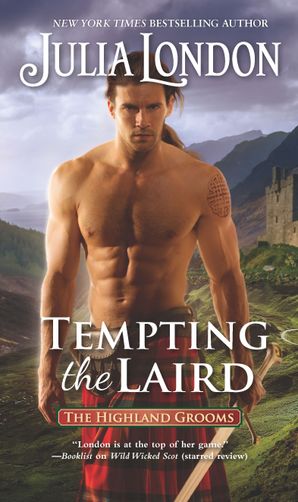 Mystery and desire cloak the Scottish Highlands
Unruly. Unmarried. Unapologetic. Catriona Mackenzie's reputation precedes her everywhere she goes. Her beloved late aunt Zelda taught Cat to live out loud and speak her mind, and that's exactly what she does when Zelda's legacy—a refuge for women in need—comes under fire. When her quest puts her in the path of the disturbingly mysterious Hamlin Graham, Duke of Montrose, Cat is soon caught up in the provocative rumors surrounding the dark duke. Never one to retreat, Cat boldly goes where no one else has dared for answers.
Shrouded in secrets, a hostage of lies, Hamlin must endure the fear and suspicion of those who believe he is a murderer. The sudden disappearance of his wife and the truth he keeps silent are a risk to his chances at earning a coveted parliamentary seat. But he's kept his affairs tightly held until a woman with sparkling eyes and brazen determination appears unexpectedly in his life. Deadly allegations might be his downfall, but his unleashed passion could be the duke's ultimate undoing.
The Princess Plan by Julia London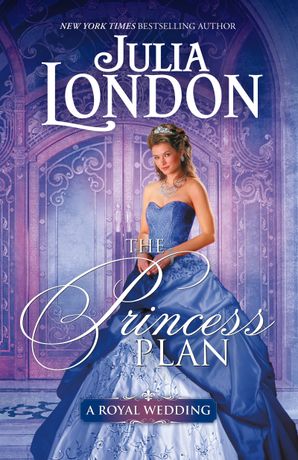 Princes have pomp and glory — not crushes on commoners.
Nothing gets the tongues of London's high society wagging like a good scandal. And when the personal secretary of the visiting Prince Sebastian of Alucia is found murdered, it's all anyone can talk about, including Eliza Tricklebank. Her unapologetic gossip gazette has benefited from an anonymous tip about the crime, prompting Sebastian to take an interest in playing detective — and an even greater interest in Eliza.
With a trade deal on the line and mounting pressure to secure a noble bride, there's nothing more salacious than a prince dallying with a commoner. Sebastian finds Eliza's contrary manner as frustrating as it is seductive, but they'll have to work together if they're going to catch the culprit. And when things heat up behind closed doors, it's the prince who'll have to decide what comes first — his country or his heart.
By Tasarla Harman