A Discovery of Witches is a fantasy TV show, just about the launch its third season in Australia. The story follows Diana Bishop, a historian who discovers a bewitched manuscript in the Bodleian library. As she attempts to unravel the secrets this book holds about magical creatures, she is forced back into the world of magic, full of vampires, daemons, witches and forbidden love. Forming an unlikely alliance, geneticist and vampire Matthew Clairmont helps Diana to attempt to protect the book and solve the riddles within, while at the same time dodging threats from the magical creature world.
Here are 11 reasons you should binge-watch this show IMMEDIATELY.
1. It's based on a fantastic book series
A Discovery of Witches is a TV adaptation of the 'All Souls' trilogy by author Deborah Harkness. Here at Romance.com.au we love pretty much anything that's based on a book, but this adaptation is particularly great. The books are pretty epic too, although they're hefty tomes.
2. It stars Australian actress Teresa Palmer
You might remember the fabulous Teresa Palmer from movies like Hacksaw Ridge, Warm Bodies or the recent Ride Like A Girl. In A Discovery of Witches she plays Dr Diana Bishop, a historian (and sometime witch) who discovers an ancient manuscript that unravels her very existence.
3. MATTHEW GOODE
British actor Matthew Goode plays a sexy vampire. Need I say more?
4. Vampires are sexy
Twilight taught us best, vampires ARE sexy.
5. The Oxford setting
The entire first season is set amongst the gorgeous buildings and courtyards of Oxford University, where main characters Matthew and Diana work. The Gothicness of the setting really helps to bring to life the magic and horror of the series (and it's heightened when the show travels to Venice and a French castle)!
6. **spoiler alert** TIME TRAVEL
***SPOILERS ABOUND** at the end of season 1 Matthew and Diana have to travel to Elizabethan England, where most of the season takes place. It's such a fantastic way for the show to grow into its second season and provides an excellent backdrop for elaborate costumes and sets (and so much DRAMA).
7. Badass witches
Is there anything better than a TV show or movie that stars strong independent witchy women?! Yes, not all the witches in this show are women, but the ones who are are seriously epic (and the show features some epic spell casting scenes).
8. The political intrigue
The show revolves around a triad council of witches, demons and vampires who have had a tenuous alliance for centuries… that is until Matthew and Diana break all the rules by falling in love. The political intrigue, alliances and betrayals that ensue are a key reason this show is so compulsively watchable.
9. Epic plot twists
Following on from this, the plot twists in this show just keep coming! You will never guess what's about to happen next, and each episode is a totally wild ride. We mentioned the time travel right?
10. It's totally bingeable
With a compulsive plot, and fairly short 8-episode seasons, this is the kind of show you can pop on on a rainy weekend and just binge the whole thing through!
11. The Romance
Here at Romance.com.au we have a LOT of opinions about romance. And the romantic subplot of this show is seriously decadent. An entire TV show about the forbidden love between a vampire and a witch? Who can't help but fall for one another despite the obstacles between them? And played with tangible chemistry by Matthew Goode and Teresa Palmer?! SIGN US UP!
You can watch A Discovery of Witches in Australia on Binge
Love paranormal romance? Don't miss Gena Showalter's new book The Immortal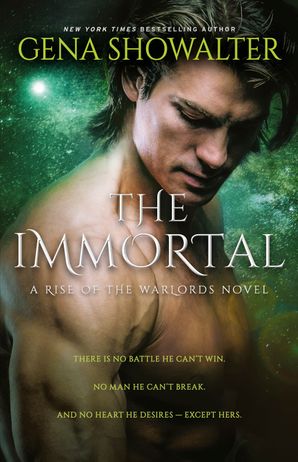 New York Times bestselling author Gena Showalter delivers The Immortal, the second dark and sexy book in her Rise of the Warlords series, featuring a cold and merciless assassin and a stubborn harpy warrior…one fated to die by the other's hand.
Halo Phaninon, assassin of gods, is as cold and merciless as a machine. For victory, he will cross any line. When tasked to kill twelve of mythology's fiercest monsters in twenty-four hours, Halo eagerly accepts. Except, each morning he awakens to the same day, forced to relive it over and over again. Only one other person retains their memory — the beauty who threatens his iron control.
Ophelia the Flunk Out hates her disaster of a life. She's the family disappointment, a harpy warrior without a kill and powerless — or is she? Every night she's doomed to repeat her own murder, but every morning she rises to spar with Halo, a ruthless warlord increasingly determined to save her…and lure her to his bed.
Halo's insatiable desire for the stubborn Ophelia drives him wild…and he only craves more. If he remains in the time loop, they stay together. But if he escapes, they lose each other forever.
Featured image credit: Sky One