We sat down to chat with Australian Mills & Boon Modern author Kali Anthony.

1. Describe your latest book in 5 words
Family feud with star-crossed lovers.
2. What's the best piece of advice about writing have you ever been given?
There are so many great pieces of advice, but the best I have ever received is, "Finish the book." The only way you're going to learn how to write a beginning, middle and end is to write from start to finish. There is only one story I've put aside, and I did that because it was a long contemporary romance and I wanted to write for Mills and Boon, so it didn't fit the Modern line. But I love the characters so might get back to it, one day.
3. What is your favourite word in the English language?
Reconnoitre. I heard it for the first time when I was a teenager, on the TV programme Hannay. Had to look up what it meant in the dictionary. I've loved it ever since.
4. If you could have dinner with three of your characters who would you choose and why?
Gosh! I don't yet have that many characters to choose from, at least in books that are published or due to be, so here goes:
Eve Chevalier from Bound as His Business-Deal Bride, which is my upcoming release. She's a woman who would be a great friend to have, because she knows how to keep huge secrets. I'd also love to talk to her about growing roses.
Hannah Barrington who is my current heroine (story to be published June/July 2021). I enjoy painting and she's an artist. I'd love to chat to her about her work and her process.
Christo Callas from Revelations of His Runaway Bride. He's the most uptight of my heroes and I think Eve, Hannah and I would have fun at the dinner, ensuring he stays in line. I'm pretty sure his wife, Thea, would also agree and encourage us to do so!
5. What is your favourite thing to do when you're not writing?
I have two favourite things to do when not writing; reading and gardening. Both are huge escapes for me.
6. What is your favourite type of scene to write?
Without a doubt it's the black moment. I love the high emotion and dredging every shred of it out of my characters. Making them feel there is no way for them to get a happy ending, before (somehow!) delivering it. I like my characters to work hard for what they want. Evil author that I am.
7. What book(s) are you reading lately that you'd recommend to your readers?
If you haven't read Confessions of An Italian Marriage by Dani Collins, you should. I finished it, then read it a second time. What a glorious story. So many surprises it kept me on my toes, and it was a deeply emotional as well. It's one for the keeper shelf.
I've just started Jackie Ashenden's book, The Italian's Final Redemption. It's in a duo with my second story, Bound as His Business-Deal Bride. Jackie is a wonderful author. There's no book of hers I haven't loved, and this is living up to all expectations.
I'm also on a bit of a paranormal bent right now. I always read paranormal romance to kickstart my creativity. I'm reading book five of Gena Showalter's Lords of the Underworld series. If you love paranormal romance, you'll love these.
8. What made you want to become an author?
There wasn't one thing. I always knew I wanted to write and from a young age, would scribble down stories. My mum tried to write for Mills and Boon many years ago. Her two manuscripts were rejected, and she didn't persist, but it made me want to give it a go, so I did!
9. Who are your top 3 literary heroines?
Oh gosh, this is not an easy question! The first for me, is Elizabeth Bennet from Pride and Prejudice. I love the way she didn't take any nonsense from Darcy, adores her family despite their failings and stood up to Lady Catherine De Bourgh. The second is Judith Taverner from Georgette Heyer's Regency Buck. She defies some social norms; drives her own carriage, takes snuff. I read Regency Buck as a school text at fourteen and never forgot Judith's attitude and presence. The third heroine is Lisbeth Salander from Girl with the Dragon Tattoo by Steig Larsson. She's a character who's always stayed with me. Tough. A fighter. An avenger.
10. What is your favourite romantic movie or tv show?
For TV, the BBC version of Pride and Prejudice. When Darcy leapt in the pond, I initially thought, "Hey, that wasn't in the book!" But I've thanked the BBC for that scene ever since. It's a series I still watch when I'm sick, on rainy days, or any time I'm bored. For me, it perfectly encapsulates the book. I might sneak in a move too, in response to this question. Breakfast at Tiffany's. When Holly gets the guy and finds Cat, I ugly cry. Every. Single. Time.
11. What was the first romance novel you ever read?
Regency Buck by Georgette Heyer. It was set as our English text in the eighth grade and had me hooked from the moment I picked it up. I read it every year and still have my school copy, falling apart as it is. It's what made me fall in love with alpha heroes, and strong heroines.
12. Which fictional character do you most want to be?
Another hard question! If you asked me as a teenager, I would have said Nancy Drew. I adored her to pieces. Now, I reckon I'd like to be Stefanie Plum. She's a total shambles but she's got great friends, a loving family and gets to have all sorts of adventures. Plus, two hot guys are vying for her attention. If you want to know, I'm team Ranger…
13. What's your writing schedule? Do you plan your life around your writing or your writing around your life?
I get up at 5.00 am in the morning five to six days a week, to write. On weekdays, I write until 6.30 am, when I start getting myself and the family ready for work and school. On Fridays I don't work, so I spend most of the day (till the kids come home from school) writing if I can. Sunday is the only day I really take a break from it all. Being honest, some days I'm exhausted and sleep in. Other days, I have so much to do in the day job or life generally and I don't get much writing done. That said, I really do try to prioritise my writing over everything else. It's my second job. I have a contract, so I treat it like the work that it is. But I'm also practical. Health comes first so if I really need to catch up on sleep or take a break, I do. There's no point running myself into the ground, because everything falls apart then.
14. What would be something that people would be surprised to know about you?
I was Vice President of community television station, but also was the Director's Assistant on one of the shows, did the make up for another, and sometimes operated a TV camera if they needed an extra hand.
15. What are you working on next?
My third book is a bit of a Cinderella story. The romance is between a Prince and his portrait artist. She's not looking for love, and he's trying to find the perfect princess. In the end, they find each other.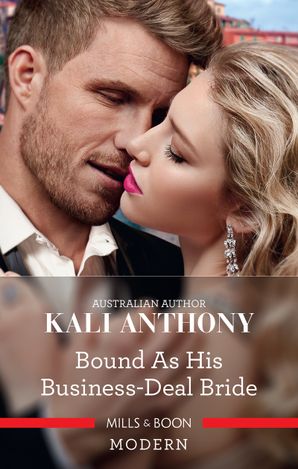 His revenge will only be complete…once she's wearing his ring!
To save her family's company, CEO Eve Chevalier must accept a takeover bid from her rival, Gage Caron. She broke off their hidden relationship seven years ago, so she's fully prepared for him to drive a hard bargain! Only there's one term that isn't up for negotiation…Eve must pose as Gage's fiancée!
Gage needs to rehabilitate his company's image, and the way he sees it, Eve owes him. The white-hot chemistry that burns amid their passionate charade? That was never meant to be part of the deal…
ABOUT KALI ANTHONY
When Kali Anthony read her first romance she realised a few truths; that there can never be too many happy endings, and that one day she'd write them herself. After marrying her own tall, dark and handsome hero in a perfect friends-to-lovers romance, Kali penned her first story. If she isn't battling her cat for access to the keyboard, you can find her wearing vintage clothes, gardening or bushwalking with her husband and children in the rainforests of South-East Queensland.