Author Rachael Johns recaps the first episode of Brooke Blurton's season of The Bachelorette, which premiered last night. Warning, spoilers ahead!
---
The mansion is SO pretty – I wonder if they'd hire it out for a writing retreat?
2. Pretty cool that this is Australia's first bisexual bachelorette – this could get interesting. What will happen if the other contestants are attracted to each other?
3. Even cooler that Brooke is Indigenous, and she enters to the sound of a didgeridoo playing. Loved the Welcome to Country!
4. Brooke has been on this show twice before – first when the Honey Badger was the Bachelor and on Bachelor in Paradise where she was quite smitten with another contestant. Will it be third time lucky or is she just a sucker for punishment?
5. I've only seen one other season of The Bachelorette (Georgia Love's) and Brooke reminds me a little of her. She seems determined and genuine. She's the perfect cocktail of Girl Next Door and Siren.
6. First contestant Holly asks Brooke to slow dance with her. As if she could say no! I feel like this is such an intimate thing and I'd be super uncomfortable doing it with someone I'd only just met. Then again, this is a reality TV show, so I guess anything goes.
7. Gotta love a guy who can both rock a sparkly black and silver dinner jacket and also look totally at home on a ride-on mower. But I think what really reels Brooke in is Darvid's passion for his Persian culture.
8. Is it just me or are half the men on this show carpenters?
9. It's starting to feel very much like this will be a boys against girls thing, rather than each contestant vying for Brooke's love.
10. The dresses are mostly stunning – love Emily's soft blue tulle number. Not so sure about Carissa's gown – there's more of it on the floor than there is on her!
11. I wish we hadn't seen so much slow dancing, so much tea drinking, so much wafting on about rainbows, and spent a little more time getting to know the rest of the contestants instead. The last half were seriously rushed, and I don't feel like I know any of them.
12. For instance, what's with the swimming togs Kirk gave to Brooke? I snorted out loud when he yanked down his trousers and showed the other contestants that he was wearing matching ones, but did he show Brooke too?
13. Beau – photographer/carpenter/builder/narcissist. No thanks!
14. Move over Persian Prince Darvid, Konrad has my heart. At first, I'm unsure about him coming out in tradie clothing but I'm totally won over when he and Brooke make a 'love seat' together for later in the night. Besides, he has a change of clothes for later.
15. Not getting a rose during the rose ceremony is like being the last to be picked for a school sports team, only much worse because you're on national TV.
Three Highs:
The fashion. While I'm not 100% on board with some of the outfits, most of them were spectacular. There were some pretty impressive earrings too! And I like that the guys all showed their individual flair as well.
There was a pony!!! If only we got to see/hear more about the guest Emily brought to meet Brooke. Is it hers? Will we see it again?
All the other contestants being appalled at Jess when she stole Konrad's love seat before he could use it with Brooke, and then encouraging him to go stake his claim. Love the way they were supporting him!
Three Lows:
Jess stealing Konrad's love seat for her one-on-one chat with Brooke.
Jess thinking that stealing Konrad's love seat is 'just a bit of fun'.
Brooke giving Jess a red rose and sending poor Johann home. Although the expression on his face right at the end reminded me of a serial killer, any guy who has the confidence to wear a bright pink suit has a vote from me!
Lingering Thoughts:
I'm pretty sure the only reason Jess is still on the show is because the producers have engineered it. They need someone who will be the 'villain' and she's already causing controversy and is disliked by many of her fellow contestants!
What happened to Jamie-Lee? They said she's sick, so unable to attend the rose ceremony. Did she have too much to drink or is she lovesick? She seemed pretty fine when she was snogging Brooke not too long ago? Then again, I'm pretty sure this 'one night' was filmed over a few days, so maybe she did catch a bug?
I got the feeling that Taje wasn't actually all that excited about being given a rose. Did something happen at the cocktail party that changed her mind about Brooke or going on the show?
My Top Three Picks:
Konrad – he just seems so genuine, down to earth and thoughtful. And although clearly upset, he handled the whole Jess stealing his seat thing with great dignity.
Kirk – there's just something about him that attracts me, and I love that he admitted to being nervous around Brooke because he thinks she's so good-looking.
Taje – I feel like she's the real deal and she has a great depth. I'm looking forward to learning more about her.
My Bottom Three Picks:
Jess – do I really need to explain myself?
Beau – he doesn't need love as he's completely and utterly head over heels with himself.
Holly – I don't like the way she marched out to interrogate Jamie-Lee when she arrived. I think she could be one to cause some trouble.
Who I think Brooke will choose? I have no freaking idea!! It's only day one
---
About the author: Rachael Johns
Rachael Johns, an English teacher by trade and a mum 24/7, is the bestselling ABIA-winning author of The Patterson Girls and a number of other romance and women's fiction books including The Art of Keeping Secrets, The Greatest Gift and Lost Without You. She is currently Australia's leading writer of contemporary relationship stories around women's issues, a genre she has coined 'life-lit'. Rachael lives in the Perth hills with her hyperactive husband, three mostly gorgeous heroes-in-training and a very badly behaved dog. She rarely sleeps and never irons.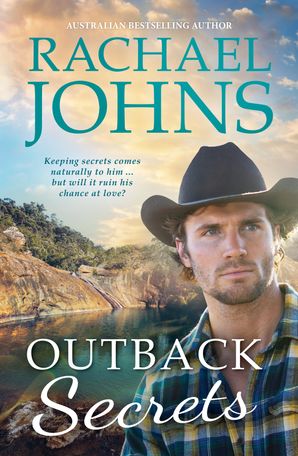 Keeping secrets comes naturally to him … but will it ruin his chance at love?
Liam Castle knows the secrets of everyone in Bunyip Bay. As the owner of the pub, he's heard it all – from marriage proposals and farming disasters to family rifts and everything in between. The locals love to confide in him, but no one knows he's hiding a tragic past.
And he wants to keep it that way.
Agricultural pilot Henrietta Forward lives for her job, choosing work over romance. But when an incident in the air brings Henri home to Bunyip Bay earlier than planned, she finds herself questioning everything she believes about herself.
But Henri's secret isn't her only problem.
Her mother will stop at nothing to have her settled down back in the Bay, and while Henri had always known domesticity wasn't the life for her, now she wonders what her future holds. So when Liam – always the first to lend a hand to those in need – agrees to play along with Henri's scheme to ward off her mother, she has mixed feelings. What happens when a pretend romance starts to feel like the real thing?
Will Henri's demons and Liam's traumatic past prove too great a barrier to love?
Featured Image Credit: Channel 10