We're fast approaching Halloween season, the time for all things spooky and paranormal, so we asked author Leisl Leighton to tell us her top 5 spooky book series to curl up with this Halloween…
---
Pack Bound Series by Leisl Leighton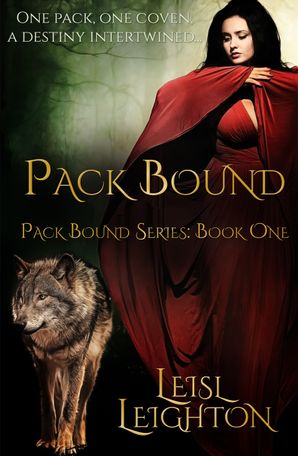 One Pack, one coven, a destiny intertwined. With witches, werewolves, shifters, banshees, magic, romance and mystery all wrapped up in an epic battle between good and evil, set in the Australian countryside, what's not to love about this four-book epic paranormal romance series? Pack Bound, Moon Bound, Shifter Bound and Wolf Bound will keep you on your toes guessing how the witches, weres and shifters will manage to bond with their mates, find their true powers and save the day against an evil that has worked for centuries to destroy them all.
Psy-Changeling Series by Nalini Singh
Epic story-telling and world-building mixed with fascinating characters and hot romance, this series sets the bar for paranormal romance. With 18 full novels and many novellas available to buy already, and more novels to come in this ground-breaking series, there's plenty to fall in love with in Nalini's world where the Psy, Changeling and Human races fight to be top dog and where letting go of emotions has a dangerous new meaning. I dare you not to fall in love with them.
Guild Hunter/Archangel Series by Nalini Singh
Nalini's alternate world, where archangels rule with visceral power and abject fear, jumps off the page and grabs your attention from the very first scene where we meet born hunter Elena as she tracks down a rogue vampire. A 12-book series so far (with many novellas), this is dark paranormal romance at its best. The men are dark and dangerous, the women are more than their equals and their stories are set against a backdrop of sensual danger and mystery that holds you breathless until the very last page.
The Dark-Hunter Series by Sherrilyn Kenyon
Warriors plucked from across time who are given the opportunity at their deaths to be made immortal to fight against the Daimons who threaten the human race, so they can have their revenge on those who wronged them. Oh, but they must give up their souls to a heartless goddess, can only come out at night and will be mistaken for vampires and can never stay with other hunters – the only people who understand them and who they can truly count as friends – before they start to weaken and die. Mix in Greek gods, shapeshifters, ancient mythology and the quest to find their soulmate – the only way they can ever get their soul back and walk again in the daylight – and you have one hell of a ride across over 30 novels. But, perhaps all I have to say is: Acheron. His story alone makes all the rest worth reading. Try them and see what I mean.
Bloodlines Series by Richelle Mead
I know many people would argue the Vampire Academy series is her ultimate work, but while I loved that series, I think Mead really hit her stride with this spin-off series about alchemist and former vampire hater Sydney Sage and her quest to save the vampires she grudgingly befriended in the Vampire Academy series. There is mystery and danger, a fight against prejudice and the challenge to discover and embrace the true source of her powers and who she is meant to be, all while she is trying to find a way to be with the love of her life, bad boy vampire Adrian, whose quest for redemption is everything a bad-boy redemption-quest story should be.
---
Leisl Leighton
Leisl is a tall red head with an overly large imagination. As a child, she identified strongly with Anne of Green Gables. A voracious
reader and a born performer, it came as no surprise to anyone when she did a double major in English Literature and Drama for her
BA, then went on to a career as an actor, singer and dancer, as well as script writer, stage manager and musical director for cabaret
and theatre restaurants (one of which she co-owned and ran for six years).
After starting a family, Leisl stopped performing and instead, began writing the stories that had been plaguing her dreams. Leisl's
stories have won and placed in many competitions in Australia and the US, including the STALI, Golden Opportunities, Heart of the
West, Linda Howard Award of Excellence, Touch of Magic and many others.
Leisl lives in the leafy suburbs of Melbourne with her two beautiful boys, lovely hubby, overly spunky dogs, Buffy and Skye, and
likes to spend time with family and friends. She is addicted to the Syfy channel, and her shelves are full of fantasy and paranormal
books and scifi DVDs. She sometimes sings in a choir, has worked as a swim teacher, loves to ski, can talk the hind leg off a
donkey and has been President of Romance Writers of Australia from 2014-2017.
To find out more, visit Leisl on her website.
You can also follow Leisl on Facebook, Twitter and Goodreads.