Eva Scott's latest book, Lonely in Longreach, is inspired by 90's romantic-comedy film Sleepless in Seattle, so we asked her to tell us five things the film has taught her, and why it endures as a rom-com classic. 
---
I love nineties rom coms. They are my secret indulgence, so much so I based my novel Lonely in Longreach on the idea of a little boy, like Jonah in Sleepless in Seattle, wanting to help his dad find love. In my novel, Levi is older than Jonah is in the movie and he's making plans for his future after high school. He feels guilty about leaving his widowed father, Sam, alone on the family farm. Solution? Find him a girlfriend, of course. But finding love in the outback can be tricky. Thank goodness for the internet.
Here're 5 things Sleepless in Seattle has taught me about love:
1. Great love can happen twice
In the film, Sam has given up on love, figuring that you only get a great love once in a lifetime, and only if you're lucky. By the end of the movie he realises he's potentially found another great love. This love might be different to his first, but will have its own brilliance.
My first love ended under tragic circumstances and, like Sam, I thought that's it. Cue some pretty tough wilderness years during which I stumbled along thinking I'd be alone for the rest of my life. Then, one day, I walked into the Royal Papua Yacht Club and fell in love…and it's even better than the first time, proving that lightning really can strike twice.
2. Destiny is a thing and magic is real
I am totally down for this one. Sam believes in magic, saying he knew the moment he touched his wife, Maggie, for the first time that she was the one. Annie is a little more skeptical until she tries on her mother's wedding dress and it tears. She takes this as a sign. So, is destiny a thing and is magic real? Believing in destiny and magic is a personal choice but I think the journey to romantic happiness is a whole lot more fun if you do.
3. A change of scene can open the door to Love
Sam moves to Seattle after his wife dies. He needs a new start. Sometimes a complete change of scene can open the doors to new possibilities. I moved country but you don't always need be this extreme. You don't even need to move town. You can take up a new hobby, try an outdoor activity you've not tried before, connect to a new community or go on an adventure. Shaking things up can be good for your romantic life. If you do what you've always done, you'll get the result you've always got. This is true of everything, including romance.
4. The heart wants what the heart wants
Annie has a great job, good friends and a man she's planning to marry. Yet her heart wants what her heart wants, and the feeling won't go away. Sometimes this happens. You get heart-struck by someone or something and despite all the logic to the contrary, you've simply got to follow that feeling.
5. Everyone needs a friend to confide in
Annie has a good friend in Becky. She's there to cry with her over An Affair to Remember, to listen to Annie's doubts and hopes, and to remind her to be true to herself. A good friend in your corner, someone there when you need them, is worth more than gold. They need to have the patience to listen to you go over things a thousand times. They must be loyal and know when you need a hug or a good talking to. And be the sort to encourage you to take the risk and chase after your heart's desire. I hope you have a Becky in your life too.
---
Eva Scott
Eva comes from a family of storytellers and has been writing her own stories since she could hold a pencil. Growing up in a multicultural neighbourhood in Melbourne, Eva developed her wanderlust and a passion for culture and language. She travelled the world, living in Britain before coming home to Australia to study Anthropology. Wanderlust got the better of her again, so Eva packed up and headed to Papua New Guinea to live and work where she was completely in her element. Eva's passion for the Australian country is born of her large extended family, which is spread out across the land. She volunteers at the local primary schools, teaching writing and working with children to incite a love of books and reading. Eva's books explore relationships, culture, our roles in changing society, love and loss. She loves finding connections with readers over shared experiences.
If you'd like to know more about Eva, her books, or to connect with her online, you can visit her website: evascottwriter.com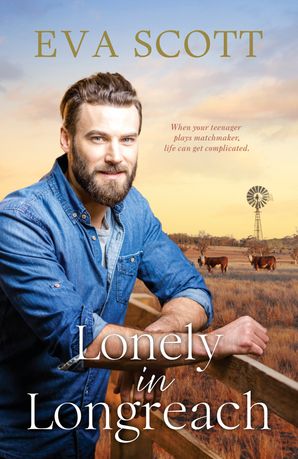 In the red heart of Queensland, two teenagers playing matchmaker are about to turn more than one life upside-down.
Widower Sam Costello has no time for love. When he's not working on his farm, he's trying to figure out how to connect with his teenage son Levi.
But Levi is about to finish high school, and he has big plans to move to Sydney for university with his best friend Maddie. If only he didn't feel so guilty about abandoning his dad. Maddie has her own reasons for wanting to go to Sydney and she's not going to let Levi's dad ruin her future happiness. Mr Costello needs a girlfriend and, with her talent for matchmaking, Maddie is the girl to make it happen. By the time Mr C figures out what she's done, surely he'll be too in love to be angry.
Journalist Sarah Lewis has a good job, a nice boyfriend and a safe life in Sydney. Though sometimes she wonders if life has more to offer than nice and safe. When she starts working on an article about finding love in the outback she finds herself asking whether journalists should become this invested in their research. But there's just something about Lonely in Longreach. Could it be that the man behind the dating profile is the key to the passion she has been looking for?
Sleepless in Seattle meets rural Australia in this fresh romantic comedy about optimism, online dating and love at first sight.