I've been a fan of Sandra since forever, or more specifically since she rocked the screen with Keanu Reeves in Speed back in 1994. One of my all-time favourite Sandra B films is the classic romcom, While You Were Sleeping. So much so that, during my pandemic 90s retro revisit, I decided to see if I could reimagine the story as an Australian rural romance comedy – and While You Were in the Country was born (released 3 August 2022). The main character, Frankie, is a warm, funny, strong woman who does things her own way. Rather like Sandra.
Sandra's screen chemistry and comedic timing is not the only thing we love about her. Here're 5 reasons why Sandra is still the Queen of the Silver Screen.
1) Sisters are doing it for themselves
Sandra is the first to acknowledge the fickle nature of the movie industry. It's a big business in which you're a cog in a giant machine. Projects take years to come to fruition, and sometimes they never make it at all. To counter slow-moving work culture, Sandra opened two restaurants in her hometown of Austin, Texas. Walton's Fancy & Staple provides the grounding Sandra needs as she is involved in every aspect of both businesses. Food is a family affair: Sandra's sister, Gesine, is a pastry chef with her own baking school and TV show. Like Sandra, Frankie in While You Were in the Country has a close bond with her sister, Adele. Although I'm sure Gesine is nowhere near as annoying.
2) Sandra has great taste in men
Right now, Sandra is dating the dishy photographer, Bryan Randall, who she met in 2015 when he photographed her son Louis's birthday. Even before meeting the man she calls the love of her life, Sandra had great taste in men – Matthew McConaughey, Ryan Gosling, Chris Evans … to name just a few. Her five-year marriage to the infamous Jesse James might have ended in a cheating scandal but hey, we all have that one bad boy in our history. (Bit like Frankie with Jed – While You Were in the Country's anti-hero and AFL superstar.) Just another reason to love her.
3) BF Forever
Sandra's warmth and generosity, often spoken about by her co-stars, has led to strong, genuine and lasting friendships in an industry known for shallowness. Jennifer Aniston (introduced to Sandra by a mutual boyfriend), Melissa McCarthy and Sarah Paulson are just three of her best buddies. Her key to friendship success? Showing an authentic interest in people. She's a big note sender too, checking in on her tribe no matter how busy she gets.
In While You Were in the Country, Frankie learns the value of being a part of a community that cares. These are the relationships that sustain you when things get tough and help you celebrate when times are lush.
4) Hidden talents
Sandra is not only a great actress and businesswoman, she can also sing! She grew up in Nuremburg, Germany where her mother was an opera singer. Sandra appeared in opera productions with her mum and also sang in a children's choir. Who knew?
5) Nailed it!
Sandra B nails comedy and drama and romance and action. She can make us laugh, cry and gasp by turns. Here's a list of my all-time favourite Sandra movies just in case you want to have yourself a little Sandra B film festival. I highly recommend it.
Speed (1994); While You Were Sleeping (1995); A Time to Kill (1996); Practical Magic (1998); Hope Floats (1998); Miss Congeniality (2000); The Lake House (2006); The Proposal (2009); The Blind Side (2009), Gravity (2013); Minions (2015); Ocean's 8 (2018), and Bird Box (2018).
What's your favourite Sandra movie?
---
ABOUT THE AUTHOR: Eva Scott
Eva Scott is the bestselling author of rural romcoms such as Lonely in Longreach and Meet Me in Bendigo. A lifelong storyteller, she lived in Britain and Papua New Guinea before coming home to Australia to train as a cultural anthropologist. She now lives in rural Tasmania, amongst vineyards and orchards, with her husband and son, two cats and a cocker spaniel.
If you'd like to know more about Eva, her books, or to connect with her online, you can visit her website: evascottwriter.com
Love 90's rom coms & rural romance? Read Eva's latest book While You Were In The Country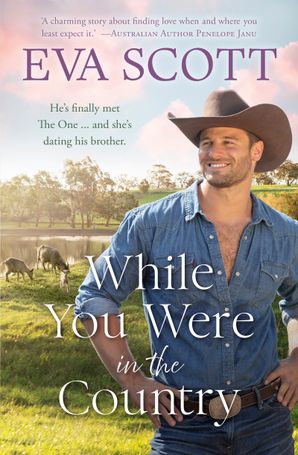 'A charming story about finding love when and where you least expect it. Eva Scott's loveable characters and modern twists on rural romance are simply delightful.' Australian Author Penelope Janu
He's finally met The One … and she's dating his brother.
Ant Murphy has spent his life picking up after his AFL star brother. So when he gets a phone call telling him that Jed has ended up in hospital after a drink-driving incident, he's far from surprised. He's not even shocked by Jed's manager's wild scheme to have him spend the next six weeks living in the country with a girlfriend Ant didn't even know about. All par for the course in his brother's crazy life.
In fact, Ant isn't thrown by anything … until he turns up at the new girlfriend's farmhouse and discovers that he already knows her. Intimately.
Frankie Fox has dealt with a lot over the last few weeks. She's turned thirty, lost her roof in a storm, been ghosted by someone she thought could be The One, and is now somehow dating her longstanding celebrity crush, THE Jed Murphy. But none of these comes close to the blow of having the guy who ghosted her turn up on her doorstep after weeks of silence … and for him to turn out to be Jed's brother.
With a secret she's forbidden from revealing, growing feelings for her boyfriend's brother, two Murphys living in her home and her future happiness on the line, Frankie must ask the most important question of all: is all this trouble really worth a new roof?
Inspired by While You Were Sleeping, this rural romantic comedy asks what happens when The One isn't quite who you expected …