We love a good billionaire hero to fulfil all of our disposable income fantasies – but certain celebrity-cum-presidents are making it hard for us to enjoy these heroes. Here are six romances that prove we can still love a billionaire hero!
Beautiful Stranger – Christina Lauren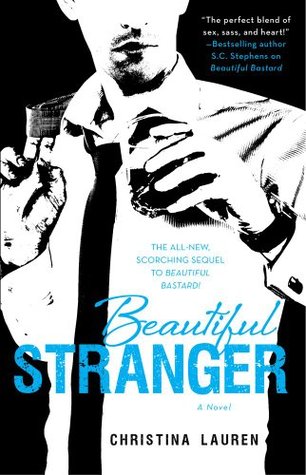 We begin our list with a billionaire who is sexy, sweet, kind – and open to indulging all his heroine's fantasies. Although Max has a playboy reputation, he knows that he wants everything with Sara when he meets her, but he takes a back seat to what she wants, meeting her needs until she's ready to trust him. He's funny, smart, and British.
Plus the New York Public Library scene will have you looking at libraries in a whole new way…
Redemption of a Ruthless Billionaire – Lucy Ellis
Nikolai is the best kind of bad boy billionaire: one-hundred-percent redeemable. From the beginning, he's fiercely protective of his adopted family and his ageing grandfather. So when his need to provide a comfortable retirement brings him up against our heroine, Sybella, you know the sparks will fly. Nikolai acts badly – but his interaction with Sybella shows him a better way, and to his credit, he does everything he can to fix his mistakes and create a better world around him. That makes Nikolai a billionaire that knows the value of 'I'm sorry' – a rare find indeed!
Roses for Sophie – Alyssa J Montgomery
Alyssa J Montgomery is probably on your radar for super sexy royal romances, but she has her fair share of billionaires as well. In Roses for Sophie, hero Logan reforms his playboy ways overnight when his best friends die and Logan is fighting for custody of their daughter. So he's a billionaire who wants the responsibilities of a single dad. Ahem. You have our attention…
We asked Alyssa about Logan and she described him as "a deliciously handsome, sexually appealing, uber wealthy, self made man who is very strong but still sensitive to and supportive of the heroine's needs. In other words, perfect!"
What more could you need?
Taming the Tycoon – Amy Andrews
Amy Andrews writes a lot of sexy beta heroes, and a lot of found families, so it makes sense that her billionaire, Nathaniel, would be outside the mould. For one thing, he's on the cusp of his first billion, so technically not quite eligible for this list yet. But we think you'll be glad we made an exception.
For reasons, Nathaniel ends up handcuffed to the heroine, Abbie, and then somehow inviting her to his family's get-together. Even when he's exasperated by this turn of events, Nathaniel holds on to his humour and is really nice to his mom and his grandmother. So – sexy, rich, kind, and nice to his grandmother? swoon
Innocent in the Billionaire's Bed – Claire Connelly
As a writer for Mills & Boon's new DARE line, you know that this author can bring the heat – but can she also bring the sweet? So Rio, our billionaire, has lots of past drama – he's a bastard (literally), he and his mom were very poor, and also his mom battled cancer for most of his childhood. But he pulled himself up by his bootstraps and makes something of himself, hence why he's on our list of billionaires. Now, all of this past drama has made him a bit reserved, but Rio is decent and honourable and moral, which makes things very complicated when the woman he falls for is lying to him.
Tapping the Billionaire – Max Monroe
This billionaire comes with a mysterious side: author Max Monroe is actually a co-writing team of two established authors who wanted to try something new. Who are they? Well, no one has figured it out yet…But Kline is someone you definitely want to get to know. He's   brilliant, enigmatic, and sexy – but he's also humble and thoughtful and big-hearted. He believes in true love. And he has the best dirty talk around 😉
This is a romantic comedy, so you've got laughs as well as a side of true love, and we think you'll fall for both Kline and his leading lady, Georgie in no time flat!
---
Love romance? Sign up to get your romance fix straight to your inbox every week
Did we miss any? What are your favourite billionaire romances?