The quirky, funny trailer for the Netflix movie Enola Holmes definitely had me interested. And I'm pleased to say I wasn't disappointed. Based on the first book in the Enola Holmes Mysteries by Nancy Springer, Enola Holmes features Sherlock Holmes's younger sister. Not surprisingly, she's also intelligent, inquisitive and enjoys a bit of sleuthing.
When her mother goes missing the game is afoot for sixteen-year-old Enola. She sets off to find her, while at the same time saving a threatened viscount from a scary, mysterious man in a brown bowler hat, avoiding being sent to a finishing school where the horrid headmistress is threatening to turn her into a respectable young lady, and avoiding being caught by her brothers Mycroft and the equally adept sleuth Sherlock Holmes.
The fast pace kept me riveted from beginning to end and I can easily say that I loved Enola Holmes. And my reasons for loving it are:
The Period – Victorian England.
I write romances set in Victorian England so not surprisingly I'm a bit biased when it comes to movies and TV series set in that time period. I also loved Miss Scarlet and the Duke, Ripper Street, The Knick and of course Victoria.
Enola Holmes is set against a background of political reform, something her radical mother is very much an active part of. That's one of the reasons I'm drawn to this period. It was a time when ordinary people were demanding a greater say in the way their country was governed and women were agitating for the right to vote. These changes do more than just provide context to Enola's story but are an integral part of the plot.
The Costumes
I have to admit, one of the reasons I love the Victorian dramas is because of the costumes. Wearing corsets, bustles, petticoats, ornate gowns, hats, gloves and parasols might not be comfortable or particularly practical, but they certainly look beautiful. Enola, of course, only wears such clothing when forced to. Although her objection to female clothing might have changed slightly after she discovered a new and interesting use for the whale-boned corset!
And the male characters look equally wonderful. Those swallow-tale jackets, cravats, embroidered waist jackets and wonderful cream linen suits are so dashing. Cream linen suits for men really do need to make a comeback.
The Locations
The action takes the viewer from the Holmes family home, which, as expected, is somewhat eccentric, onto a steam train and to bustling Victorian London with its mixture of wealth and squalor, and then to a grand stately manor, where the servants outnumber the residents by about fifty to one.
These beautifully recreated locations capture the feel of Victorian England, and provide a wonderful backdrop to the action – there's nothing like a good old-fashioned chase scene on a steam train.
Enola's character
Enola is someone I'm sure young female viewers will enjoy and identify with. She's an independent thinker who does not conform to what is expected of a young Victorian lady – and thank goodness for that. Unlike most young women of her time, she can't embroider, doesn't know the correct way to laugh (quietly, with a hand over your mouth) and has no interest in making shell decorations – whatever they might be. She'd much rather be practising unarmed combat and learning which chemicals to combine to make exciting explosions. When Mycroft returns to the family home to assume his responsibilities as Enola's guardian, one of his first comments is a disparaging one about her reading material as feminist, as if that is the worst possible insult he could make.
I was pleased that it was always Enola who saved the Viscount. Even after it was obvious she was attracted to him she never deferred to him, and continued to be independent and feisty right to the end of the movie.
The Style
Occasional use of cartoon cut-outs and silent-movie slides to explain background and characters is lots of fun and means the plot never lags. Enola also makes occasional asides to the camera, which are nicely done, often very funny and involve the audience in the action.
I also loved the car driven by the headmistress, which Enola and the Viscount use as a getaway vehicle. Although, as cars in 1880s only travelled at about ten miles an hour, it probably wasn't really that effective, but it was funny so who cares.
The Cast
Millie Bobby Brown is wonderful as Enola. She's likeable and convincing. Henry Cavill makes a delicious Sherlock Holmes. I first spotted this actor in The Tudors TV series, where he played the Duke of Suffolk and was dubbed by reviewers as the Dashing Duke. He'd look perfectly at home on the cover of a romance novel and I can easily see him as Mr Darcy in a future rendition of Pride and Prejudice. Louis Partridge as the Viscount Tewksbury is an excellent teenage heartthrob, and Helena Bonham Carter is wonderful as Enola's spirited mother. I also enjoyed Susan Wokoma as the tea shop–owning women's judo instructor.
The Plot
While there's a lot going on in Enola Holmes, and it all happens very fast, the plot is easy to follow, which makes it a perfect family movie. If I wanted to get picky I'd point out that there was no real explanation of why Enola's mother had to remain in hiding – I'm assuming she's still wanted by the law for her illegal activities as a suffragette – but as I said, that's just being picky.
The ending sets it up nicely for any future movies. There are five more books in the series so hopefully more are planned, which I certainly will be watching.
Enola Homes is streaming on Netflix now
---
Eva Shepherd writes emotional romance novels, which sparkle with passion and humour. Set in Victorian England, they feature resourceful heroines who like to defy convention and the gorgeous heroes they can't help but fall in love with.
Her latest book in the Breaking the Marriage Rules series – Aspirations of a Lady's Maid – was recently released and the next book in this series – How to Avoid the Marriage Mart – will be released soon.
Eva lives in Christchurch, New Zealand. She graduated with degrees in history and political science and worked in journalism and advertising before finding her true vocation – writing romance novels.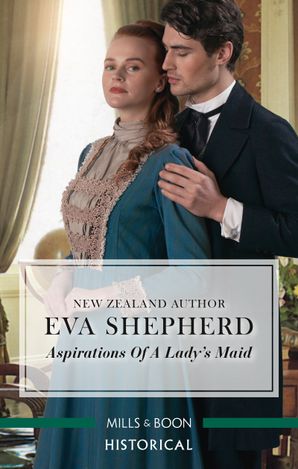 Separated by class...brought together by passion.
Having finally fulfilled her dream of opening a hairdressing parlor, Nellie Regan has no interest in love ruining her plans. After Nellie is caught mocking landowner Dominic Lockhart's lifeless engagement to Lady Cecily, she's not expecting him to defend her in a tavern brawl. Now the frustratingly handsome gentleman must recuperate in her home! Close quarters stir simmering attraction…but Nellie's determined to follow her head, not her heart. Is Dominic willing to do the same?