Eva Scott's latest book Meet Me In Bendigo is a rural romantic comedy for fans of You've Got Mail. To celebrate it's release we got her to give us 7 fun facts about this iconic romantic comedy!
---
1. Keeping it in the on-set family
An extra who played a florist in the movie was pregnant at the start of filming. Later in the film, in a scene where Kathleen is buying flowers, you'll spot a little sign in the window announcing 'It's a girl'.
2. Can the real Shopgirl please stand up?
Someone already had the username Shopgirl, and as this was back in the day when there were not that many online platforms, this became a legal issue for the film. The woman, who worked in an autobody shop, cheerfully sold her username so it could be used in the film.
3. It's all in the name
The character of Kathleen was called Betsy in the original script, which was a homage to Elizabeth Bennett from Pride & Prejudice. The name was changed to Kathleen as Meg Ryan's character on As the World Turns was also named Betsy!
4. There's a first time for everything
Meg Ryan and Tom Hanks were taught how to use email and America Online for the movie (by Kevin Feige, the guy who went on to give us the Marvel Cinematic Universe). Meg had never owned a computer until she got her Mac PowerBook on set. Her first email went to Tom Hanks.
5. It's my big break
The scene in the grocery store where Kathleen gets in the wrong line and Joe bails her out by paying for her groceries features Sara Ramirez. This actor went on to portray Callie in the much loved Grey's Anatomy.
6. The real deal
Kathleen's bookshop was based on a real place, Books of Wonder on West 18th Street in New York. Delia and Nora Ephron had been going there since it opened in 1980. It's still going strong all these years later and you can visit it here.
7. It's all in the details
Fox Books was created inside a defunct Barney's department store. It's estimated that 25,000 books from over 30 publishers were brought in and stocked in their proper sections like a real bookstore. And the coffee bar was real.
---
ABOUT THE AUTHOR: Eva Scott
Eva comes from a family of storytellers and has been writing her own stories since she could hold a pencil. Growing up in a multicultural neighbourhood in Melbourne, Eva developed her wanderlust and a passion for culture and language. She travelled the world, living in Britain before coming home to Australia to study Anthropology. Wanderlust got the better of her again, so Eva packed up and headed to Papua New Guinea to live and work where she was completely in her element. Eva's passion for the Australian country is born of her large extended family, which is spread out across the land. She volunteers at the local primary schools, teaching writing and working with children to incite a love of books and reading. Eva's books explore relationships, culture, our roles in changing society, love and loss. She loves finding connections with readers over shared experiences.
If you'd like to know more about Eva, her books, or to connect with her online, you can visit her website: evascottwriter.com
Eva's latest book is a rural re-telling of You've Got Mail!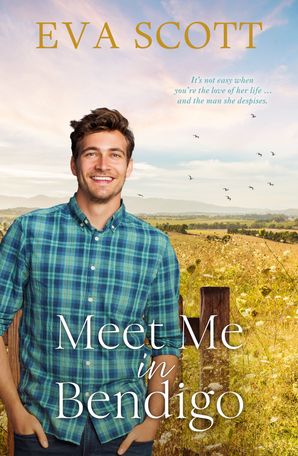 Rural Australia meets You've Got Mail in this romantic comedy about online dating, second chances, and following your heart.
Small-town sweetheart Annalisa Cappelli has returned to Wongilly to take over her family's hardware shop while she heals from a tragic loss. The business was hit hard by the pandemic, and now a Carpenter's Warehouse hardware superstore is opening in the district. There's no way Annalisa is going to let two hundred years of history go down the drain, but she's going to need to fight to keep her family's legacy alive.
The one simple thing in her life is her no names, no complications, easy-breezy online relationship with GardenerGuy94. For now, their online flirtation is the only kind of romance Annalisa needs. Until she meets Ed Carpenter. Sexy as hell, he'd be the perfect man … if he wasn't trying to destroy her business.
Ed Carpenter is in Wongilly to offer the owner of a small hardware shop a payout to pave the way for his family's next superstore. What he doesn't expect is for the owner to be the woman he's been talking to online. Annalisa is beautiful and passionate, and he's sure she's the one for him. But how can he reveal the truth without losing her?