The heroine of Alissa Callen's next book Snowy Mountains Daughter is a peony flower farmer. To celebrate its release she wrote this blog post about her favourite flowers.
---
Flowers speak a universal language. It doesn't matter what age you are, where you live or if you've grown, given or received them, flowers speak to all of us. They communicate love, compassion, friendship and empathy without a word being said. Whether they be wildflowers, a formal bouquet or a single stem, flowers can make your day shine that little bit brighter.
All flowers possess a timeless beauty but these are my top eight favourites:
Peonies  
When looking into what cold climate flowers my heroine in Snowy Mountains Daughter could grow on her flower farm, as soon as I came across peonies there was no need for further research. Once valued for their medicinal properties, these old-fashioned and ruffled blooms are now considered a symbol of good fortune.
Roses
Not only do roses come in a rainbow array of colours, there are many varieties, from climbing to carpet and bush to shrub. Roses are hardy and despite years of drought they still survive in my country garden. For colour my favourite variety is the climbing Pierre de Ronsard and for fragrance I adore the lavender-coloured Neptune.
Daffodils
After a lengthy and cold winter nothing says that spring has arrived more than the sunny yellow of a daffodil. These cheerful bulbs come in a range of shades and shapes and are perfect for pots, the garden or inside as cut flowers.
Daphne
I always know when our daphne bush is in bloom as the fragrance perfumes the entire garden. The delicate star-shaped blooms grow in small clusters and can appear in both winter and spring.
Daisies
There is something about the simplicity of daisies that gives this flower a worldwide appeal. They are grown on every continent except Antarctica, come in a myriad of colours and thrive in both pots and garden beds. 
Camellia
Camellias are an evergreen shrub renowned for their stunning blooms as well as their glossy well-shaped leaves. They can be planted as screens or hedges and their flowers range from a soft white to a pretty pink to a deep red and sometimes a mixture of all three.
Bluebells
In spring these bell-shaped flowers form purple carpets beneath trees and over grassy banks. In my country garden they occupy a sheltered corner near a wall but they also do well in pots.
Lavender
This herb is an asset in any garden as well as the home. The distinctive purple spires attract bees and add fragrance to garden beds, while lavender oil can aid sleep, promote wellbeing and be used in cooking.
This short list doesn't even come close to showcasing all the beautiful flowers that can brighten our worlds. Whatever your own favourite flower or flowers may be, and wherever you may live, I hope that this summer they add both colour and perfume to your day.
---
Alissa Callen
When USA Today bestselling author Alissa Callen isn't writing, she plays traffic controller to four children, three dogs, two horses and one renegade cow who believes the grass is greener on the other side of the fence. After a childhood spent chasing sheep on the family farm, Alissa has always been drawn to remote areas and small towns, even when residing overseas. She is partial to autumn colours, snowy peaks and historic homesteads and will drive hours to see an open garden. Once a teacher and a counsellor, she remains interested in the life journeys that people take. She draws inspiration from the countryside around her, whether it be the brown snake at her back door or the resilience of bush communities in times of drought or flood. Her books are characteristically heartwarming, authentic and character driven. Alissa lives on a small slice of rural Australia in central western NSW.
 To find out more, visit Alissa on her website. 
Don't miss Alissa's next book Snowy Mountains Daughter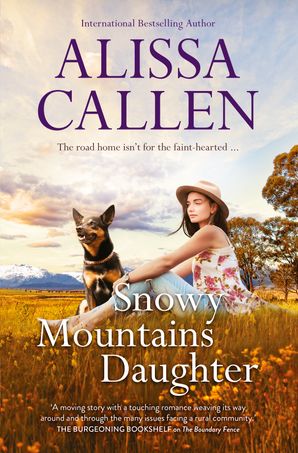 Welcome to Bundilla. A new close-knit community where romance can blossom. A compelling story of homecoming and family secrets from bestselling Australian author Alissa Callen.
The road home isn't for the faint-hearted…
Peony flower farmer Clancy Parker was born and bred in the Australian high country. Small-town Bundilla is the only place she will ever truly belong, even if staying means remaining alone. The man she'd loved is long gone and single men are as rare as a summer snowfall.
As soon as he could, street artist Heath MacBride escaped his complicated family and traded mountain peaks for city concrete. Now a commission to paint a mural on Bundilla's water tower brings him home. It doesn't matter how long he's been away, the animosity of his cattleman father hasn't waned. As soon as the water tower is painted, he will be gone.
But between steadfast Clancy, who'd once been his muse, a free-spirited kelpie who becomes his shadow and a corrosive family secret, his best laid plans disintegrate. When life again backs him into a corner, will he have no choice but to leave or will he and Clancy have the second chance they'd each thought would forever remain out of reach?