When I settle down on the couch with a hot chocolate to watch a Christmas movie, I'm not looking for a cinematic masterpiece, all I care about is whether I'm going to have a smile on my face when the credits roll and an urge to sing Jingle Bells and decorate the Christmas tree. I watch Christmas movies to feel good and get into the Christmas spirit, and A Castle For Christmas certainly did that for me.
Before I get into why I enjoyed this film, let me get a few nitpicky things out of the way.
In case you haven't seen it yet and are wondering… yes it was predictable, yes it was a tad over the top, yes there were a few cheesy moments, and no, not all authors are instantly recognised by every single person they come across and can afford to buy a castle and pay off the mortgages of a group of strangers. But it was fun, cute, different, joyful, and positive.
The plot in a nutshell:
Bestselling author and divorced mother, Sophie Brown (Brooke Shields), escapes a career scandal (killing off a beloved character) by going to Scotland for a working holiday to write her next bestseller and win her fans back. Her family history has led her to Dun Dunbar Castle, where she meets grumpy Duke, Myles (Cary Elwes from The Princess Bride), who is trying to pay off his inherited debts and reluctantly needs to sell the property.
Sophie decides to buy the castle (as you do… or wish), but Myles is intent on making her stay at the castle to make her miserable so that she'll back out and he can keep her deposit. What ensues is a series of mishaps and awkward moments, but eventually, connection, understanding, and romance.
What I liked about it:
The Setting
Ahh… that beautiful green countryside, expansive ocean, and stunning castles make for an ideal Christmas escape. I know many writers would love the chance of having a writing retreat in the library of an old castle. Add in the quaint old inn and cosy country pub and we're all set.
The Romance
Two heartbroken people over fifty reluctant to open their hearts again after a lifetime of baggage? We need more stories exploring romance in this age group. Hooray to Netlfix for giving us a Christmas movie with later-in-life-love.
The Secondary Characters
I love quirky small town characters, and there were several thrown into the mix here which added depth and heart to the story. Sophie meets a colourful group of knitters (who also happen to have read ALL her novels): Maisie, Helen, Rhona, and Angus; a widower who hasn't spoken a word since his loss. They become her friends and make her feel welcome in her new home. And I mustn't forget Hamish, the cute and helpful dog, who gets up to some cheeky mischief along the way.
Plus – the wonderful Drew Barrymore plays a brief role (as herself) at the beginning!
The Themes
A Castle for Christmas embraces community as family, the support of sisterhood, and second-chance love for the over 40s, 50s, and beyond. I love the honouring of tradition at Christmas time that many movies including this one, explore, and the idea of escaping somewhere completely different for Christmas is always enticing (and is the theme that inspired my Christmas novella, Above the Mistletoe, where the main character escapes to rural Australia from NYC, where there is of course a country pub and a Christmas Eve tradition).
The One-liners:
"I became a writer so I could write in my pyjamas, not so I could get yelled at by strangers."
"You murdered a man that I was in love with. I mean, what gives you the right to take him away?!"
"I'm the author."
"It's hard when they move away" (grown kids)
"It's even harder when they move back in."
The main character is a writer!
As a writer, I will watch practically anything that has a writer as a character. We love seeing how our profession is portrayed (sometimes spot on, sometimes ridiculously incorrect or over the top). I always thought writers weren't supposed to write about writers (who wants to read about or watch someone sitting at a computer trying to string words together?), but as in this movie, we don't actually see a lot of writing, but instead the distractions and procrastination that plague many writers. I had a lot of fun showing the challenges of the job in 12 Daves of Christmas, where author Abby is plagued by procrastination, self-doubt, and interruptions by her ghostly grandma who sends her on an urgent mission while she's on a book deadline. If something challenging is going to happen to a writer, it's always when on a deadline!
If you can get over the fact that Sophie only writes about three sentences throughout the whole movie but still produces a complete and bestselling new book, and simply enjoy the film for what it is – a fun, light-hearted, romantic celebration of Christmas and human connection, you'll come out smiling.
With the state of the world right now, we all need hopeful, feelgood stories more than ever, so watch a Christmas movie, read a Christmas book, and allow yourself a little escape this season.
---
ABOUT THE AUTHOR: Juliet Madison
Juliet Madison is a naturopath-turned-author with a background in dance, art, internet marketing and perfume sales (yes, she was one of those annoying people in department stores who spray you with perfume). Nowadays she prefers to indulge her propensity for multiple careers by living vicariously through her characters. She likes to put these characters into extraordinary situations and take them on a challenging journey to discover their true passion and inner strength, weaving in some laughs, tears, romance and sometimes a touch of magic along the way.
Living near the beach on the beautiful south coast of New South Wales, Australia, Juliet spends her days homeschooling her son and running her internet business and her nights writing fiction while doing her best to avoid housework.
Don't miss Juliet's brand-new holiday romance Above the Mistletoe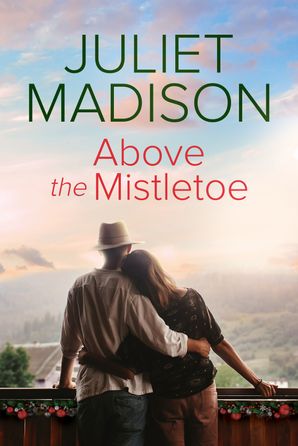 A heartwarming Christmas novella about finding home in the most unexpected places.
After three disastrous Christmases, New York saleswoman Angelette Beaumont has decided enough is enough. To avoid history repeating itself, this year she is going to escape to a place far away, where it won't feel like Christmas at all: a remote country town in Australia.
But when she arrives in the sleepy town of Seekers Hill, she discovers her accommodation has been double booked and there is no room for her at the inn. The only place to spend Christmas is in a small, dilapidated room above the local pub, The Mistletoe. A pub that is not only named after a Christmas novelty, but goes all out to celebrate Christmas in the biggest way possible.
Despite facing her worst Christmas nightmares, Angelette somehow finds herself drawn into the holiday cheer around her. Between the attractive pub owner who makes it his mission to revive her Christmas spirit, and a little girl who still believes in magic, Angelette's avoidance tactics are failing. But embracing Christmas will mean opening up about the one reason she vowed never to celebrate Christmas again. And that will take a miracle.
Looking for a holiday romance? Check out some of our favourites below
Featured image credit: Netflix