Author, and rom-com aficionado, Eva Scott recapped the premiere of The Bachelor Australia
---
Meet Jimmy Nicholson – thirty-one years old, a commercial pilot with a close and loving family. He likes dogs and fixing things. He is tall, handsome, and has a pair of captivating blue eyes. He is going to do nicely as this year's bachelor.
We open the season with Jimmy discussing his upcoming Bachelor experience with his family. When asked about what he's looking for in a partner, his sister calls him out. Being a nice person is, she says, 'a ticket to play'. She wants to know what he's really looking for. Turns out, Jimmy wants someone who will be a best friend, someone who will form a team with him.
Let's meet the potential Team Jimmy candidates, shall we?
Our first lady is Brooke (27, Occupational Therapist). She's wearing a gorgeous, backless lace dress. Brooke brings him a Sri Lankan love cake she made from her Nan's recipe. Jimmy's take: a gentle soul.
Carlie (33, Lawyer) is next, brandishing a contract with some cute conditions to define their upcoming experience. She's stunning in an off-the-shoulder, deep blue velvet floor length number. Jimmy's take: smart and sweet.
It's only the beginning and Jimmy still has a long way to go but he's captivated by Jay (31, Nutritionist) who is demonstrably nervous as she tries to engage Jimmy in a game of giant chess. She's super cute in a silver lace mini and Jimmy finds her charmingly authentic.
Laura (28, Speech Pathologist) rolls in with a tray full of tools of her trade. She checks if his tongue 'works' and inspects his oral cavity. She's funny and irreverent and I'm sure Jimmy will remember this experience.
Sierah (28, Technical Analyst) bursts into the mansion with her midriff bearing dress (lovely shade of lavender, long sleeves, floor length for those interested) and her pack of tarot cards – all containing pictures of herself in various outfits. She confesses to camera later that she had been 'busting for a fart' the entire time. I'm sure Jimmy is grateful that she contained herself. Earthy, with a sense of humour – let's keep an eye on this one and not for romantic reasons.
Belinda (29, Criminal Lawyer) is not to be upstaged and makes her entrance in her V8 black Mustang. She's cutting a dashing figure in a black suit and bustier and let's Jimmy know exactly what she thinks of him. Her take on life? 'Without love, life is just eating and sh*tting every day.' Interesting philosophy….
The producers cycle us through some of the girls quickly now. We have Maddison, 24, a Marketing Coordinator. Ashleigh, 28, another Speech Pathologist. Tamlyn in her fabulous orange dress, 25, a Customer Service Officer. Ash, 24, a Dance Teacher. Lauren, 29, an Office Administrator.
Then Rebekah (27, Youth Support Officer) rocks in wearing rainbow wings and a samba outfit. She looks like the life of the party and comes across as sweet and fun.
Stevie (29, Hair Stylist) brings her best mate, Lenni the Chihuahua, who tries to take a chunk out of Jimmy's hand. Lucky he's a dog lover, right? Maybe Lenni was just grumpy about his outfit.
In comes Hannah (27, Marketing Manager) to make Jimmy feel better. Pretty in a lemon off-shoulder, thigh split dress, Hannah has a bubbly personality. She brings wine. Red. Perfect. She's straight away my pick. A connection between Hannah and Jimmy is made, so maybe he feels the same way.
We meet Jacinta (29, an Executive Recruiter), Elena (33, a Personal Trainer) and Tatum (26. a Company Director). Also, Annabelle (28, a Medical Equipment Installer) who likes to clap when she's excited.
Chanel (34 and a Flight Manager) sweeps in, a picture of elegance in her one shoulder sheath (black sequined with a white bow detail at the shoulder). Jimmy jokes that he works in 'aluminum tubing,' a joke that goes over Chanel's head while she runs him through a cute preflight check, unaware of his occupation. She sees the irony of being a flight manager and coming on the show only to find the Bachelor is a pilot. What are the odds?
Stephanie (27, a Business Development Manager) has a not-so-secret life as a live video game stream queen. The self-confessed 'hot gamer girl' is into the World of Warcraft. 'Isn't that what you play when you're ten?' asks Jimmy. So, they're off to a good start then…
The ladies share a drink and their opinion of Jimmy while they wait for the cocktail party to officially begin. Stephanie reveals that she is fully ANTI pilots when she discovers Jimmy's occupation. Sounds like she's been burned bad and harbours some hostility. This should prove interesting…
Osher arrives, heralding the beginning of the fun and games. 'When the wedding ring goes on the champagne flute, you know you're here,' he says, and the cocktail party begins in earnest.
Osh introduces the key to the Business Lounge which will place one lucky lady in the position to have uninterrupted time with Jimmy for the entire time she's at the mansion. The key, a large sparkly affair, will be presented by Jimmy to his lady of choice before the cocktail party is done.
Cue Jimmy, who enters to whoops and whistles from the girls. Not intimidating in the least.
He sits next to Steph who immediately mentions his job as a pilot and asks for some chat time. She talks to him about his career and, while guarded, does reveal that she knows a little bit about the aviation industry. She doesn't let on about her past pilot experience, wisely so.
Meanwhile our classy criminal lawyer, Belinda, heckles from the patio. The girls find her amusing, but will Jimmy?
Sierah decides to break up Steph and Jimmy's cosy chat. 'I've got big d*ck energy in my vocabulary right now.' I bet she does.
Hannah and Jimmy have a sweet moment when she gets him to sign his initials with hers on the lock she brought with her. She wants to replicate the famous Parisian bridge experience, the Pont des Arts, where lovers symbolically lock their love and throw away the key. Jimmy is charmed. He's feeling the chemistry between them.
Brooke and Jimmy discuss their tattoos. She has a tiny plane and he withholds the location of his for future reveal.
The girls get competitive over time spent with Jimmy. 'It's like piranhas with a piece of steak,' says Sierah, and she's not wrong about that. 'Me hungry. Me want mine.' Jimmy juggles the ladies well, but you can see the strain on him as the night progresses.
Elena, the personal trainer (that rhymes!), asks Jimmy to do a stacked pushup. With her on top, of course. Just as he's removing his dinner jacket to perform said move a chap appears with a walkie talkie on a tray. Talk about good timing!
And out of the night sky, in a flower covered box, drops one more candidate. Lily (23) is lowered by a crane which seems appropriate given she's a crane operator. Jimmy is captivated by her eyes and there seems to be an instant connection.
Annabelle crashes their party under the auspices of welcoming Lily. The other girls pile in, knowing a good gambit when they see one. No one wants Lily stealing a march on them.
Jimmy invites Jay for a chat. He asks her how she sees herself as a partner. He asks her what she would need from him to stand out if their roles were reversed and she was the Bachelorette and he was one of the candidates. You know where this is going, right? She says she would want a chess player (joke – he can't play at all) and someone with whom she could have great banter. He falls into her eyes (turns out Jimmy is an eye man) and gives her a rose and the coveted key to the Business Lounge.
To say the other girls are jealous is an understatement and I feel as if Jay now has a target on her back.
Time for the Rose Ceremony. My favourite bit. All that tension!
Jay is obviously safe but two girls must go. Those girls are Lauren and Annabelle.
My predictions for the season? Steph and Sierha are going to cause trouble. Buckle yourself in. There is going to be some turbulence ahead.
---
ABOUT THE AUTHOR: Eva Scott
Eva comes from a family of storytellers and has been writing her own stories since she could hold a pencil. Growing up in a multicultural neighbourhood in Melbourne, Eva developed her wanderlust and a passion for culture and language. She travelled the world, living in Britain before coming home to Australia to study Anthropology. Wanderlust got the better of her again, so Eva packed up and headed to Papua New Guinea to live and work where she was completely in her element. Eva's passion for the Australian country is born of her large extended family, which is spread out across the land. She volunteers at the local primary schools, teaching writing and working with children to incite a love of books and reading. Eva's books explore relationships, culture, our roles in changing society, love and loss. She loves finding connections with readers over shared experiences.
If you'd like to know more about Eva, her books, or to connect with her online, you can visit her website: evascottwriter.com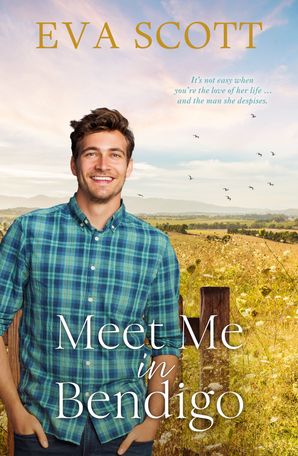 Rural Australia meets You've Got Mail in this romantic comedy about online dating, second chances, and following your heart.
Small-town sweetheart Annalisa Cappelli has returned to Wongilly to take over her family's hardware shop while she heals from a tragic loss. The business was hit hard by the pandemic, and now a Carpenter's Warehouse hardware superstore is opening in the district. There's no way Annalisa is going to let two hundred years of history go down the drain, but she's going to need to fight to keep her family's legacy alive.
The one simple thing in her life is her no names, no complications, easy-breezy online relationship with GardenerGuy94. For now, their online flirtation is the only kind of romance Annalisa needs. Until she meets Ed Carpenter. Sexy as hell, he'd be the perfect man … if he wasn't trying to destroy her business.
Ed Carpenter is in Wongilly to offer the owner of a small hardware shop a payout to pave the way for his family's next superstore. What he doesn't expect is for the owner to be the woman he's been talking to online. Annalisa is beautiful and passionate, and he's sure she's the one for him. But how can he reveal the truth without losing her?