Bestselling Australian author Darry Fraser, much loved for her spirited female characters, reveals how the real life of a Victorian singer hidden in the history of nineteenth-century Melbourne inspired her new novel, The Prodigal Sister
---
My new novel features a performance inspired by the life of a real woman, singer Nellie Stewart,  who sang the ode 'Australia' when the first Federal Parliament was opened in 1901 by the Duke of York (later George V). Nellie Stewart remained unmarried until her death in 1931, and her rise to relative fame and prosperity is a fascinating story that offers an insight into Melbourne at that time.
In the 1890s, the worldwide economic depression had its grip on Melbourne. Banks had crashed, destroying livelihoods, and unemployment in the city was at an estimated twenty per cent. Yet the nouveau riche splashed wealth among those in their intimate circles as if all was well, and Melbourne craved culture. Famous opera star Nellie Melba was touring abroad and unavailable in the colony. But Miss Nellie Stewart, an on-stage contemporary of Melba's, had returned to Melbourne from London, having recently given birth to her lover's child.
In my novel, I 'engage' her to sing at a glittering soiree at the home of a stupendously rich diamond mining family, the Bartletts, to a gathering of upper middle-class associates and colonial officials, where her performance is feted. Her success was designed to demonstrate how the city was becoming tolerant of the self-made, even those with dubious marital status.
Philanthropy also became fashionable in Melbourne, especially as the depression further ravaged its inhabitants. Some of the contemporaries of my wealthy upper middle-class character Jasper Darke funded projects that would enhance the lives of those less fortunate. I have Darke become a 'patron' of the then newly established Austin Hospital for Incurables and support various other charities.
Women were also emerging as powerful instigators of change. Many wives commandeered their rich husbands' wallets, and directly helped those in less comfortable situations. They lobbied government for real change, notably for the demolition of slums, and in their place better housing for the poor or abandoned. Their rise in status saw them taking more powerful roles in work life too. My central character, Prudence North, returns to Australia after finishing a good education abroad, expecting to work within forensics, a new scientific field. But Melbourne society hadn't come quite that far. Women might be allowed to perform on stage, where their talents were immediately visible, and artists like Melba and Stewart forged their own path – but for the main part women were still expected to stay at home. It would not last, of course, as the female suffrage movement was on the rise, and balance of power was beginning to teeter.
This particular era stands out as a time of exciting social and economic change in Australian history, and proved a vibrant backdrop to the lives of my characters, some of whom struggled against the time-honoured constraints of the day. Prudence North yearns to make her mark and break out of the shackles. At the turn of the century, her time to shine comes.
---
ABOUT THE AUTHOR: Darry Fraser
Darry Fraser's first novel, Daughter of the Murray, is set on her beloved River Murray where she spent part of her childhood. Where the Murray River Runs, her second novel, is set in Bendigo in the 1890s, and her third novel, The Widow of Ballarat, takes place on the Ballarat goldfields in the 1850s. In The Good Woman of Renmark, she takes us to the rural riverland of South Australia, while Elsa Goody, Bushranger, journeys from South Australia into Victoria. In The Last Truehart, the colonies await Federation and the story is set in Victoria and New South Wales. Darry currently lives, works and writes on Kangaroo Island, an awe-inspiring place off the coast of South Australia.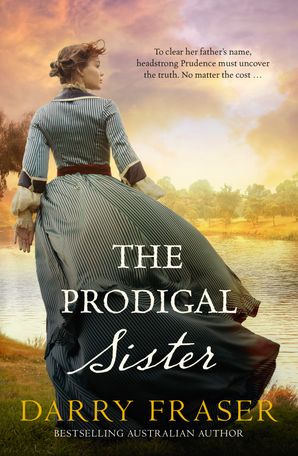 Headstrong Prudence North faces a dangerous blackmailer who threatens her family and her dreams of escaping domestic drudgery. An enthralling historical mystery from a bestselling Australian author.
1900, Melbourne, Victoria
Miss Prudence North is freshly returned from university in Scotland and determined to find her place among the male-dominated world of the new forensic sciences when a high-ranking policeman waylays her. He threatens to charge her father for illegal medical practices unless she helps him build a case against local landowner Jasper Darke by spying on him.
With her sister's illness worsening, if their income disappears, Prudence will have to take on nursing and domestic duties and she'll never have the freedom she craves. Prudence has no choice but to agree.
Immediately taken with the handsome Mr Darke, a seemingly good and honest man, Prudence can't see what nefarious activities she's meant to be reporting on. She'll have to get closer…
But when a body turns up at her father's surgery, the forensics reveal to Prudence there's more going on about all this than meets the eye. It's clear it's up to her to uncover the truth – of this murder, of whatever's going on at the surgery after hours and, especially, of the intriguing Jasper Darke. Her life, her family and her future rely on it.
Featured image credit: Talma & Co., photographer.[ca. 1901-ca. 1905] via State Library Victoria