Australian author Annie Seaton's latest book Osprey Reef is set on the Great Barrier Reef. She dropped by the blog to tell us what inspired her to write about this location.
---
White sands, sapphire-blue water, the gentle sigh of the breeze through palm trees…maybe a cocktail in your hand as you relax on a sun lounge and watch a white yacht sail by…the unknown of what is beyond the horizon and in the depths of those beautiful jewel-like seas.
What is it about tropical islands that entices us? Is it the beautiful setting, the relaxation and romance (or prospect of romance) that comes with it? Or is it the mystery of the deep that fascinates us? Tanned, muscular heroes, intrigue and mystery, a growing romance…is there anything more enjoyable? No wonder I find myself writing eco-adventure books set in these glorious locations. The best part is having the opportunity to visit the islands to research my settings. So far I've written Whitsunday Dawn, Osprey Reef…and who knows what other tropical island stories are in my writing future?
The Whitsunday Islands are my go-to place in the tropics, and many fabulous romantic and mystery movies have been filmed there. The Deep, Fools' Gold, Dead Calm, Into the Blue … I absorb any movie that is set on the ocean. The discovery of the islands, sunken treasure, shipwrecks, being stranded on a tropical island, and the wonderful creatures that inhabit the depths of the canyons out on the reef have always held a special fascination for me. The possibility of sunken treasure, and the danger of being stranded on a sandy atoll in Osprey Reef provides some breath-holding suspense for Bethany and Peter and the members of the scientific expedition.
Knowing the Whitsunday Islands and the Great Barrier Reef so well, from sailing around the islands, and being an avid watcher of movies featuring those beautiful tropical locations, make it easy for me to provide the authentic settings used as the main locations in Osprey Reef:Airlie Beach, Cobham Reef, Osprey Reef, Mackay Marina and Whitehaven Beach have all been a part of my research.
Whitehaven Beach is also featured in the 2008 film Fools' Gold (starring Kate Hudson and Matthew McConaughey) and was more recently featured in another buried treasure movie, a Pirates of the Caribbean movie, Dead Men Tell No Tales – when young Henry's love interest washes up on a remote beach, Haslewood Island was easily recognisable to regular sailors in the islands. It was also on the route that Bethany takes the Lady Stella 2 as she steams out to Osprey Reef. My research also involved a wonderful trip on the Elizabeth E 11 steaming around the Whitsunday Islands, where I learned to be a sea captain!
Ninety-five per cent of the ocean is unexplored and that leaves so much scope for imagination. This inspired me to have my characters in Osprey Reef embark on a scientific expedition.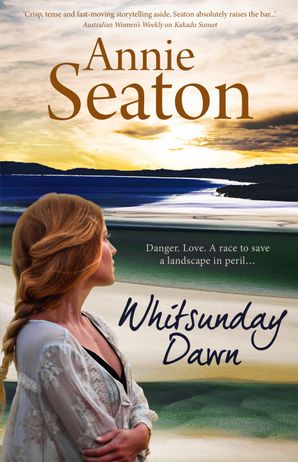 When I wrote Whitsunday Dawn, my scrumptious hero, Finn, was inspired by Matthew McConaughey. Who can ever forget him as the deep-sea treasure hunter in Fool's Gold? So, who was the inspiration for the more serious Peter Brooks in Osprey Reef?While not on a tropical island, but still set in a marine environment, I have always loved the Ryan Reynolds movie, The Proposal. Peter Brooks in Osprey Reef is the lead scientist, and I had a serious Ryan Reynolds in mind when Peter developed as a character.
When I began to research and write Osprey Reef, my imagination took flight and I found my characters, Bethany and Peter, Stella and Jens, facing the same dangers that I had loved in those adventure movies I've spent so many years watching. Linked by family mysteries decades apart, Bethany and Stella both need to dig deeper than ever before to forge their place among the turbulent seas of the reef.
So, what is it about tropical islands that entices? Just look at the titles and stories of the few movies above. The tropical islands are the perfect setting for romance and mystery, and that's what we love to read and watch!
Pick up Osprey Reef, and lose yourself in the mystery, love and drama of the Great Barrier Reef. Who knows, it could be optioned for a movie one day!
---
ABOUT THE AUTHOR: Annie Seaton
ANNIE SEATON lives near the beach on the mid-north coast of New South Wales. Her career and studies have spanned the education sector for most of her working life, including a Master's degree in education and working as an academic research librarian, a high school principal and a university tutor until she took early retirement and fulfilled a lifelong dream of a full-time writing career. Annie's books have been very well received and she has won several awards, including Book of the Year, Ausrom Readers' Choice Awards 2018, for Whitsunday Dawn, which was also a finalist for ARRA romantic suspense. Annie has been a finalist in the New Zealand KORU award in 2018 and 2020, and was a finalist for Book of the Year, Long Romance, for Kakadu Sunset, at the Romance Writers of Australia Ruby Awards in 2016. Annie has four times been longlisted for the Sisters in Crime Davitt Awards.
Each winter, Annie and her husband leave the beach to roam the remote areas of Australia for story ideas and research. She is passionate about preserving the beauty of the Australian landscape and respecting the traditional ownership of the land. For those readers who cannot experience this journey personally, Annie seeks to portray the natural beauty of the Australian environment – its spiritual locations, stunning landscapes and unique wildlife.
Readers can contact Annie through her website, annieseaton.net or find her on Facebook, Twitter and Instagram.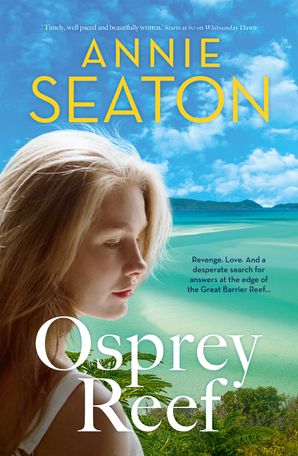 Love. Greed. Revenge. And a desperate search for answers … Against the stunning backdrop of the Great Barrier Reef, two women in different eras discover how their hearts and fortunes are swayed by the secrets of the sea.
2019: Bethany Kristensen faces her toughest challenge to date, skippering the family charter business. With rivals doing their utmost to undercut her prices and reputation, the Kristensens' operation hangs by a thread. Winning the tender for a new scientific research program headed out to the farthest edge of the reef is her last chance to keep the business going. But when rumour and vandalism turn to outright sabotage, things take a drastic turn…
1934: Stella Booth flees a future of domestic drudgery in small-town outback Queensland, heading for employment and an independent life in Mackay. But fate has other plans and an accident en route sends her life spinning in a most unexpected direction…
Linked by a family mystery, decades apart, Bethany and Stella will both need to dig deeper than ever before to forge their place among the turbulent seas of the reef.
Australian author Annie Seaton applies her passion for conservation of our iconic landscape to a compelling mystery and family saga of belonging.