While moving directly from 'love at first sight' to 'happily ever after' might sound like the perfect romance, it's extremely rare in real life. And in the pages of a novel or on a television or movie screen, it wouldn't result in the heart-thumping tension and drama we love when characters we've grown to care about are forced to surmount emotional and other barriers before finding the happiness they've worked so hard for.
In Starting from Scratch, Sapphire Brown and Matts Laaksonen are close childhood friends who have a dramatic falling out in adolescence. Nine years later, schoolteacher Sapphie and environmental engineer Matts reconnect in the close-knit community of Horseshoe Hill. After a good dose of conflict (and a lot of sexual tension!) Sapphie gives Matts a second chance, and they get to 'start from scratch'. New beginnings like this are often a path to falling in love, and this has made me reflect on stories I've enjoyed in the past, and those I'm currently reading and watching.
In Sally Rooney's Normal People (a 2018 novel now made into a BBC television series), Marianne and Connell pretend not to know each other at school because he is a star football player and she is awkward and unpopular. Even when they do become close, they keep it under wraps, mostly to protect Connell's reputation at school. Their lives continue to intertwine through university (a classic on-again off-again romance), but when Marianne's abusive relationships come to light and Marianne and Connell reunite, Connell promises to never let another person hurt her. Notwithstanding their long history, Marianne and Connell, with new insights and a deeper understanding of themselves and each other, get to start from scratch.
In Jane Austen's Persuasion, Anne Elliot and Captain Frederick Wentworth meet again after eight years apart (when she rejected his proposal of marriage). Anne believes the years that have passed have given Frederick 'a more glowing, manly, open look, in no respect lessening his personal advantages'. When someone overhears the broken-hearted and (at that stage) unforgiving Captain Wentworth say that Anne was 'so altered that he should not have known her again', this sets the scene for a lot of tension afterwards!
In the sitcom world, Jim Halpert and Pam Beesly from the US version of The Office have to take the 'starting from scratch' cake! At the beginning of the series, Jim is single while Pam has been engaged to warehouse employee Roy for three years. From the first episode, Jim and Pam play pranks on colleagues, joke, flirt and form a friendship any bored office-goer would be envious of! Over a number of series, Pam's romantic feelings for often-single Jim become more evident (they even share a drunken kiss) while Jim's disapproval of the way Pam is treated by her fiancé becomes increasingly evident. But it's not until the final episode of season three that Jim finally leaves his girlfriend for a now-single Pam, bursting into the office conference room to ask her out on a date. After all the will-they-or-won't-they torment, Jim and Pam finally embark on a romantic relationship.
Since we're in the holiday season, the Rob Lowe and Kristin Davis romantic comedy Holiday in the Wild, which came out on Netflix in 2019, is another starting from scratch pick. This is a fabulous feel-good movie, but an underlying message concerns wild animal conservation and the horrors of poaching (also touched on in my 2019 release Up on Horseshoe Hill). In Holiday in the Wild, New York veterinarian Kate, jilted by her husband on the eve of their second honeymoon, starts from scratch (her career, location and love life) with conservationist Derek, who runs an elephant refuge in South Africa.
In Elizabeth Gaskell's North and South (if you haven't seen the BBC adaptation of this classic novel, I highly recommend it), Margaret Hale starts from scratch with John Thornton after she rejects his marriage proposal. This extract is from when she sees him again, after she has become a wealthy woman, and he has fallen on hard times:
It was considerably more than a year since she had seen him; and events had occurred to change him much in that time. His fine figure yet bore him above the common height of men; and gave him a distinguished appearance, from the ease of motion which arose out of it, and was natural to him; but his face looked older and careworn; yet a noble composure sate upon it, which impressed those who had just been hearing of his changed position, with a sense of inherent dignity and manly strength.
And Margaret's reaction to John? 'With his first calm words a vivid colour flashed into her cheeks, which never left them again during the evening…'
North and South is one of my favourite television series—a wonderful story from start to finish—with bucketloads of sexual tension between the main characters.
In the continuing popular television Netflix series Virgin River, based on Robyn Carr's novels, Mel moves to the small country town of Virgin River after the death of her husband, where she meets ex-marine now bartender Jack. He and Mel are clearly meant to be together, but they've had to start from scratch a couple of times already because Jack's relationship with Charmaine is complicated (and that's even before Jack gets shot…) I'll be glued to the next series, excited to find out how Mel and Jack's happily ever after is (hopefully!) resolved.
In Jane Austen's much loved Pride and Prejudice, Elizabeth and Darcy effectively have to start from scratch after she rejects his proposal. Elizabeth sees Darcy in a completely new light when they meet again at Pemberley, Darcy's ancestral home. Elizabeth had never seen Darcy 'so desirous to please, so free from self-consequence or unbending reserve, as now…' Darcy's new demeanour (and, as Elizabeth jokes with her sister Jane, seeing the beautiful Pemberley…) sets their relationship off on a different track.
Another novel to movie adaptation (also available on Netflix) is To All the Boys I've Loved Before, based on Jenny Han's 2014 novel of the same name, which deals delightfully with Lara Jean Covey's on-again off-again relationship with Peter Kavinsky. This movie has such a great premise, with Lara Jean left to deal with the consequences after her sister posts Lara Jean's secretly penned letters to all the boys she's ever loved (from a distance…). Lara Jean and Peter start off with a 'fake relationship' that becomes much more complicated as the feelings between them develop and grow. PS I Still Love You is the second movie and Always and Forever Lara Jean the third. I won't give spoilers, but after a lot of starting from scratch, there is a very satisfactory happy ending!
Contemporary, historical or romcom, I think there'd be a 'starting from scratch' list of favourites for most readers and viewers of romance!
---
About the author: Penelope Janu
Penelope Janu lives on the coast in northern Sydney with six wonderful children and a distracting husband. She enjoys exploring the Australian countryside and dreaming up travelling and hiking breaks. A lawyer for many years, she has a passion for social justice, and the natural environment.
Whether coastal or rural, Penelope's novels celebrate Australian characters and communities. Her first novel, In at the Deep End, was published by Harlequin in 2017, and her second, On the Right Track, in 2018. Nothing makes Penelope happier as a writer than readers falling in love with her smart and adventurous heroines and heroes. She loves to hear from readers, and can be contacted at www.penelopejanu.com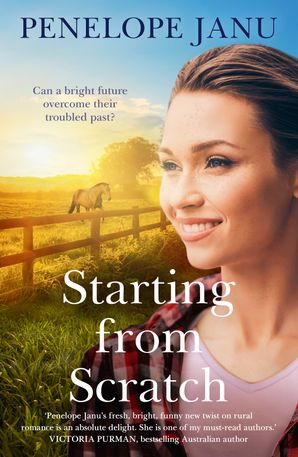 For readers of Karly Lane and Tricia Stringer…misunderstandings and injured pride stand in the way of true love in this charming rural romance from an award-winning and much-loved author.
'Penelope Janu's fresh, bright, funny new twist on rural romance is an absolute delight. Her wit is as sharp as a knife. She is one of my absolute must-read authors.' Victoria Purman, bestselling Australian author
After a troubled childhood and the loss of her beloved grandmother, Sapphie Brown finally finds somewhere to call home – the close-knit rural community of Horseshoe Hill.
The locals love Sapphie because she never gives up – as chair of the environment committee, with the children in her classes, the troubled teens at the youth centre, the ex-racehorses she cares for and even the neglected farmhouse and gardens she wants make her own. Sapphie gives second chances to everything and everyone. Except Matts Laaksonen.
An impossibly attractive environmental engineer who travels the world, Matts was Sapphie's closest childhood friend. He came to deliver a warning – now he doesn't want to leave.
All Sapphie wants to do is forget their painful past, but thrown together they discover an attraction that challenges what they thought they knew about each other. Do they have a chance to recapture what they lost so long ago? Or will long-buried secrets tear them apart?
In the flowers she creates from paper and the beauty that grows on the land, Sapphie has found perfect imperfection. Could that be what love is like too?

MORE PRAISE
'Intriguing characters and a colourful setting: if you like romance and a little mystery, get ready to enjoy this novel.' Tricia Stringer