When Harley Smith from Be My Valentine finds herself once again alone on her birthday—Valentine's Day—she determines to make the most of it and spoil herself. Little does she know that the man she'd started to have feelings for is on the other side of her door waiting to treat her to her first special Valentine's Day.
Whether you are a true believer in Valentine's Day and share it with someone special each year or if you like to bend the rules a little, there's a Valentine's Day for everyone. Here are some ideas for this Valentine's Day.
With your partner
Valentine's Day is an extra special time of the year when you have someone to share it with. Whether you're in a new relationship or have been together for fifty years, it's a perfect day to share how much you care about your partner.
Spend the day in bed. Start with breakfast in bed, gift each other a book, and spend the day relaxing and enjoying each other's company. Sometimes it's nice just to slow down and enjoy not doing much.
Candlelit dinner for two. Got kids and can't find a babysitter? No problem. Wait until the kids are in bed, make a favourite meal, turn the lights off, and eat by candlelight. In a darker room, it's harder to be distracted by all the things that need doing and easier to focus on your special someone.
Order in and movie night. Who says you have to go out on Valentine's Day? Restaurants and cinemas are often overcrowded on Valentine's Day. Veer away from the status quo and order your favourite takeout to be delivered and settle in for a movie night at home.
Couples spa day. Treat yourself and your partner with a couples day at a spa, or a couples massage. Relax together and enjoy being in each other's presence.
Away from your partner
Sometimes work or other circumstances can keep you and your partner away from each other on this special day, but it doesn't mean you can't celebrate your partnership. This is where it's fun to bend the rules.
Try a different day. Who says you can only show your partner you care for them on just ONE day of the year? If you know you'll be apart on Valentine's Day, organise a special Valentine's Day date on another day. It will be your special little secret, and you don't have to worry about the busyness of the day itself.
Zoom it. Zoom has made many things possible. A Zoom date is a good alternative if you cannot be together for Valentine's Day. Organise to Zoom each other, order the same kind of takeout, and watch the same movie at the same time while being able to see and talk to each other. It's almost like you're there together.
Single and loving it
If you're single, it doesn't mean you can't celebrate Valentine's Day. Self-love and self-care are still important, so take the day to treat yourself and celebrate it in your own way. And if you want some company, make a pact with some other single friends to celebrate the day together.
Treat yourself. Take yourself shopping, treat yourself to a dinner for one. Enjoy your day, and enjoy you. Wear your single, totally independent status with pride.
Extra special bath. A warm, relaxing bath is an especially easy way to relax by yourself. Pour yourself a glass of wine, light some candles, add extra bubbles, and pick up a book you've been looking forward to reading and enjoy yourself.
Pamper yourself. Treat yourself to a relaxation massage and a facial, a manicure or pedicure. Treat yourself with some self-care. It's not everyday we look after ourselves the way we should.
Make a pact. If you know other people who are going to be alone on Valentine's Day, organise to get together and do something. Go shopping. Go to dinner. Watch a movie at home. Spend time with a friend, and show them you care about them. If you know more than one single person, have a singles' party.
Regardless of your situation this Valentine's Day, know that it's a day to show you care—care about your partner, your family, and yourself. Don't be afraid to break away from the status quo if it's something you're not going to enjoy. Be yourself. And have a fabulous day!
---
About the author: R.J. Groves
Australian author R.J. Groves has been passionate about writing since she could put pen to paper and can usually be found jotting plots and stories down on anything she can get her hands on. Describing herself as a mum, wife, author, and coffee lover, her other passions include music, cooking, books, adventures, and searching for plot bunnies in even the most mundane activities.
Check out R.J. Groves's latest book Be My Valentine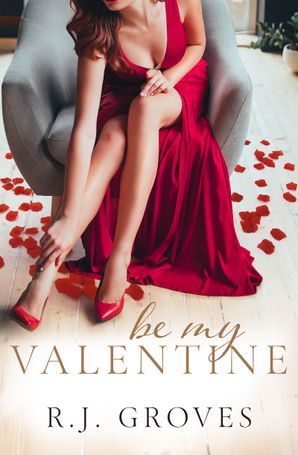 A seamstress. A naval officer. An impossible decision.
Harley Smith has always been unlucky in love, and this year is no different. Even if she can't get her best friend's brother out of her head. It's been almost a year, and with Valentine's Day approaching and no date in sight, perhaps it's time to stop holding out hope on her dreams. Maybe she should make her own happily ever after…
Joey Gray is a sailor through and through. He's been hurt before, and his job has become the only thing he can truly count on. But then he met his sister's best friend – the woman who has filled his dreams for months on end, regardless of how much he has tried to forget her. Now his career isn't as fulfilling as it once was, and he knows who's responsible. He needs to see her again. And what better day to tell her how he feels than on her birthday-Valentine's Day?
But is one week enough time to figure out what they have?