Lauren Hawkeye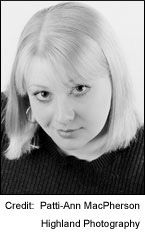 Lauren Hawkeye
A firm believer in the power of a woman's innate sexuality, Lauren originally intended to obtain a doctorate in sexology and become a sex therapist. Instead she was thrown head first into an accounting job (her worst nightmare). When it was gently suggested that perhaps numbers weren't her thing, the English minor made a return to words instead, and found that it was a much better fit.
A self- professed "good girl", Lauren loves to take a walk on the wild side in her stories, and she lives vicariously through her kick butt heroines and the delectable men who want them.
Lauren Hawkeye is a writer, theater enthusiast, knitting aficionado and animal lover. She's older than she looks-really-and younger than she feels-most of the time-and in her stories she loves to explore the journeys that take women through life.
Inspired daily by the Canadian Rocky Mountains in which she lives, Lauren uses the time not spent at her keyboard to hang with her "funny little fur family" -- her pit bull mix Sasha, Persian rescue Sinatra...oh yeah, and her man, Rob. Without their unwavering support, as well as that of her parents, sister, and family dog Rory, whom she lives near, Lauren would never have found the guts to follow her dream.