Jan Colley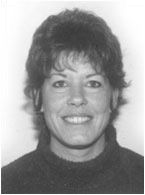 Jan Colley
Jan Colley lives in the South Island of New Zealand with her real-life hero, firefighter Les, and two lovely cats. After years traveling the globe and Jan's eight-year stint as a customs officer, the pair set up a backpacker hostel called Vagabond. Running her own business, she discovered the meaning of the word "busy" and began reading romance to relax. In 2002, they sold the hostel and Jan decided to take two months and write a book. Two months turned into a year. She did a Kara writing course with Daphne Clair and Robyn Donald, and finaled in the Clendon Award, garnering the Readers Choice. That book, Vagabond Eyes, was ultimately rejected. Two completed manuscripts later, she heard the words she had heard in her head a hundred times: "Jan? It's Melissa Jeglinski here. We'd like to buy your book."

Trophy Wives was released in December 2005 under the Desire imprint. Jan now works part-time and dedicates the rest to writing and neglecting her family and friends, although she does find time to watch rugby whenever there is a game on.

Jan would be tickled pink to hear from readers. You can contact her at vagabond232@yahoo.com.