Carla Kelly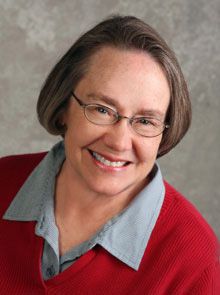 Carla Kelly
Carla has always said that she only writes the books that she wants to read, which has made this whole writing business extra fun.
She wrote her first book at age six. It was called The Old Mill, and she wrote it on her mother's Olivetti-Underwood typewriter. It had a cover (she spent more time on the cover than the narrative), and consisted of two sentences. But Carla said it had a plot.
Carla was always writing something. She admits to going through that awkward, poetry-writing phase. Luckily, it passed. In high school (A.C. Jones High School, Beeville, Texas), she got involved in journalism, which was a great thing, since JHS had an exemplary journalism teacher, Jean Dugat (Miss D), the meanest teacher alive. To show how mean, she insisted that her students learn A LOT. She was the only teacher Carla ever knew who never needed a substitute when she was gone. "We wouldn't have dared not complete what she had assigned us," Carla said. Miss D was a wicked hard taskmaster, but it occurred to Carla that if she did what Miss D said, and paid attention, she'd be a writer someday.
Brigham Young University was a great place to go to college. Papers were a breeze (refer to Miss D in the above paragraph), and Carla graduated with a degree in Latin American history. She was married by her senior year, and eventually Martin and Carla had five interesting children. Martin, retired now, was a university professor, teaching theatre courses, English courses and speech, plus directing plays.
Carla says she began writing in earnest (i.e. selling stuff) when she lived in Ogden, Utah. She started out with short stories about the Indian Wars, reflecting academic interest, plus several years as a National Park Service ranger at Fort Laramie NHS. Great job. Carla said they paid her every two weeks for what she would have done for free… The result of those short stories were two Spur Awards from Western Writers of America and eventually the anthology Here's to the Ladies: Stories of the Frontier Army, which remains her personal favorite book of those she has written.
In 1983 or 1984, Carla wrote her first novel, Daughter of Fortune (she called it Saintmaker), inspired by an incident in New Mexico history. After that, her then-agent suggested she might want to try her hand at Regency romance, which turned out to be a nice fit.
Carla had written mainly for Signet and now Harlequin, with occasional academic works and state and Park Service–funded history projects thrown in to keep life interesting. She has two RITA® Awards for regencies, plus a Lifetime Achievement Award from RT Book Reviews. She doesn't belong to any writing groups because they take up too much time, and she's too cheap to pay dues.
Carla likes to write, but she does other stuff, too. More years in the Park Service meant a greater understanding of the American fur trade and Indians on the Northern Plains. She likes to read, focusing on police procedurals for her escape reading (John Harvey is her favorite such author) and whatever academic history interests her. She is currently researching coal mine history in Utah, because the Kellys moved to Wellington, Utah, in 2009, after Martin retired. Wellington is in Carbon County, well-known for coal mines. She has plans for a history of one 1900 mine disaster, and probably a novel on the same subject (she's a great one for using research many times—re: the Channel Fleet). Also in the works is a biography of Guy V. Henry, a well-known cavalry officer of the Indian Wars, Carla's primary history field. She's been known to present academic papers here and there, and never misses the Indian Wars Symposia at Fort Robinson, Nebraska.
There will always be time for fiction, though. Carla recently sold a novel that reflects her years in southeast Wyoming and her Mormon background to a Utah publishing company. She anticipates more books in this vein, partly because she has always been a bit squeamish about bodice ripping, and she's always up for new ventures.
Other than reading, Carla's only bona fide hobby is crocheting baby afghans. She does it while she watches television or rides shotgun in cars, and she's well on her way to making a gazillion.
Years ago, one of Carla's friends and fellow authors made the perceptive observation that Carla is only writing herself in her books: someone practical, down-to-earth, not Too Stupid To Live, who solves her own problems. And she writes about stalwart, caring men and women because she personally knows a lot of stalwart, caring people. She was also told by a friend, a certified graphologist (handwriting analyst), that her handwriting indicates she hasn't a creative bone in her whole body. Sigh. So it goes.
Related articles
PSA: It's June. Which means we're well into Gemini territory… As a Gemini myself I've already been tagged in my…Read more
We are SO KEEN for this new season of The Bachelor Australia! Two episodes down and the DRAMA is already…Read more