Jasmine Cresswell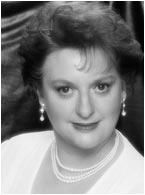 Jasmine Cresswell
If Jasmine seems to have a wide view of the world, it's only natural—after all, she has lived in just about all four corners of the globe. Born in Wales but raised and educated in England, Jasmine obtained a diploma in commercial French and German from the Lycee Francais in London after graduating from high school. Recruited by the British Foreign Service, her first overseas assignment was to the embassy in Rio de Janeiro, Brazil.
It was while Jasmine was working in Brazil that she met her future husband, Malcolm, who was also British and was in Rio as a marketing executive for a pharmaceutical company. They dated for a year and then flew to England to be married.
Captivated by Harlequin books, and realizing that she could take a writing career with her no matter where her husband was transferred next, Jasmine began to write her first romance novel. At the time, all romances seemed to be filled with British virgins being rescued by domineering Greek tycoons, and she wanted to write a different type of story, with a different type of happy ending: one where the hero and heroine were more equal and where the heroine was more mature.
Since she had no idea about guidelines and editorial requirements, she forged ahead entirely oblivious to the problems inherent in her approach. If her attitude seems naive and casual, that's exactly what it was! However, in retrospect, Jasmine is convinced that the compulsion to write a novel was much more deeply rooted than it seemed at the time. Nowadays, she can't imagine living her life without the stimulation and pleasure that comes from writing.
Her four young children have now grown up into four wonderful young adults with families of their own. In between visiting with her eleven grandchildren, Jasmine has found time to write more than fifty romances—ranging from historicals to contemporaries, Regencies to Intrigues.
She has been nominated for numerous RITA and Romantic Times Awards. Indeed, she has been nominated for the Romantic Times Career Achievement Award for Romantic Suspense and as Rocky Mountain Fiction Writer of the Year for her book The Refuge.
Books by Jasmine Cresswell