Lilian Darcy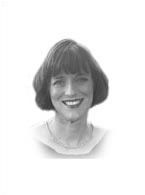 Lilian Darcy
Lilian Darcy has written almost fifty book for Harlequin Mills & Boon Medical Romance and Sweet Romance (known in the U.S. as Prescription Romance and Silhouette Romance.) Her first romance for Silhouette appeared on the Waldenbooks Series Romance Bestsellers list, and she hopes that readers go on responding to all her books with the same enthusiasm.
People often ask her how she manages to come up with ideas, but for Lilian the problem lies in trying to keep up with the flow. She has plots and characters clamouring in her head all the time, and sometimes struggles to decide whose story she wants to tell next.
Lilian believes that a fulfilling personal life helps her enormously in writing romance. Happily married with four gorgeous children, she sinks into bed at the end of each day exhausted but very content. She has begun to feel that there s no point in listing hobbies in her biography, as she rarely has time for any of them. If she did, they would include gardening, quilting, skiing, gourmet cooking, hiking and drawing.
Her goal is to write books that readers turn to with a sense of anticipation, followed by that Ahh... feeling that happens when you sink into a comfortable spot - a squishy couch, or a picnic blanket beneath a tree - and plunge into a world that you know is going to satisfy you, refresh you and leave you with a smile on your face, and perhaps the trace of a tear or two as well.
She is heartily sick of negative journalistic cliches about romance novels, and believes that most articles written on the subject are grossly unfair to readers. Is reading romance a form of escapism? Definitely! she says. Just like playing or watching sport, learning a craft, listening to music, walking on the beach, and practically every other activity that human beings enjoy in their spare time.
One of her as yet unfilled ambitions is to come across a complete stranger, on a train or in a park, perhaps, lost in the middle of a Lilian Darcy novel as she avidly turns the pages. When it happens, I ll probably give a huge shriek of excitement and render her breathless and terrified by hugging her on the spot.
Follow Lilian Darcy
Follow on Facebook
Follow on Twitter