There's something enchanting about the creative world of the theatre. From the pursuit of art, to the buildings themselves filled with endless dark, tight corners to squeeze into – perfect for love to flourish (or maybe just a little tryst). We've picked five of our favourite stage shows to prove that sometimes there's more love & war off-stage than on.
The Real Thing
by Tom Stoppard
Tom Stoppard's insightful play-within-a-play takes a long hard look at the complexities of love and its power to endure. In Stoppard's hands this tricky, twisty tale is more like the mind-bending film 'Inception' but about the ever-changing dynamics of love. As two married couples work together on a play, aptly titled 'House of Cards', things get messy as loves get tested. It's no wonder it's considered to be one of the greatest plays ever written!
Most romantic quote: "I love love. I love having a lover and being one. The insularity of passion. I love it. I love the way it blurs the distinction between everyone who isn't one's lover."
P.S Sydney Theatre Company did a production of The Real Thing just last year! 
Moulin Rouge! The Musical.
Book by John Logan, based on the film by Baz Luhrmann & Craig Pearce
When they took Baz Luhrmann's blockbuster film and turned it into a Broadway show, the velvet-gloved romance only got grander. While young writer, Sebastian, falls for his leading lady, Satine, they must keep their affair hidden from their investor/producer The Duke who wants Satine for himself. Surrounded by the luxuriously over-the-top surroundings of Paris's infamous Moulin Rouge and filled with the best love-songs ever written, it's an epic tale of love & loss… come what may!
Most romantic quote: "The greatest thing you'll ever learn is just to love and be loved in return."
The Phantom of the Opera.
Music by Andrew Lloyd Webber, lyrics by Charles Hart, and a book by Lloyd Webber and Richard Stilgoe.
Andrew Lloyd-Webber took a gothic horror and turned into an erotic masterpiece when he transformed the classic story into a blockbuster musical. As the commanding and magnetic Phantom seduces his pupil Christine, he'll stop at nothing to make sure she becomes the great star of the Paris Opera, even if it means killing all who get in her way. It's up to the dashing Raoul to save her… but you wouldn't be alone in wishing she would succumb to the Phantom's dark ways. The musical had so much sexual energy it became the longest running show on Broadway.
Most romantic quote: "Love me – that's all I ask of you."
Noises Off
by Michael Frayn
Michael Frayn's slapstick hit gives us life behind-the-scenes of a touring theatre company. From backstage spats between on-stage couples, to the longing lives of the stagehands who keep the show (barely) running. All the while, the director struggles to keep the drama (and his trousers) in the wings.
Most romantic quote: "Am I in Spain? No I'm not in Spain, dear. I'm in agony, that's where I am!"
Kiss Me Kate
Book by Bella and Samuel Spewack with music and lyrics by Cole Porter
Shakespeare's 'Taming of the Shrew' has one of theatre's sharpest & most controversial love affairs, between Petruchio and the quick-witted Katherina. Adding backstage romance and one of the all-time-great scores by Cole Porter, 'Kiss Me Kate' brings us the best of both worlds – an onstage romance for the ages, and backstage love to go with it.
Most romantic quote: "When Lilli gets here, start with a love song: "So in Love." She's a pushover for a sentimental lyric."
Honorable mention
Peter Pan Goes Wrong by Henry Lewis, Jonathan Sayer, and Henry Shields
It's not everyday you watch a production of Peter Pan and hope Wendy ends up with the Crocodile! In the midst of the mayhem of a Christmas performance gone wrong (by the inept and accident-prone Cornley Polytechnic Drama Society), audiences were delighted by the revelation that the bumbling Max (playing the crocodile) was in love with the show's leading lady. When his passion is awkwardly outed, Max takes it on himself to rescue the show's Wendy from catastrophe, and her boyfriend who happens to be playing Peter Pan.
Love theatrical romance? Check out One From the Heart
He's the Banksy of the international theatre scene – daring, anonymous, renowned. So when playwright 'Draven' bequeaths his latest play to the rural Rivervue Theatre, the stage is set for drama.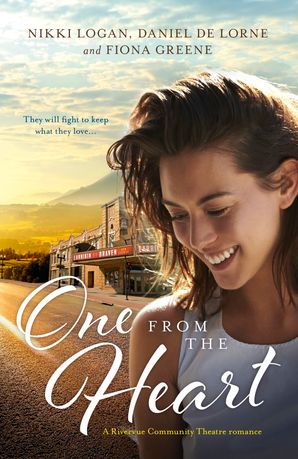 By Chad Armstrong
Featured Image Credit: 20th Century Fox