My writing life
Writing is my dream job. I loved English at school and devoured books as a reader, but always thought I'd like to write one. In the early 2000s I finally stopped thinking about it and actually put pen to paper. Speed dating was all the rage at the time and I thought it would make a great theme for a plot, so I concocted a friends-to-lovers story and the rest is history. Being offered a publishing contract with Harlequin Mills and Boon was mind-blowing and I made the switch from physio to author. With Mills and Boon, I've been lucky enough to be involved in the launch of several new series over the years, including Modern Heat, Kiss and Dare. For each series, my editor approached me because she felt I had the perfect 'voice' to produce what they wanted: fun, flirty and sexy romance. I'm all about the banter, which I love writing.  
Writing category romance was incredibly fun and allowed me to hone my skill at condensing characterisation. Category romance is known for its tight structure, contained in around 50,000 words. The average novel is more like 80,000 to 120,000 words, so squeezing in believable characters, strong conflict, vibrant settings and colourful secondary characters that often demand their own story is a challenge in half the words. I'm grateful for the opportunity this provided me and I've taken these skills into the longer novels I now write.
Since then, I've written in various genres, including young adult paranormal fantasy and women's fiction. I currently write rural romance for HQ Books, domestic thrillers for Hachette UK's Bookouture imprint, and contemporary romance for Penguin Random House USA's Berkley imprint.
It's challenging juggling different genres but incredibly rewarding too, as I get to flex my creative muscle! Whatever the genre, my books have a common theme of family. So whether the romance is front and centre, or there are dark twists underpinning the story, family will always be present.
I love exploring the dynamics of family and friends, and the influence they exert on the main characters. With my novels set in small towns, it's inevitable that a larger cast of friends will have an impact on the protagonists and the story. In my domestic thrillers, I love exploring family dynamics and how relationships that appear calm on the surface can hide a volatility that can result in devastating consequences.
So how do I create my stories?
My daily writing life looks something like this: wake around 6.30 am and do a quick scan of emails – my agent and two of my publishers are based overseas so all the exciting publishing stuff usually happens while I'm asleep!
Go through the morning routine of breakfast and lunches for the kids, school drop off, before I'm home and doing a quick workout before sitting at my desk.
I tackle admin and promotional tasks first and that takes an hour, then I knuckle down to write around 10ish. I squeeze in four hours of writing, breaking for lunch.
Then it's time for the family stuff again: school pick-up, snacks, cooking dinner, et cetera … If I'm on a tight deadline – which seems to be all the time when juggling several publishers – I'll work on edits in the evenings too. But I much prefer to be curled up reading a good book or binge-watching something on Netflix than working at night!
---
ABOUT THE AUTHOR: Nicola Marsh
USA Today bestselling and multi-award winning author Nicola Marsh writes page-turning fiction to keep you up all night.
She has published seventy-seven books and sold over eight million copies worldwide. She currently writes rural romance for HarperCollins Australia's Mira imprint, emotional domestic suspense for Hachette UK's Bookouture and contemporary romance for Penguin Random House USA's Berkley imprint.
She's a Romantic Book of the Year and National Readers' Choice Award winner.
A physiotherapist for thirteen years, she now adores writing full time, raising her two dashing young heroes, sharing fine food with family and friends, barracking loudly for her beloved North Melbourne Kangaroos footy team, and curling up with a good book!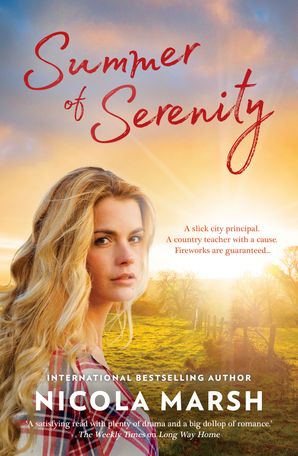 Opposites clash in the addictive new small-town romance from USA Today bestselling Australian author Nicola Marsh.
A slick city boy with a mission. A free-spirited country girl with a cause. Fireworks are guaranteed…
Upstanding principal Jy Atherton dreads the next four weeks. As punishment for crossing his bosses, he's been lumped with the inglorious task of assessing Acacia Haven's tiny school with its, dare he say, 'hippie' curriculum. With the lowest test scores in the state, it's no wonder shutting it down is practically a foregone conclusion. But then he crosses paths with a spitfire who knocks him for six – pity he's already public enemy number one…
Teacher Summer O'Reilly loves her small town nestled along the beautiful coast. Returning was the best decision she ever made. The intentional living community of Serenity is thriving, and the children are its future. No way will she allow a jumped-up suit – no matter how good-looking – to close the school her precious students need.
For Rayne O'Reilly, Acacia Haven has always been serene on the surface, but there's a dark secret she's kept from everyone for decades, including her daughter, Summer. But after reviving old friendships and reconnecting with the past, will she finally have the courage to tear down the walls that have kept her trapped?