Author Allison Butler gives us her top 6 picks for movies set in historical Scotland.
---
There is something captivating about Scotland: the breathtaking scenery, turbulent history and the passionate people fighting for what they want and believe in The Healer, my Scottish-set medieval romance, is a story of hope, love and belonging. Lynelle Fenwick, the outcast daughter of an English lord, is desperately seeking acceptance from her father. William Kirkpatrick, the brooding, dark-haired, grey-eyed laird of Closeburn Castle, has sworn to do everything in his power to protect his last surviving injured young brother – even if that means trusting an Englishwoman claiming to be a skilled healer.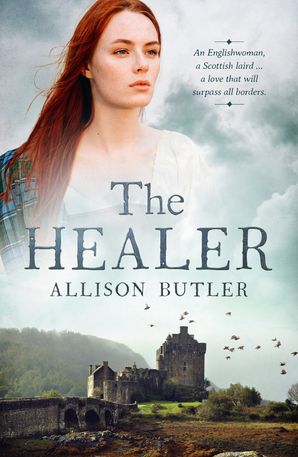 Movies set in Scotland, telling tales of past and imagined struggles throughout history, are big, bold, epic sagas fashioned to capture your heart and stir your soul. If you fancy being swept away into bygone days filled with adventure while riding a rollercoaster of powerful emotions, here are several movie suggestions:
Braveheart
I'm sure most of you know of Mel Gibson's role as William Wallace in Braveheart, a sweeping saga about Scotland's brutal battle for independence in the 13th century. After witnessing King Edward 'Longshanks' treachery as a young lad, and surviving the deaths of his father and brother, William Wallace returns to Scotland and falls in love with his childhood friend, Murron, and they marry in secret. But when Murron is ravaged and murdered by English troops, William's quest for revenge becomes an impassioned fight for his country's freedom. A powerful, heart-stirring movie.
Rob Roy
Then there's the 1995 movie Rob Roy, starring Liam Neeson. Set in 1713 in the Highlands of Scotland, clan chief Rob Roy MacGregor tries to lead his small town to a better future by borrowing money from the local nobility to buy cattle to herd to market. When the money is stolen, Rob Roy is forced into a Robin Hood lifestyle to defend his family and honour. Rob Roy is remembered as an outlaw and a folk hero.
Where to watch: Stan
Highlander
The original film poster said 'He fought his first battle on the Scottish Highlands in 1536. He will fight his greatest battle on the streets of New York in 1986. His name is Connor Macleod. He is immortal'. Christopher Lambert played the Immortal Connor Macleod in this 1986 science fiction fantasy movie that combines history, magic and romance. And the movie soundtrack was performed by Queen, my favourite 80's band. Though four sequels were made, none were as great as the first (and originally the only one planned) Highlander movie.
Where to watch: Binge
Outlaw King
The untold true story of Robert the Bruce, who transformed from defeated nobleman to reluctant king to outlaw hero over the course of one extraordinary year. Forced into battle in order to save his family, his people and his country from the oppressive English occupation of medieval Scotland, Robert seizes the Scottish crown and rallies a ragtag group of men to face off against the wrath of the world's strongest army led by the ferocious King Edward 1 and his volatile son, the Prince of Wales. An amazing movie touching on the raw real-life struggles of the time and filled with loyalty, power, passion, strength, determination, love and the loss suffered by those who gave everything fighting for justice.
Where to watch: Netflix
Brave
Set in rugged Scotland in a mythical time, the animated 2012 movie Brave is a wonderful mother–daughter tale and features Princess Merida, a talented archer, and the impetuous daughter of Queen Elinor and King Fergus; Will 'O the Wisps; a curse; a witch; and an evil bear as the villain. Not a typical Disney princess, Merida challenges traditions and expectations, makes a reckless choice that unleashes unintended peril and, as she fights to set things right, discovers the true meaning of bravery. A lovely feel-good family movie.
Mary Queen of Scots
This movie explores the turbulent life of the charismatic Mary Stuart. Queen of France at 16, widowed at 18, Mary defies pressure to remarry and instead returns to her native Scotland to reclaim her rightful throne. By birth, she also has a rival claim to the throne of Elizabeth I, who rules as the Queen of England. Determined to rule as much more than a figurehead, Mary asserts her claim to the English throne, threatening Elizabeth's sovereignty. Rivals in power and in love, the two queens make very different choices about marriage and children. Betrayal, rebellion and conspiracies within each court imperil both queens – driving them apart, as each woman experiences the bitter cost of power. I haven't seen this movie yet, but it's definitely on my to-watch list.
Or… you could watch Outlander again
---
Allison Butler
Allison Butler is an author of Scottish historical romance. She spent her early years in country NSW building pretend castles with hay bales and leaping white posts with her army of two older sisters and a younger brother. Many years later, with her mother's influence, she discovered a passion for words and history, read her first historical romance and was inspired to create her own. She writes most mornings and cares for the elderly in the afternoons. Her love of travel has given her the gift of many amazing sights but none more heart-stirring than the rugged beauty of Scotland. Allison lives in a small town in NSW, Australia, with her very own Scottish hero. Their two beautiful daughters have left the nest to feather their own and have begun their own adventures. Allison loves spending time with family and friends, travelling, taking photos, reading, dancing like no one's watching and seeing the sights from the back of her husband's motorcycle.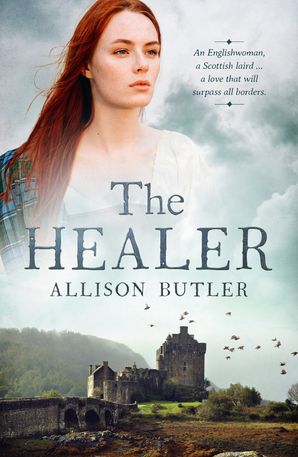 An Englishwoman, a Scottish laird … a love that will surpass all borders. A sumptuous romance in the spirit of Diana Gabaldon and Darry Fraser.
1402, the Anglo-Scottish border.
Lynelle Fenwick has been an outcast all her life. The daughter of an English lord, she was deemed cursed when her mother didn't survive childbirth. Raised by the village healer, who has since died, Lynelle truly is alone. When her younger half-brother is captured during a Scottish raid, she sees a last chance to redeem herself to the father who rejected her, and offers to be held captive in his place.
Across the turbulent border, Lynelle strikes a bargain with William Kirkpatrick, laird of Closeburn. She will spend two weeks inside the clan's castle tending William's younger brother who is in need of a healer's care. The laird has his own family curse to deal with, along with a deep distrust of healers – and Lynelle has exaggerated her healing skills to obtain her half-brother's freedom.
Despite their differences, William and Lynelle are drawn to each other … then an unexpected foe threatens to divide them forever. Enemies by birth and circumstance, they can only succeed together.
'So much better [than Outlander] … The Healer is my favourite Scottish romance of all time!' Night Owl Romance
Featured image credit: Starz