I love a good costume drama to warm the winter nights and the latest offering from Julian Fellowes (the writer behind Downton Abbey) is currently showing on BBC First. I know not all of you will have access to it, but I am sure it will be coming to free-to-air at some time in the future.
Unlike the ongoing saga that is Downton Abbey, Belgravia is a discrete six-part romantic historical drama, and for those of you who live for regencies, it begins in the heady hours before the Battle of Waterloo (huzzah!).
James Trenchard is, to use a regency term, a 'cit'… a tradesman who has hauled himself up by the bootstraps to become the victualler to the Duke of Wellington's army. While respected for his business acumen, Trenchard (and his family) will never truly be accepted by the society he so desperately wants to be a part of. His loving and loyal wife, Anne, is acutely aware of her husband's failings and is appalled when he tells her he has wrangled tickets to the Duchess of Richmond's ball.
Unknown to Anne, Trenchard is shamelessly using their beautiful daughter, Sophia, to gain social favour, particularly with Lord Bellasis, son of the Earl and Countess of Brockenhurst. Sophia believes Bellasis to be in love with her and has, unknown to her mother (but with the connivance of her father), secretly married him.
Of course, we know what happens next…the ball is interrupted by the arrival of the French Army and as Sophia bids farewell to her beloved, she realises that her marriage is a sham concocted by Bellasis to bed her. To make matters worse she is pregnant. Inevitably Bellasis is killed and Sophia is to die in childbirth. A heartbroken Anne is persuaded by her husband it is for the best for the baby (a boy who is to be known as Charles Pope) to be fostered out and for them to have no further dealings with the child. So that's the set-up.
The second episode moves forward twenty-five years and the two grieving mothers, Anne Trenchard and Lady Brockenhurst, meet again, a secret is spilled, and to the horror of both families an oblivious Charles Pope suddenly finds himself at the centre of Brockenhurst favour. There are villains aplenty…from Anne's daughter–in-law Susan and her maid Ellis to the Brockenhurst heir, their nephew, the current Lord Bellasis, who like his clergyman father has something of a gambling (and womanising) problem and, of course, there is a beautiful and spirited heiress, Lady Maria Grey, betrothed to the odious Bellasis, who finds herself drawn to the gentle and unworldly Charles Pope.
I have just finished watching the fourth episode and it is all about to go badly wrong for our hero, Charles, thanks to the machinations of the scheming Lord Bellasis. Will it all end in tears or will Julian Fellowes somehow ensure that Charles and Maria get their happy ever after and the villains their come-uppances? I would also like to see Anne Trenchard get a happy ever after… she is absolutely my favourite character. She loves her husband, and he her, but he is not above keeping secrets from her (and she has a cute dachshund!).
The costuming and production is superb and absolutely on point for the period. This is unashamed historical romance in its purest form and highly recommended for lovers of that genre, with the added bonus that it only lasts for six episodes!
You can watch Belgravia on Foxtel Now or Binge 
---
Alison Stuart
Australian author Alison Stuart began her writing journey halfway up a tree in the school playground with a notebook and a dream. Her father's passion for history and her husband's love of adventure and the Australian bush led to a desire to tell stories of Australia's past.
She has travelled extensively and lived in Africa and Singapore. Before turning to writing full time, she enjoyed a long and varied career as a lawyer, both in private practice and in a range of different organisations, including the military and the emergency services.
Alison lives in a historic town in Victoria.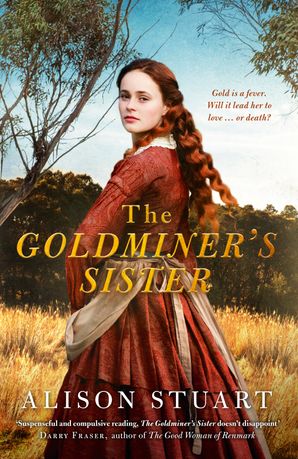 Gold is a fever. Will it lead her to love … or death? A suspenseful romance set on the turbulent goldfields of 1870s Australia, for readers of The Postmistress and The Woman in the Green Dress.
'There are people in this town with the gleam of gold in their eyes and cold steel in their hearts.'
1873. Eliza Penrose arrives in the gold mining town of Maiden's Creek in search of her brother, planning to make a new life for herself. Instead she finds a tragic mystery – and hints of betrayals by those closest to her.
Mining engineer Alec McLeod left Scotland to escape the memory of his dead wife and child. Despite the best efforts of the eligible ladies of Maiden's Creek, Alec is determined never to give his heart again.
As lies and deceit threaten Eliza's life, Alec steps in – although he has problems of his own, as he risks his livelihood and those he holds dear to oppose the dangerous work practices at the Maiden's Creek Mine.
When disaster draws the pieces of the puzzle together, Eliza and Alec must save each other – but is it too late?
'Suspenseful and compulsive reading, The Goldminer's Sister doesn't disappoint' – Darry Fraser, author of The Good Woman of Renmark