Leisl Leighton's latest book features a broken hero. We asked her to round-up her fave broken heroes from pop-culture. 
---
When I sat down to write Climbing Fear, I couldn't help falling in love with my broken hero, Reid Stratton. He is truly broken at the start of the book, having lived through a tragedy that he can't forgive himself for, and he retreats to his childhood home to lick his wounds and to hide from the reality of his emotions. Of course, with the arrival of the heroine, he has to face everything he thought it impossible to deal with. His journey from broken hero to one strong enough to find a way to heal himself and be worthy of Nat, his forever love, was such an amazing one to go on with him and gave me such a great sense of satisfaction at the end when I got there with him.
To get to the heart of the broken hero, I went over all the broken heroes I've fallen in love with before. I thought I'd share some of those here with you.
Books
One of the first broken heroes I ever fell in love with, he is a true classic in every sense of the word – dark and brooding, mysterious, and with walls built up that touch the sky that the heroine manages to break down even though he fights it with everything in him. The outing of what makes him so broken is truly heart-wrenching and creates a plot twist that had me wondering how on earth these two lovers would ever get over it. Then he breaks even more. Argh! But Jane is up to the challenge and helps to put this broken man back together, creating a HEA that makes me go mushy every time.
An ice-cold psy but with so much depth and a broken soul that he can't possibly heal because to it will lead to his death. And yet, if he doesn't heal, he can't help his heroine save herself from her own demons. The stakes couldn't be higher when a broken hero meets and falls for an equally broken heroine. I love this one because they each become the other's saviour.
TV
Lucifer Morningstar in Lucifer
Funny, quippy, irreverent, totally politically incorrect and completely clueless, but he uses all this to hide the broken heart of him. His story is as old as stories get –punished for betraying his dad for eternity and completely misunderstood by everyone, his path to redemption is through the very humanity he once fought against embracing. It doesn't hurt of course that he's played by the supremely cute and talented Tom Ellis. This singing, piano-playing, devilishly handsome ladies' man has a journey to healing that keeps me hanging out for every episode. Bring on the rest of season 5!
Damon Salvatore from The Vampire Diaries
Good in the books but downright gorgeous and heartbreaking in the TV series. Played by the incredibly blue-eyed Ian Somerhalder, he is the bad boy who tries to be good for his heroine but just can't help but be dragged back to the bad because of the broken part of his nature. His history of broken-ness is full of the classics – a broken heart, betrayed by his brother, misunderstood and unloved by his father, abandoned by his mother. It is a wonder he ever finds his way to healing, but his path to healing was what kept me tuning in week after week.
The Doctor from Doctor Who
I'm well and truly showing my geeky side here, but I have always thought Doctor Who is a classic broken hero. He ran away because he didn't feel like he belonged, yet he picks up companions he doesn't feel worthy of because he can't be alone. Even the loves of his lives – Rose and River – don't get to stay with him. He throws himself into setting things to right in the universe because he can't face what's broken inside. He destroyed his world to save the universe, and is then truly alone. Except for his greatest nemesis and ex-best friend, The Master, who makes his life hell. And his planet did survive, but his people do their worst to punish him. He's been through more trauma than anyone ever should, yet, like the best broken hero, he keeps keeping on. Although now he's a woman, she might have a chance of facing up to her old feelings of being lost and eternally alone and work her way through them to a HEA. 😊
Movies
Kyle Reese from The Terminator
I fell so hard for Kyle Reese as played by Michael Biehn. This mysterious, scarred and reticent hero from the future is broken in so many ways and never gets a conventional HEA. But for a man with his past, the time he spent loving Sarah Connor really truly was a love that felt like a 'lifetime's worth' – and it was the healing both he and I needed in that moment.
Every Avenger from the Marvel Universe
There is not one Avenger (male or female) who is not broken. The whole series of movies takes the broken heroes recipe and adds its magic to every movie – there is betrayal and heartbreak, torment and torture, PTSD and loss. And when all these broken people come together, it culminates in an overarching storyline that made me cry and cheer. From Captain America through to Ant Man (and Captain Marvel) these broken heroes (and heroines) still make my heart ache in all the right ways and cheer them on to their individual HEAs.
Bruce Wayne/Batman from Batman
A superhero that is often not so super because his need for justice is driven by rage. Exceptionally privileged, he can't escape from the moment when his parents were gunned down in front of him and his life fell apart. Alone, lost, grieving, he grows up to take on two faces – one a rich, misogynistic alpha-hole and the other a justice-seeking vigilante who some call superhero, some call outlaw and he calls necessary. He pushes everyone away except, like most broken heroes, because of the good inside him, he can't help being surrounded by people who truly care for him. I can't wait to see Robert Pattinson's interpretation of this hardened broken hero.
---
Leisl Leighton
Leisl is a tall red head with an overly large imagination. As a child, she identified strongly with Anne of Green Gables. A voracious reader and a born performer, it came as no surprise to anyone when she did a double major in English Literature and Drama for her BA, then went on to a career as an actor, singer and dancer, as well as script writer, stage manager and musical director for cabaret and theatre restaurants (one of which she co-owned and ran for six years).
After starting a family, Leisl stopped performing and instead, began writing the stories that had been plaguing her dreams. Leisl's stories have won and placed in many competitions in Australia and the US, including the STALI, Golden Opportunities, Heart of the West, Linda Howard Award of Excellence, Touch of Magic and many others.
Leisl lives in the leafy suburbs of Melbourne with her two beautiful boys, lovely hubby, overly spunky dogs, Buffy and Skye, and likes to spend time with family and friends. She is addicted to the Syfy channel, and her shelves are full of fantasy and paranormal books and scifi DVDs. She sometimes sings in a choir, has worked as a swim teacher, loves to ski, can talk the hind leg off a donkey and has been President of Romance Writers of Australia from 2014-2017.
To find out more, visit Leisl on her website.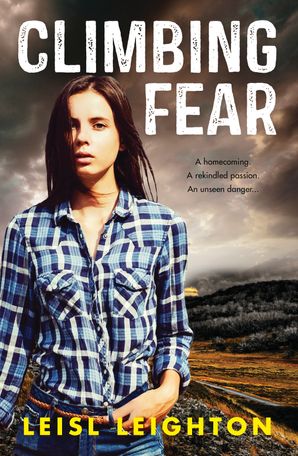 Set against the stirring Victorian Alps, comes a suspenseful novel of recovery and new beginnings from a talented new voice in Australian rural fiction. Perfect for readers of Sarah Barrie and Nora Roberts.
His beloved home is under threat and with it the beautiful, haunted woman he's never been able to forget …
X-Treme TV sports star Reid Stratton has everything – until his best friend falls to his death on a climb while shooting their show. In the fierce media fallout, Reid begins to question everything about himself. Crippled by a new fear of climbing, Reid returns to CoalCliff Stud, his family's horse farm, to recover.
Single mother Natalia Robinson is determined to start afresh, away from the shadow of her past. A job at CoalCliff Stud where she lived as a child is the perfect opportunity to live the quiet life she always wanted. But she is unprepared to see Reid, and is even more unprepared for the passion that still burns between them.
But after a series of menacing events threatens the new home she is trying to build, Nat realises that Reid is the only person she can rely on to keep her and her daughter safe. Together, Reid and Nat must face the pasts that haunt them if they are to survive the present and forge a future of hope.