Sally Rooney's bestselling novel Normal People has just dropped on Stan and the world is OBSESSED. We're all cutting fringes, buying silver chains, and planning our next holiday at an Italian villa after binge-watching the series. Not only that, we are WEEPING. For Normal People *spoiler alert* is REALLY SAD.
I don't know about you, but every episode had me reaching for the tissues. Those final moments where Marianne & Connell ** again, you've been warned SPOILERS** decide to part so he can join the creative writing course in New York had me in absolute SHREDS.
So, if after watching this 6-hour beautifully weepy series you're feeling totally broken-hearted, here are 9 books we recommend for a good romantic pick-me-up!
The Modern Woman's Guide To Finding A Knight by Anna Klein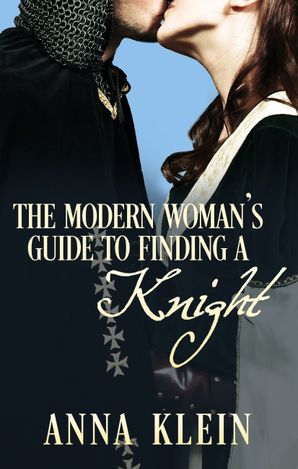 All's Faire in love and war…
Connie leads a double life. During the week, she is an up–and–coming designer and dressmaker, creating sleek, elegant gowns for the wealthy elite. But come the weekend, Connie becomes Lady Constance, a member of the House Felicitous at the local Renaissance Faire, creating beautiful historical garments for herself and her friends and teaching dancing to fair attendees. Fearing loss of business should her stylish clientèle discover her extracurricular activities, Connie keeps her professional life and her faire life carefully separate. However, everything changes when she's saved from certain death by Sir Justin: a rising star in the joust and an actual knight in shining armour.
Behind his mask as Sir Justin, Dominic is confident and charismatic, but out of his armour, his courage fails him, and to his own horror he finds himself accidentally pretending to be his own best friend. Suddenly, he is in Connie's life as two different men: the elusive Sir Justin who courts her over the internet and from behind a suit of armour and Justin's 'best friend' Dominic who hangs out at her apartment and helps her move. The lie only grows bigger and Sir Justin finds himself faced with the most frightening challenge he can imagine: extricating himself from his lie and winning Connie's heart as his true self.
But there's something rotten afoot at the Faire, something that threatens its future, the community that has grown there, and even Sir Justin's life. Will Lady Constance find the courage to step up and risk everything to defend her friends, save the Faire, and rescue her knight?
Something to Talk About by Rachael Johns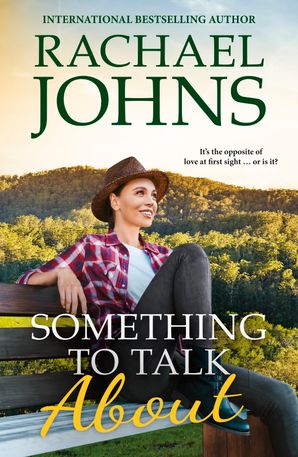 It's the opposite of love at first sight…or is it?
Dairy farmer Tabitha Cooper-Jones has a heart of gold, yet she's the eternal bridesmaid. Everyone's best mate. Despite facing some serious challenges over the years, she's built a successful ice-cream business and cafe, she's adored by her family and is an integral part of her hometown – there's just one thing missing from her life. But the last thing Tab wants is a man – or worse, love – to stop her achieving her dream.
In town for a temporary teaching contract, Fergus McWilliams thinks the small community of Walsh will be the perfect place to stay under the radar but he couldn't be more wrong. Suddenly, the kids' cricket team coached by Ferg is inundated with female supporters – single female supporters – and that's only the beginning.
The only woman who doesn't seem to have her sights set on Ferg is Tabitha. Despite a disastrous first meeting and a visit from a past love, circumstances keep throwing them together. Neither can deny the sparks between them, but can friendship even be possible for these two strong-willed people?
A moving story of overcoming obstacles and learning to love, from ABIA award-winning author Rachael Johns.
Find it here 
Fix Her Up by Tessa Bailey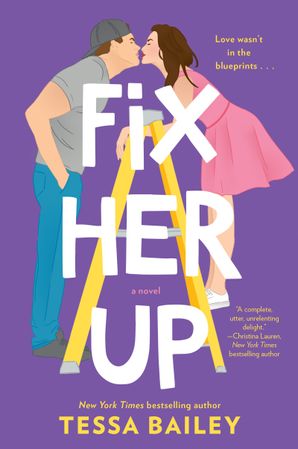 A steamy, hilarious new romantic comedy from New York Times bestselling author Tessa Bailey, perfect for fans of Christina Lauren and Sally Thorne!
Living her best life means facing the truth: Georgie hasn't been on a date since, well, ever. Nobody's asking the town clown out for a night of hot sex, that's for sure. Maybe if people think she's having a steamy love affair, they'll acknowledge she's not just the "little sister" who paints faces for a living. And who better to help demolish that image than the resident sports star and tabloid favorite
Travis Ford was major league baseball's hottest rookie when an injury ended his career. Now he's flipping houses to keep busy and trying to forget his glory days. But he can't even cross the street without someone recapping his greatest hits. Or making a joke about his… bat. And then there's Georgie, his best friend's sister, who is not a kid anymore. When she proposes a wild scheme-that they pretend to date, to shock her family and help him land a new job-he agrees. What's the harm It's not like it's real. But the girl Travis used to tease is now a funny, full-of-life woman and there's nothing fake about how much he wants her…
Find it here 
The Worst Best Man by Mia Sosa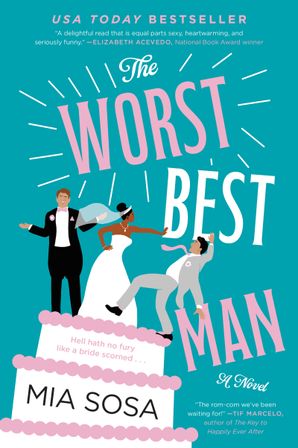 "A romantic comedy that's fun and flirty, young and fresh." – PopSugar
One of Oprah Magazine's 21 Romance Novels That Are Set to Be the Best of 2020, EW's 20 New Books to Read in February, and PopSugar's 25 Brilliant New Books Hitting Shelves. A LibraryReads Pick for February and Amazon Best Romance of the Month!
A wedding planner left at the altar Yeah, the irony isn't lost on Carolina Santos, either. But despite that embarrassing blip from her past, Lina's offered an opportunity that could change her life. There's just one hitch… she has to collaborate with the best (make that worst) man from her own failed nuptials.
Marketing expert Max Hartley is determined to make his mark with a coveted hotel client looking to expand its brand. Then he learns he'll be working with his brother's whip-smart, stunning-absolutely off-limits-ex-fiancée. And she loathes him.
If they can nail their presentation without killing each other, they'll both come out ahead. Except Max has been public enemy number one ever since he encouraged his brother to jilt the bride, and Lina's ready to dish out a little payback of her own.
Find it here 
The Love Square by Laura Jane Williams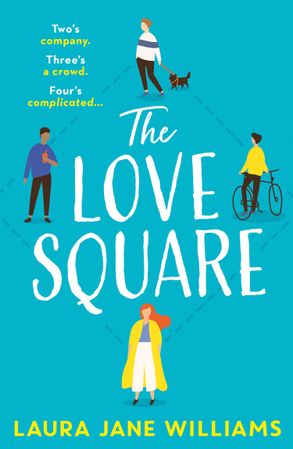 She's single. But it can still be complicated…
Penny Bridge has always been unlucky in love. So she can't believe it when she meets a remarkable new man.
Followed by another.
And then another…
And all of them want to date her.
Penny has to choose between three. But are any of them The One?
The bestselling author of Our Stop will have you laughing, crying and cheering Penny on in this funny and feel-good exploration of hope, romance and the trust it takes to finally fall in love. Perfect for fans of Mhairi McFarlane's If I Never Met You and Beth O'Leary's The Flatshare.
Find it here 
Lovestruck by Bronwyn Sell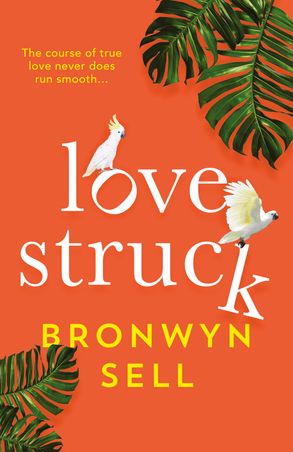 A clever, heartfelt romantic comedy about a charming family who live in the most romantic place on earth but can't catch a break when it comes to love. For fans of Marian Keyes, Star-Crossed and Offspring.
When a romantically challenged family gather at their Whitsundays resort for their first wedding in decades, Amy 'stuck in the friend zone' Lowery realises that her single tango-dancing mum and besotted groom-to-be dad have hotter love lives than she does.
But when she locks eyes with an alluring stranger, The Pull in her chest is undeniable. And the look in Josh Brennan's eyes definitely says 'more than friends' – but not in the way she hopes.
Loner Josh is ecstatic to meet his witty stepsister-to-be and stoked that the union of their two dads comes with the lively (if chaotic) family he's always wanted. No way will he admit to an inconvenient attraction to his insta-sister – not even to himself.
Elsewhere on the island, resident nice guy Harry is absolutely not going to fall for smart and sexy jilted bride Sophia, who is locked in the honeymoon villa trying to kickstart Operation Get Your Life Together. But a harmless flirtation never hurt anyone – right?
Throw in some sharp-witted siblings, a bevy of naval officers and a meddlesome gran determined to see at least one of her descendants happily wed, and the scene is set for a perfect storm that will leave no heart unscathed…
Find it here 
The Plus One by Sophia Money-Coutts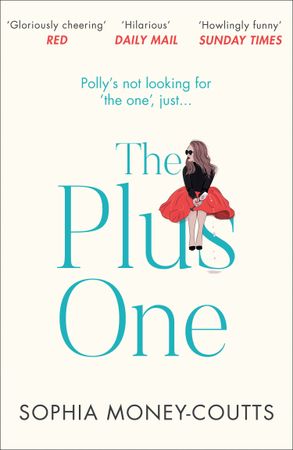 The Plus One [n] informal a person who accompanies an invited person to a wedding or a reminder of being single, alone and absolutely plus none
Polly Spencer is fine. She's single, turning thirty and only managed to have sex twice last year (both times with a Swedish banker called Fred), but seriously, she's fine. Even if she's still stuck at Posh! magazine writing about royal babies and the chances of finding a plus one to her best friend's summer wedding are looking worryingly slim.
But it's a New Year, a new leaf and all that. Polly's determined that over the next 365 days she'll remember to shave her legs, drink less wine and generally get her s∗∗t together. Her latest piece is on the infamous Jasper, Marquess of Milton, undoubtedly neither a plus one nor 'the one'. She's heard the stories, there's no way she'll succumb to his charms…
A laugh-out-loud, toe-curlingly honest debut for fans of Helen Fielding, Bryony Gordon and Jilly Cooper.
Find it here 
If I Never Met You by Mhairi McFarlane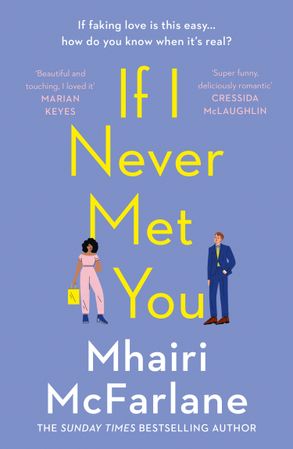 If faking love is this easy… how do you know when it's real?
Laurie and Jamie have the perfect office romance
(They set the rules via email)
Everyone can see they're head over heels
(They staged the photos)
This must be true love
(They're faking it)
When Laurie is dumped by her partner of eighteen years, she's blindsided. Not only does she feel humiliated, they still have to work together.
So when she gets stuck in the lift with handsome colleague Jamie, they hatch a plan to stage the perfect romance. Revenge will be sweet…
But this fauxmance is about to get complicated. You can't break your heart in a fake relationship – can you?
Find it here 
In At The Deep End by Penelope Janu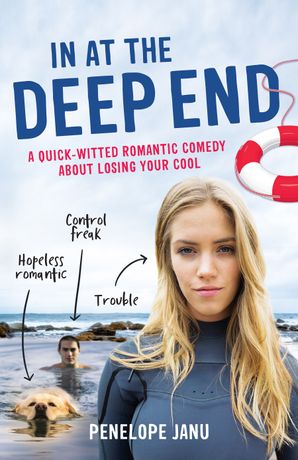 A quick–witted, contemporary romance about losing your cool.
What woman doesn't love a real–life hero? Harriet Scott, for one. The fiercely independent daughter of famous adventurers, she grew up travelling the world on the environmental flagship The Watch. So when Harriet's ship sinks in Antarctica and she has to be rescued by Commander Per Amundsen, an infuriatingly capable Norwegian naval officer and living breathing action hero, her world is turned upside down.
Like their namesakes, the original Scott and Amundsen who competed to reach the South Pole first, Per and Harriet have different ways of doing things. Per thinks Harriet is an accident waiting to happen; Harriet thinks Per is a control freak. But when Harriet realises that Per is the only one who can help her fund the new ship she desperately wants, she is forced to cooperate with him.
Per refuses to assist unless Harriet allows him to teach her to swim. But there is more to Harriet's terrible fear of water than meets the eye. Can Harriet face her fears and come to terms with the trauma and loss of her past? And will she begin to appreciate that some risks are well worth taking–and that polar opposites can, in fact, attract?
Find it here 
Happy reading everyone!