Author Diane Hester rounds-up her favourite romantic suspense pop-culture…
---
Can I trust the man I'm falling in love with?
This is the question at the heart of my romantic thriller No Good Deed, and one shared by heroines in numerous films and other books.
Rebecca is possibly the best-known example. The Alfred Hitchcock film classic, based on the novel by Daphne du Maurier, follows a newly married heroine (Joan Fontaine) as she struggles to unravel the mystery of her husband's brooding behavior once they return to his home, Manderley. Did or didn't he kill his first wife?
In Spellbound, another Hitchcock classic, Dr Constance Petersen (Ingrid Bergman) falls for new chief of staff, Dr Edwardes (Gregory Peck) only to find he suffers amnesia and fears he may have killed someone. Her faith in him is challenged as glimpses of his past slowly re-emerge, suggesting he may indeed be a murderer. Yet she sticks by him, true in her love, and ultimately helps him uncover the truth.
While Dr Petersen's love and faith in her man is ultimately rewarded, this isn't the case in all examples of this genre variant. Libby Parsons (Ashley Judd) in Double Jeopardy suffers the ultimate betrayal when her husband stages his own death and implicates her in his murder. Libby goes to jail while her husband takes their son and begins a new life with the lover who helped him stage the crime. A wrong very satisfyingly righted when Libby is released on parole and returns to confront him.
The film Deceived starring Goldie Hawn is another example where the heroine's trust in her man is betrayed. After her husband's apparent murder, she uncovers evidence he was living under a false identity and is actually still alive.     
As for my novel No Good Deed, heroine Cassidy faces a double dilemma when two handsome strangers enter her life at the same time, both with romantic interest in her, and both with issues that lead her to wonder if they truly are who they claim to be. Without giving too much away, the times these stories end in betrayal make the ones that end happily all the sweeter.
---
About the Author: Diane Hester
Born in New York, Diane Hester is a former violinist with the Rochester Philharmonic and the Adelaide Symphony. Her debut thriller, Run To Me, short-listed in the 2014 U.S. Daphne du Maurier Awards. She lives with her family and numerous pets in Port Lincoln, South Australia.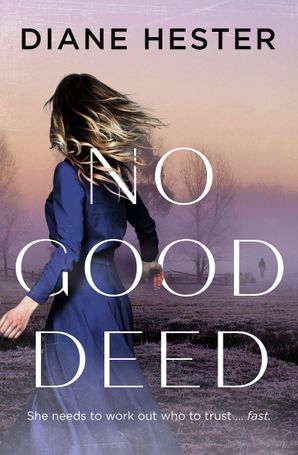 What if the man you're falling for is too good to be true?
Cassidy Blaire doesn't have time for romance. Between caring for her sick father and running the Kettle, a struggling soup kitchen in Adelaide, there's not much time for herself … or for her to dwell on her sister, who disappeared two years ago. Which is why Cass is more surprised than anyone when she wins the attention of not one, but two handsome admirers.
After saving the life of rich, sophisticated Lyle Fuller in the Adelaide Hills, Cass is overwhelmed by roses, financial donations and romantic dinners. And then there's rugged builder Darren Travers who has volunteered his skills to help save the Kettle. But why is Lyle so interested in a girl like her, and what are Darren's motives for offering free labour, especially with his strange attitude towards the homeless community?
Someone isn't who they seem, and as threats and vandalism escalate to murder, Cass is going to need to work out who to trust … and fast.
A romantic thriller set in the Adelaide Hills about secret identities, hidden agendas and how fate always wins in the end.