Though time may age us, let it never dull the sweet warmth of passion in our hearts… for fictional, animated characters and their romances (canon or otherwise).
Aladdin and Jasmine
'Do you trust me?' *swoons*. The rough-and tumble, but loveable (and hunky) streetrat meets the fiery, independent, and totally badass princess and our hearts melt… From the moment their eyes meet in that crowded marketplace you can see the sparks flying, and that simmering romantic tension is one of the greatest parts of this iconic Disney movie. Doesn't every girl (and boy) dream of travelling to exotic lands on the back of a magic carpet with a handsome stranger?
P.S. I am SO excited for the live-action re-make…and nervous. PLEASE DON'T RUIN THIS MOVIE!!
Anastasia and Dimitri
Anastasia – everyone's favourite non-Disney Disney princess.
Besides this movie actually being a desperately sad tale (what with the starving common-people and the slaughter of our heroine's entire family), the 'secret princess' trope is at its best here. Dimitri is a bad boy with a heart of gold (just the way we like them), and even Anastasia's gloriously animated hair can't keep us from dreaming of running away to Paris with him.
Mulan and Shang
Probably the most empowering and dynamic Disney Princess that ever existed, Mulan proves herself to be smart, strong, AND courageous, all without ever kissing any boys. Or girls, for that matter.
Despite this, the blossoming relationship between Mulan and Shang is both beautiful and entertaining to watch. The soundtrack alone makes me feel all the things, but combined with their slow burn romance and general kick-assery, it is official: MuShang is the ultimate ship.
(not to be confused with Mushu, who is just the ultimate everything.)
Zuko and Katara
Long ago, the four nations lived together in harmony. Then everything changed when the fangirls and boys could not agree on whether they preferred the canon Aang/Katara (Kataang) or the infinitely more exciting pairing of Zuko/Katara (Zutara). Though Avatar: The Last Airbender barely gives any implication of anything more than tolerance between the two, that was not enough to stop me from clutching at straws and vehemently insisting that YES, there WAS chemistry between them. He was an exiled prince with a tortured heart, and she was a kind, caring Waterbender with a temper to match his. Their 'opposites attract' relationship would have been wild and emotionally intense – and their babies would have been beautiful. Zutara forever ❤
Bonus: more recent, but no less epic – the next reincarnation of the Avatar, Korra, ended up with the beautiful Asami, making Korrasami a CANON same-sex relationship.  It is beautiful and the Avatar fandom will forever be in awe of their perfectness.
Kim Possible and Ron Stoppable
Ah, the days of classic Disney, where one could watch day-long marathons of classics such as That's So Raven, Lizzie McGuire, and of course, Kim Possible.
Kim Possible and her sidekick, Ron Stoppable (plus Rufus the naked mole-rat), were the cutest friend duo; who bravely battled high-school drama alongside various forces of evil. This relationship is important because Kim and Ron had a super strong friendship before they even thought about getting romantic. And friendship, as we know, is the foundation of any healthy relationship. It makes for a ronstoppable romance… with the power to beat kimpossible odds.
…I'll show myself out
Jessie and Buzz
Everyone loves a good 'hard to get' love story, and theirs is no difference. Jessie the Cowgirl and Buzz Lightyear from Toy Story 2 (1999) are only really hinted at being a couple, but Toy Story 3 (2010) changes things up with a Spanish-mode Buzz, who openly tries to woo Jessie. And who could forget the moment they realised Buzz felt something a little more than friendship, after watching the red-headed cowgirl do a rather spectacular flip…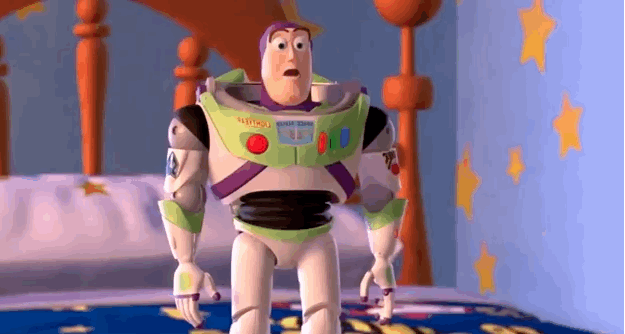 WALL-E and E.V.E
They say a picture is worth a thousand words, and WALL-E is no exception. The 2008 movie is almost devoid of speaking, and yet makes us feel a thousand things. When WALL-E, the old and forgotten trash compactor meets shiny, modern E.V.E., it's basically love at first sight. His loyalty and dedication rival that of the most classic of love stories (pretty sure Romeo never risked being struck by lightning just to protect Juliet from the rain). His love is pure, and does not falter even knowing that she could blast him into ash with half a thought. In return, E.V.E. eventually moves WALL-E to the top of her priorities, and loves him unconditionally. We swoon *heart eyes*
What are your OTP cartoon romances? Did we miss out on your favourite? Tell us below in the comments…
By Courtney Lunn
Image via Disney