Sweet Magnolias is almost here! Season 1 is dropping into our Netflix feed from May 19th and we cannot wait to dive into the world of Maddie, Helen and Dana Sue as they juggle relationships, family and careers in the small, Southern town of Serenity.
To get into the Sweet Magnolias spirit, we recommend diving into the bestselling series Sweet Magnolias by Sherryl Woods that the series in based on!
Believe us… once you settle into the town of Serenity, you won't want to leave!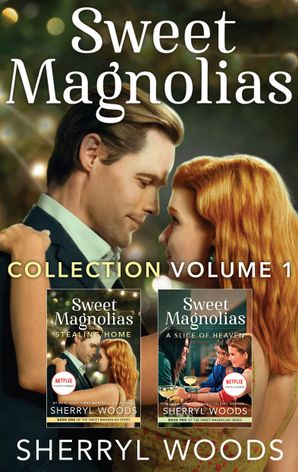 Return to the warm, cozy town of Serenity in this collection of classic stories from the Sweet Magnolias series by No.1 New York Times bestselling author Sherryl Woods.
Stealing Home
There's been nothing calm about Maddie Townsend's life since her marriage broke up. But if Maddie is already a tad on edge with everything on her plate, it's nothing compared to the chaos that ensues when she discovers that her son's baseball coach has feelings for her – and that the whole town disapproves.
A Slice of Heaven
When an eating disorder threatens the life of chef Dana Sue Sullivan's teenage daughter, she has no choice but to bring Annie's cheating dad back to Serenity, South Carolina. She tells herself and her friends it's all about Annie, but Ronnie's return is a sweet recipe for a new beginning.
Feels Like Family
Helen Decatur is forty–two, single and suddenly ready for the family she's put on the back burner for all these years. Taking charge of her own destiny puts her at odds with her two best friends and sets sparks flying with a man who doesn't want a family, but it also leads her straight into the most unexpected complication of all…love.
Welcome to Serenity
When Jeanette Brioche helped launch The Corner Spa in Serenity, South Carolina, she discovered the deep and loyal friendships that had been missing from her life. But even the Sweet Magnolias can't persuade her to enjoy the holiday season – until Jeanette is pushed into working on the Christmas festival with the sexy new town manager, Tom McDonald.
Home in Carolina
For Annie Sullivan, coming home to Serenity is bittersweet. She'd always envisioned a life there with her childhood best friend, Tyler Townsend, but his betrayal years ago cost her the future they'd once planned. Now that Annie's back in town, can Ty persuade her to forgive and forget?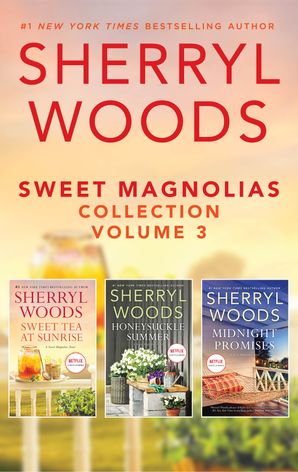 Sweet Tea at Sunrise
Emotionally wounded single mum Sarah Price has come home to Serenity for a fresh start. She's got the full support of her treasured best friends, but sometimes a woman needs more. Travis McDonald may be exactly what Sarah's broken self–confidence requires. He's intent on getting Sarah to work at his fledgling radio station…and maybe into his bed. Sarah has learned not to trust sweet words – can Travis show her he's the man to heal her heart?
Honeysuckle Summer
Her devastating marriage behind her, Raylene Hammond is so thankful that her best friends are sheltering her. Sheriff's deputy Carter Rollins understands why Raylene is trapped inside, and he's taken to bringing the outside world to her. But with two kid sisters to raise, how long can he wait for this woman who's stolen his heart but might never be strong enough to accept what he's offering? Maybe they'll never have more than this one sweet summer.
Midnight Promises
When Elliot Cruz first courted struggling single mum Karen Ames, it was a fantasy romance. The personal trainer made it his mission to restore Karen's strength – physical and emotional – and to charm her children. A few years into their marriage, colliding dreams threaten to tear them apart. Elliott's desire to finance a business opportunity stirs Karen's deep–rooted money insecurities, and an infidelity close to them puts their differences into perspective. Is their bond so strong they can triumph against all odds?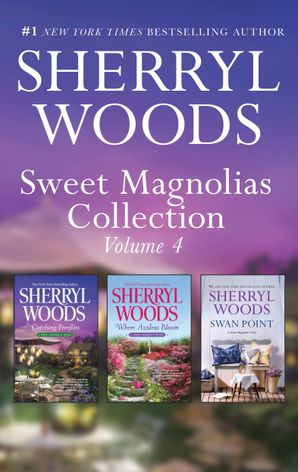 Catching Fireflies
When bullying threatens to destroy a teen's life, painful memories resurface for dedicated high school teacher Laura Reed and pediatrician J. C. Fullerton. Both J.C.'s and Laura's passion for the cause is deeply personal, and their growing feelings for each other are just as strong. But with so many secret hurts to overcome, can these two vulnerable lovers find the strength to believe in happily ever after?
Where Azaleas Bloom
Contractor Mitch Franklin is an unlikely knight in shining armour for single mum Lynn Morrow. A widower with two grieving sons, Mitch once admired Lynn from afar. Now he sees in her not only the sweet girl who got away, but a determined woman desperately in need of support. While rushing to the rescue comes naturally to Mitch, he's also wise enough to encourage Lynn to find her own way…hopefully straight into his arms.
Swan Point
With a new home and a new job, Adelia Hernandez is ready to start over as an independent single mum after her divorce. Gabe Franklin, back in town to make amends for past mistakes, has no intention of settling down, but Adelia's proving irresistible. He's bringing long–absent passion and laughter into her life. To their surprise, sometimes a rolling stone is just what it takes to build the rock–solid foundation of a family.
Sweet Magnolias will be available to watch on Netflix from May 19th