As a kid, I'd often stay at my Italian grandparents' place in the school holidays. My big sister would join me.
The routine was generally the same. We'd help Nonna with housework in the morning (back when kids did that sort of thing, ha!) and then have a big lunch, followed by some leisure time – watching TV, trying our hand at baking or sewing, or going 'visiting'.
I remember one morning, when I was helping with the dusting, coming across a witch toy my nonna had hung, by a string, on a door. The doll was a craggy sort of thing with a hook nose, red eyes that flashed when you pressed a button, and a bristly broomstick in place of a handbag.
The toy was my introduction to La Befana, Italy's Christmas witch – quite the departure from our rosy-cheeked, twinkly-eyed Santa!
Still, the tradition did seem fitting as I was used to my Italian family doing weird things like gardening by the moon and worrying about the 'evil eye'.
As much as I feared that toy – and hated doing the dusting – the memory of it stuck in my mind. So much so, my latest tale, The Christmas Witch, is inspired by La Befana and surrounds a young, love-cursed descendant of hers. (Check out a recipe for La Befana biccies here.)
This is how one character in my novel describes the witch…
'How does the story go again?' Dino asked before proceeding to answer his own question. 'The hunchback old spinster was too busy cleaning up her house, in her worn-out shoes, to join the Three Wise Men when they came past, right? Then forevermore, she was compelled to search for the Christ child in each kid, or something … No wonder Santa Claus has more street cred.'
Mina sensed her mum straightening up beside her. Here we go …
'I'm not sure that the original Befana was quite as daggy and lonely as the history books would have us believe,' Sofia trilled. 'There's a lot that's cool about the tradition around her actually. She never exploited poor reindeer, just using a broomstick. She'd only reward those who were deserving and just give mild punishments to the rest. And she'd merely ask for bread soaked in wine or milk for her efforts, not a carton of beer like Santa.'
Inspired by this folklore, I thought I'd ask a few friends, from diverse backgrounds, the festive traditions they remember. Here's what they shared …
Serbia
My 'school-gate mum' friend, Olivera Craig, grew up in Serbia, and says: 'When I was little, my grandma used to put a whole heap of straw under the table, and lollies and walnuts. The hay symbolised where Jesus was born.' The family would sit among the straw and make chicken noises, symbolising birds gathering together!
On Christmas Day, Olivera still makes a special round-shaped bread, cesnica, with a coin hidden inside. 'Whoever finds the coin is meant to have good luck through the year.' The plum brandy, rakija, is also always on the table, with a lit candle.
When Serbia was communist, the government didn't like Santa, so they had their own version, Grandfather Frost, who came on New Year's Eve (and still looked very Santa-like).
El Salvador
My old uni mate Susan Sanchez is from Latin America, and in her country she says the focus is on Los Tres Reyes, or the Three Wise Men. They bring the gifts, and also feature in a nativity scene under the Christmas tree. Susan adds: 'We open the presents at night, and there are fireworks in the street. We eat panes con pavo as well, which are bread rolls, with turkey that has been cooked in tomato sauce, and sliced tomatoes and watercress. It's tasty!'
France
France-born uni student Camille Moriot remembers writing letters to Père Noël (Father Christmas), asking for presents as a kid. Being midwinter, Christmas is also a time of year, she says, 'when we eat a lot'.
'In my family, we will start with white wine and oysters usually, before dinner. Then we will eat raw farmed salmon, and foie gras – my favourite. We go on with some meat – traditionally turkey – [the potato dish] gratin de pommes de terre, and vegetables, all with red wine. After that, we have cheese. And as a dessert, we have the classical bûche de Noël [log-shaped cake] with champagne.' Yum.
China
Another 'mum friend' Larissa Parker was born in China and says traditionally Christmas wasn't celebrated there as only about one per cent of people are Christians. That's even though most of the globe's festive decorations and plastic trees are made there. (Check out this video.)
Still, Larissa says many youngsters have got into 'the commercial side' at least, hosting festive parties for fun, whether at home, in karaoke bars or beyond. Couples often see the day as a romantic holiday to exchange gifts too, like Valentine's Day. Apples are even sold with lovey-dovey messages printed on their skin.
Your turn! What festive traditions do you and your family follow?
By Carla Caruso
---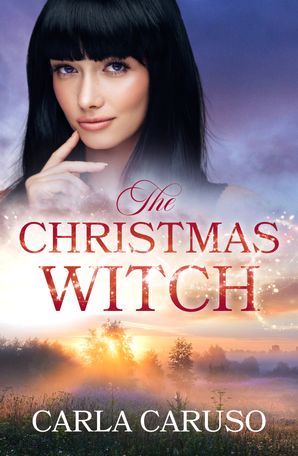 Misfiring spells. A gorgeous new boss. Looks like this Christmas will be magic…
The festive season isn't Mina Rosso's favourite time of year. It reminds her that as a descendant of La Befana – Italy's Christmas witch – she's cursed to forever be unlucky in love… Her plan this Christmastime is to lie low, keeping her secret identity under wraps as usual, and do what comes naturally: spread goodwill.
Unfortunately, the arrival of her boss's son, Jadon Eder, puts a spanner in the works. Fresh from working in Milan, Jadon's full of big-city arrogance and plans to overhaul the antique shop Mina loves. Pity he's also sinfully attractive. Despite her best intentions – and even though he's human, a no-no in the witchy world – Mina finds herself falling for him.
Then she finds out some bad news. Some of the spells she's sold online have backfired … horribly. While she's critical of the dark witches in her neighbourhood, is she really the good witch she thinks she is?
A fresh, funny story of love and the chaos and joy Christmas can bring from the ever-popular Carla Caruso.