Sonya Heaney's upcoming book The Artists's Secret revolves around the story of Peter Rowe, who moves from the city to the country in 19th century Australia. To celebrate its release we asked Sonya to round up her favourite city to country moves from books, movies and TV shows. 
---
I have the best of both worlds in Canberra. I have mountains and bush. And I have city and culture. It's the Canberra region that inspired my Brindabella Secrets series. I live in a city—and the country!
BOOKS:
This Cinderella-style novella was incorporated into the TV adaptation of Return to Cranford, with Jodie Whittaker and Tom Hiddleston as the lovers. Wealthy, educated young man in the Victorian era goes to the country and meets and falls in love with a working-class girl everyone considers inappropriate for him.
Now that I think about it, this story has quite a lot in common with my first book, The Landowner's Secret!
From urban girl to owner of a vast Queensland property. I loved this book for the respect it shows both lifestyles, but of course I did because Barbara Hannay is a brilliant author.
Which leads me to …
This book is one that has stuck with me for years. A woman in Blitz-stricken World War II London has a chance meeting with an Australian soldier, and their whirlwind romance leads to her moving to Canberra, and then on to life in rural Queensland.
The ending gets me every time.
It's The Last of the Mohicans movie, but in book form! I don't think there's anything more culture-shocky than moving from fancy English society to a remote, wild outpost of New York State a couple of centuries ago.
I've read this one a hundred times.
MOVIES:
Oscar and Lucinda
Based on a book (aren't most great movies based on a book?), this story takes you from Victorian England to rural New South Wales.
The film's musical score is just gorgeous. When I'm struggling to write it never fails to inspire me.
Watch it on: Buy or Rent from Google Play, YouTube or Apple TV
Legends of the Fall
I mean … come on. This is the most melodramatic movie ever made! It has everything. A posh Englishwoman who moves to a ranch in the mountains in Montana (actually filmed in Canada), spectacular scenery, beautiful music. Drama and war and more drama. And then more drama.
It's completely ridiculous, but—even though I was a Keanu girl—wow, was Brad Pitt pretty to twelve-year-old me.
Watch it on: Binge
TV SHOWS:
Virgin River
Also a hugely popular book series by Robyn Carr. I was SO unsure about watching the TV adaptation, but—even with so many changes—I fell completely in love with it. Alexandra Breckenridge is the perfect actress to take you on a journey from life in Los Angeles to life in the middle of (gorgeous) nowhere. And the seasoned romance between two secondary characters that they added to the television version is wonderful.
Watch it on: Netflix
Escape to the Country
There's nothing better than an hour of watching real people look at gorgeous historical homes in the British countryside.
Well, it would be even better if so many of them didn't complain about every amazing historical feature of those houses. (Beams! Thatched roofs! Barn conversions! Why are you even moving there—step aside and I'll move in instead!)
Even when it's the 1000th repeat of an episode, I still love watching this show.
Watch it on: 7Plus
---
Sonya Heaney
Sonya Heaney began her professional life aged eight, as the Changeling in Queensland Ballet's A Midsummer Night's Dream. After many more years of hard work, even more blisters, and plenty of pretty tutus, one too many injuries forced her out of her pointe shoes.
Between then and now she has worked in a posh Dublin hotel (that didn't last long), pulled pints in London pubs (that lasted years), taught English in Korea (her apartment was broken into and her computer was stolen—along with many half-finished manuscripts), and worked on costumes backstage in various theatres (it was always chaos).
Sonya holds a Bachelor of Arts in Professional Writing, and spent years putting it to use in nonfiction fields before turning her hand to romance.
After working her way around the world, she once again calls Canberra, Australia's gorgeous capital city, home.
If you'd like to know more about Sonya, her books, or to connect with her online, you can visit her webpage sonyaheaney.com, follow her on twitter @HeaneySonya, or like her Facebook page @SonyaHeaneyAuthor.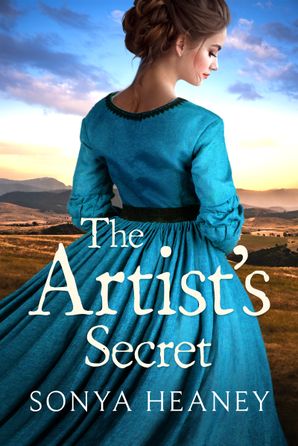 Despite their growing attraction, both Peter and Elizabeth have secrets that will come between them.
New South Wales, 1887
Peter Rowe's life is in the city, but his soul is in Australia's southern tablelands – a place he's never seen. Taking the new land manager's position on the thriving estate of Endmoor is the chance he needs to discover what happened to the family he has never met. What he doesn't expect to find in the bush is his employer's talented, beautiful sister.
Elizabeth Farrer's world is changing rapidly. An artist whose work has begun to gain acclaim, her brother's marriage has made her redundant in her own home and she intends to leave the country and make a life of her own. Her plans would take her far from her beloved New South Wales, but with the arrival of Endmoor's newest employee – a man unlike any other she has met – she discovers there might just be a reason to stay right where she is.
Just as they conquer their most difficult obstacles, old prejudices rise up and threaten to keep them apart …