To celebrate the release of her latest book, Seduced By The Billionaire, which is a classic enemies-to-lovers story we asked author Alyssa J. Montgomery to round-up her favourite enemies-to-lovers examples from movies, books and TV shows… 
---
I've always loved the push-pull of the enemies to lovers trope and the challenge of bringing two adversaries together for a HEA ending. It's not surprising then that I've written a few of these types of stories and my latest release Seduced by the Billionaire (Book 3 in the Billionaires and Babies Series) is another! I have enjoyed loads of books and movies based on this trope so it was difficult to select a couple. The television shows were less difficult to choose as I very rarely watch television!
Movies
Princess Leia & Han Solo from Star Wars
I was still in primary school when the first Star Wars movie was released and I loved it so much I went to the cinema three times to see it! The instant animosity between the responsible, selfless Princess Leia and the selfish rogue, Han Solo was there from the first second they met with Leia telling Han "You do as I tell you" and referring to him as a "stuck up, half-witted, scruffy looking" guy. The insults flew thick and fast between them making their first kiss so much sweeter and their admission of love so wonderful. And, it was a love that endured even through their separation – making the reappearance of these characters in the more recent Star Wars movies such a great love to revisit.
Hermione Granger & Ron Weasley Harry Potter
It was quite a relief when Hermione and Ron finally got their act together but it took quite some doing for them to drop their initial animosity and thorough disrespect/dislike of each other. Hermione openly mocks Ron on several occasions for his inferior wizardry skills and Ron describes her as a "total nightmare". External forces set them on the road to acceptance of each other and friendship (due, if my memory serves me correctly, to a troll crisis). As they got older through the series, there was an increase in sexual tension between them but a reticence to acknowledge it or to act on it (eg Ron failing to take Hermione to the ball). Again, an external force—a near death experience—was the pivot point which had them making the transition from friends to lovers.
TV shows
Emma Swan and Killian Jones from Once Upon a Time
The whole TV series is a fairytale and when Emma Swan first met Killian Jones, there's so much animosity between them she put a knife to his throat. For many episodes, suspicion puts their relationship on shaky ground. Killian has his work cut out for him, too, because Emma has erected so many barriers after a disastrous first romance. She's not in a hurry to put her heart on the line to anyone, let alone hand it over to a roguish pirate. But—oh my gosh—the chemistry between them and the number of almost-kisses had me sitting in my lounge willing them to get together. Emma kisses Killian briefly in one scene and tells him to "Be patient". Frankly, if I'd been Emma Swan, there would have been no way I'd have held out for so long against that handsome pirate!
Ygritte & Jon Snow from Game of Thrones
The on screen chemistry between these two characters was fabulous and obviously has spilled over into their real life romance. The Wildling and Night Watchman were definitely enemies and Ygritte was taken prisoner by Jon Snow then had a ferocious debate where she argued she was "a free woman" and he argued she couldn't possibly be free when she was his prisoner. Ygritte flirts madly with Jon and challenges him and his ideas baiting him constantly with the line "You know nothing, Jon Snow". Jon takes his Night's Watchman vows of celibacy seriously so we're in no doubt that when this couple finally make love, there's deep love between them.
Books
Elizabeth and Mr Darcy from Pride and Prejudice by Jane Austen
The most cited enemies to lovers trope in a romance novel must surely be Jane Austen's Pride and Prejudice. It's the classic tale of a couple who dislike each other, are suspicious of each other's motives and actions and who keep fighting the growing attraction as it binds them closer together. As the title suggests it's pride and, of course, prejudice that keeps Mr Darcy and Elizabeth apart. Elizabeth ends up being quite embarrassed by all the insults she's delivered to Mr Darcy and most happily accepts his marriage proposal.
Fenella Fairclough & The Marquess of Chatton from How to Cross a Marquess by Jane Ashford
In Jane Ashford's romance, How to Cross a Marquess, the hero and heroine are very opposed to marrying each other. Fenella and the Marquess of Chatton have grown up together as neighbours, and when they are pushed together by their parents they resist fervently. It's years later that and with the Marquess being a widower, that they find their way to each other. The enemies to lovers trope crosses here with a second chance trope and makes for a delightful read.
I'd love to learn about some of your favourite enemies to lovers stories whether you've enjoyed them at the cinema, on the television screen or in books. Don't be shy! Leave a comment below!
---
Alyssa J. Montgomery
Alyssa lives with her husband and three children on a five-acre property nestled into a mountain range south of Sydney, Australia, and enjoys having the space for gardens, a dog, horses, goats and chickens. Visits from the native wildlife (echidnas, wallabies and a variety of native birds) are particularly welcome … although visits from native wildlife with scales and fangs aren't met with quite as much enthusiasm!
She continues to work in her private practice as a Speech-Language Pathologist. Previously she's done a stint with Qantas Airways as an international flight attendant, completed her Master of Science degree, and has also been a professional pianist.
If you'd like to know more about Alyssa, her books, or to connect with her online, you can visit her webpage
Follow her on Twitter or like her Facebook page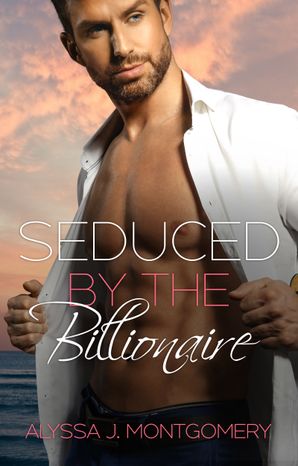 An enemies-to-lovers story about second chances and risking it all for love.
Of all the people to be here, why does it have to be him? As if this isn't hard enough for me already.
Sarah Bryant hasn't let her traumatic past stop her from achieving number one status in the modelling world. She will do whatever necessary to fight for opportunities for her wheelchair-bound brother-even if it means facing her fears. When a scandal threatens to destroy everything she has worked for, Sarah must play ball with a man she detests. But everything is not as it seems. Could she have been wrong about Nick Henderson? And what does that mean for the undeniable chemistry between them?
She might make my heart race, but there's something about Sarah Bryant that I just can't trust. She's hiding something, and I'm going to uncover the truth.
Nick might not like Sarah, but he needs her. She is the perfect choice for the documentary that will raise the profile of his ocean conservation charity. Nick's urge to unwrap her secrets–and her clothes–gets stronger every time he sees her. But Sarah is holding onto a bombshell that has the potential to hurt his family, ruin his reputation … and destroy any growing feelings he might have for her.