Christmas movies suitable for everybody in the family can be gorgeous glistening baubles, or overripe tomatoes. And I must admit I wasn't sure which category Christmas on the Farm, fitted into at first. But by the end of the movie, I was taken by my hand to a beautiful rural setting, where a heart-warming story was played out.
Christmas on the Farm features the Australian born Poppy Montgomery as Emmy Jones, a writer based in New York, Darren McMullen as Jack London, a spoiled playboy who works at a prestigious publishing house with his mother (Ellison, played by Jeannette Cronin), and popular Australian actors Hugh Sheridan (Emmy's cousin David), and Nicholas Brown (David's husband Miles). The delightful young actress Asmara Feik plays Emmy's 'daughter' Violet.
Following her mother Clementine's death, Emmy briefly returns to Australia where she finds Clementine's hand-penned journal, which documents her life on the farm where Emmy spent much of her childhood. When Emmy seeks publication of the journal under her mother's name (partly to pay off the debts of the farm), her agent tells her that she should re-write it as a contemporary story. Accordingly, Emmy's original book, My Mother Clementine, becomes simply Clementine, and Emmy pretends it's she who lives on the Australian farm with a doting husband and daughter.
A New York publisher bids for the book and offers an enormous sum to publish it. But there's a condition: publishing executives Jack and Ellison will visit the farm over Christmas to meet Emmy and her family firsthand and experience an authentic 'Aussie Clementine Christmas.'
From here we suspend disbelief but, unaccountably, this is where the movie hits its stride. Because what we find on the farm is emerald green grass, cerulean blue skies and a golden sphere of sunshine. The produce in the fields (and plated up) is a rainbow of colour, as are the farmhouse and furnishings. The cockerel who lives in the bathroom, the bucolic golden cows, the sweet-faced miniature pony and the chestnut horses, the forests of trees and the star-spangled nights, combine to light up the screen. Authentic? Nope. But Christmas through and through.
Particularly in her vulnerable moments, Emmy is a wonderful character. And happily, I can say the same for Jack, who like Emmy transforms from shallow and duplicitous to open-hearted and honest. These characters are both middle aged—authentically and attractively so— and while they hadn't got to know each other at all in their drunken one-night stand in New York, that's exactly what happens on the farm. In other words, they work out they might not be the people they believed themselves to be. David and Miles are the perfect loving couple from the start, amusing, likeable and believable.
In the spirit of Christmas forgiveness, I'll gloss over the cheesiness of the final scene, because I very much enjoyed the scenes preceding it. The birth of the wide-eyed calf (in a crowded stable of course!) wasn't quite true to life but was illustrative of the deeper understanding developing between Emmy and the other characters. And Emmy's realisation that the stories her mother had written were not only her mother's story, but also her own, was heartfelt and poignant.
Christmas on the Farm was colourful, endearing, and very often charming. The bright ensemble cast demonstrated not only what's important at Christmas time, but also what's important in life—family, friends, celebrations, new beginnings, and the chance to find a place where you belong.
In summary, I'll toss tomatoes with basil, bocconcini and balsamic this Christmas. And to celebrate Christmas on the Farm, I'll hang sparkling scarlet balls on my tree.
---
ABOUT THE AUTHOR: Penelope Janu
Penelope Janu lives on the coast in northern Sydney with a distracting husband, a very large dog and, now they're fully grown, six delightful children who come and go. Penelope has a passion for creating stories that explore social and environmental issues, but her novels are fundamentally a celebration of Australian characters and communities. Her first novel, In at the Deep End, came out in 2017 and her second, On the Right Track, in 2018. Up on Horseshoe Hill was published in 2019, a novella, The Six Rules of Christmas, in 2020, and then Starting from Scratch was released in 2021. Penelope enjoys exploring the Australian countryside and dreaming up travelling and hiking breaks, and nothing makes her happier as a writer than readers falling in love with her clever, complex and adventurous heroines and heroes. She loves to hear from readers, and can be contacted at www.penelopejanu.com.
Penelope's next book is out in January 2022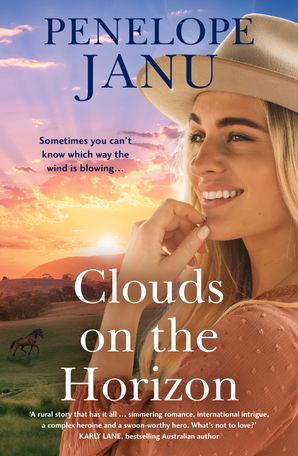 'A rural story that has it all … simmering romance, international intrigue, a complex heroine and a swoon-worthy hero. What's not to love?' Karly Lane, bestselling Australian author
Will a misunderstanding and past trauma stand in the way of profound attraction? Immovable determination meets irresistible charm in this delightful rural romance from an award-winning and much-loved author – for readers of Rachael Johns, Karly Lane and Fleur McDonald.
When Phoebe Cartwright finds Sinn Tørrissen, a naval officer and meteorologist, frozen half to death in the middle of a thunderstorm, she believes she's saved his life. Sinn, unfailingly competent and infuriatingly arrogant, disagrees. In Phoebe's small country town to track down the members of an illegal horse-racing syndicate, the last thing he needs is to become entangled with Phoebe.
A much-loved member of her community, the prickly and independent Phoebe is used to solving other people's problems. So when she learns her younger sister could be implicated in their father's dishonest accounting for the syndicate, she insists on working with Sinn to uncover the truth.
Sinn is both confused and entranced by the passionate Phoebe and in spite of her resistance, Phoebe finds herself drawn to him. But Phoebe is determined to protect her sister above all, and the secrets she cannot tell Sinn threaten to sweep his investigation – and their romance – way off course.With clouds building on the horizon, can Phoebe and Sinn weather the gale and find in each other a shelter from the storm?
'Encapsulates everything I love about the romance genre and so much more. A go-to author for rural romance for the head as well as the heart,' Joanna Nell, Bestselling Australian Author