Have you noticed how, when you buy a new car, suddenly you see the identical model everywhere? In the same way, I've started noticing small-town romances everywhere since writing my upcoming Escape release, A Matter of Trust. It's about two people reconnecting in a small Aussie town with the added complication of children in the mix, so of course I spotted Country Comfort when it popped up on my Netflix new release page.
Here are a few reasons to watch.
Nostalgia.
If you loved the family sitcoms from the nineties, or you are wondering what they were all about, Country Comfort could be your jam.
Take The Nanny out of Manhattan and place it on a farm just outside Nashville, Tennessee (that explains the heavy southern accents to this Aussie) and just add music. Nashville. Of course.
Bailey's the classic fish out of water – she's a singer who has to learn to parent fast when she unexpectedly becomes the nanny to the children of a grieving widower. There are some interesting side characters and the children all are distinctive characters with their own quirks which stops the whole thing turning into sentimental mush'
Bailey Bailey Bailey.
No, she isn't that dog from the movie. But she has that vibe. Right at the opening scene, Bailey Hart bursts in with her broken heart and a motormouth that just won't give up. In spite of losing her boyfriend, home and singing career, and her car breaking down, she has the heart to see what's needed in this family. Her manic energy is almost too much at times, but it seems to work and that Hart heart (see what I did there. Or the producers did … 😉) makes it all worthwhile.
Beau
The widowed father is Beau, a rancher with a nice taste in beards and cowboy hats. He is good to look at and also a nurturer. Cinnamon Roll, anyone?
The Fam
Beau has five children: three teenage boys and two younger girls who are all still dealing with the death of his wife and their mother two years ago.
The kids are quite a fun addition to the show. The two eldest boys are all about their ego, with Tuck a little too successful with the girls and Brody not quite keeping up. Dylan is an entrepreneur. Cassidy is the most complex at nine, still not coping with her mother's death. Little Chloe is quite happy to be Bailey's test subject as she learns how to be a nanny. Off to Target every day to buy a toy is her favourite con. She tells Bailey this is part of the job, knowing Bailey hasn't got a clue.
Music
Country music fan or not, it doesn't really matter. The music is bright and perky with the odd romantic love anthem thrown in. In a 'strange' coincidence, the children are all musically talented so when Bailey bursts into song, there's already a backing band. And what's not to love about LeAnn Rimes doing a guest spot, all grown up. Time really does fly. (Yes, cliches abound in this show but do we care? Not really.)
Romance
This is where I did have some problems, hardened romance reader that I am. I don't like love triangles. Or quadrangles in this case.
Bailey's ex, Boone, keeps turning up at Bailey's auditions. Did I mention Bailey is a talented singer who's never quite made it and now she has to go it alone after her ex dumped her from the band for a younger model? Twelve-year-old Dylan is now her manager and is sending her off to auditions and competitions all over the place. And Boone is there. Adorable and sweet and totally untrustworthy.
On the Beau front, we have his desperate-to-get-married girlfriend Summer. She's every cliched southern belle with the mother from hell. She's doesn't know how to harmonise with the family in more ways than one, and every time she seemed to get closer to reaching her goal, I cringed. She does make for some great comedy relief at times. Watch for the 'on the way to the wedding' scene. Spoiler: not her wedding.
Comfort Watch
Country Comfort is lightweight with a nice amount of emotion and quite a few laughs. I watched the girlfriend and ex with narrowed eyes because I'm already shipping Beau and Bailey. There were odd moments when I almost liked Summer and Boone and wondered if my assumption about who I should be batting for was skewed. But it took five seasons of The Nanny for Fran to catch Mr Sheffield, so I'm not holding my breath.
I watched the whole season in one evening as the episodes were short, reminiscent of the old half-hour sitcoms minus the ads. Sit back with your popcorn and a glass of something soothing and let it take you somewhere not quite believable but oddly familiar.
---
About the author: Fiona Marsden
Fiona Marsden has lived most of her life in rural Australia, sharing her five-acre block with kangaroos, wallabies and the odd koala and possum. Born and bred in Queensland, Australia, Fiona grew up in the far west of the state, lived for several years in Brisbane and is now settled on the Granite Belt in the rural south east.
Writing has always been a passion, from poetry published in the Courier Mail and school annuals to grant applications that require a vivid imagination, then finally finding her place writing happy endings. Fiona has been fortunate in winning and placing in a number of writing awards both here and overseas. Several stories have been published in anthologies and she has self-published several novellas and two 60k word romances.
Love country romance? Read Fiona's upcoming book A Matter Of Trust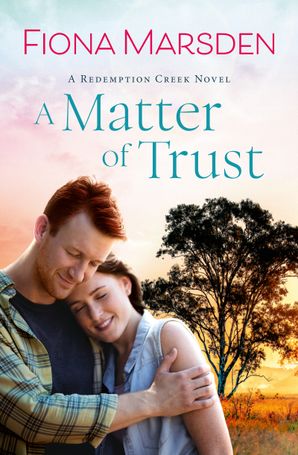 Twelve years is a long time to hide a secret … or two.
Forced from his self-imposed exile, Doctor Morgan Cavanaugh must face his demons and confront the girl he left behind. Becca Walters became a woman in that time with life altering revelations of her own.
Becca fought her way to respectability, but it came at a cost. With Morgan's return she must face the consequences of long-ago decisions, made without his knowledge.
Together they have to face the past; in order to make a future.
A moving contemporary romance about facing past regrets and the search for belonging from a fabulous new talent. Perfect reading for anyone who loves Mandy Magro.