Set in the heart of the Australian countryside comes a compelling romance with a touch of mystery from bestselling author Mandy Magro.
Country singer Indigo Nash has it all, except love …
At the height of her musical career, Indigo should be nothing but happy. But Indi is disillusioned with show business, finding herself depressed and lonely. When she reaches breaking point, a simple life back in the country begins to beckon her. But the demons left lingering in the shadows from a childhood trauma follow her, and nightmares of that fateful night plague her … Can she unearth the truth of her family's deep dark secrets?
For two years Harley Knight has travelled the world with Indi as her bodyguard. She's a stubborn woman who drives him nuts, but also, in her vulnerable moments, shows him a side of herself he secretly loves and always has since they were teenagers. When she hits rock bottom, he convinces her to return with him back to their hometown of Kuranda and stay at his property, where Harley hopes the peaceful landscape will give her the time and space she needs to heal.
With these precious few weeks, can he show her what she's missing by constantly running away, or is time to let her go?
PRAISE FOR MANDY MAGRO:
'Savannah's Secret is a story set in a small Australian country town, the local characters are likeable and extremely funny, and it has elements of romance, suspense and danger' – Karen Reads Books
'Seasoned Australian rural romance novelist Mandy Magro gifts her readers with another genuine read told from the heart…' – Mrs B's Book Reviews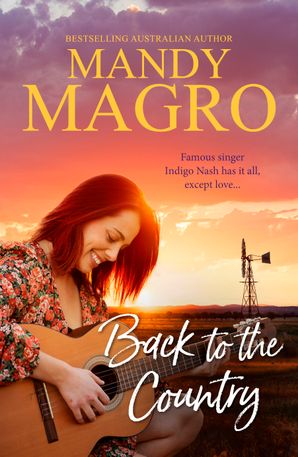 ---
PROLOGUE
Overwhelming exhaustion wrapped around Indigo Nash like a heavy cloak. What she'd give to be able to close her eyes and sleep for days, but just like every other day, she couldn't afford to be weary. No rest for the wicked, her actually wicked father would say, if they were on speaking terms. All work and no play is bad for the soul, her late mother would have said if Indigo's prayers were answered, and she got to hear her sweet voice once more.
Feeling way older than her twenty-seven years, she popped the last two NoDoz capsules from the blister pack and tossed the tablets into her mouth with a swig of coconut water. Her vivid green eyes glued to the glamorous woman in mirror, she stared at her reflection as if really seeing herself for the very first time since being discovered by the Capitol Records talent scout at a Nashville honky-tonk five years ago. Although she was the spitting image of her mother, it was as if she were eyeing a stranger. Just as the effervescent young woman she'd once been had disappeared, the freckles that normally dusted her cheeks were nowhere to be seen. But thankfully, neither were the dark circles that had become a permanent part of her gruelling reality.
Two hours before every one of her sellout shows was spent grooming herself into a picture of flawlessness – her fans and record label expected her to shine bright and she painstakingly strived to meet their expectations. And she liked to do this herself; the thought of other people plucking and preening her was very uninviting. Touching was for people she was close to, and they were few and far between. At first, it had been exciting to get all dolled up to maintain the Country Music's Sweetheart title she'd attained very early on in America, but now, it was downright exhausting.
With her make-up finally done, and her usually wild auburn locks styled to within an inch of their life, she placed her blusher down and stared in the mirror with a sigh. Her throat tightened – where had the wild-haired tomboy of her youth gone, the one who lived to ride a horse like she stole it, who ended each day covered in dirt with leaves and god only knew what tangled up in her knotty hair? Somewhere between her mother's untimely death, her older brother's disappearance, and this long, steep road to fame, she'd gone and lost herself. Completely. Something she always swore she'd never do.
She blinked past the unexpected surge of emotion – tears would ruin her mascara and she didn't have the time to fix it. She'd been so desperate to prove herself, to make a mark in this cutthroat world so she never had to return to the life, and man, she loathed. She could still hear her father's drunken voice loud and clear, on the morning she'd finally had enough of his cruelty: 'You are your father's daughter, Indigo Nash. You're never going to amount to nothing.'
Well, she'd gone and showed him, hadn't she? Not that he cared. But a Grammy would fix that.
Desperate for air, she shot to her feet, grabbed her coat and dashed out of her dressing room. Her bodyguard, and childhood friend, had lectured her again and again to never go anywhere alone, but she just needed a few minutes to gather her wits before going on stage. The back door of the tavern was almost as stubborn as she was, and she had to give it a firm shove before slipping out of the noisy bustle and into the snowflake-dusted night. Her breath escaping her in little white puffs, she tugged her sheepskin-lined R.M. Williams jacket in tighter as darkness engulfed her.
Closing her eyes, she drew in a slow, deep breath and, counting to six, blew it away. The sharp blow to her head came out of nowhere. With no time to react or call for help, she was pinned between a mammoth man and the wall of the alleyway. His hand, pressing painfully hard against her mouth, tasted like sweat and filth. His other hand gripped her wrists and twisted them painfully up behind her. He snarled into her ear, ordering her not to cry, and she bit back sobs. His chin dug into her shoulder, and his laboured breath was rife with the putrid stench of alcohol. Then, to her horror, she heard his zipper going down. Her blood froze solid in her veins. Even though this sick bastard was almost twice her size, she had to do something, anything. Now.
Gritting her teeth, she lifted her left leg, hard and fast. Her knee hit the mark and with a cry, he buckled. It gave her a moment to retaliate, to fight for her life.
'Harley! Help me!' Her scream echoed.
Her attacker swore viciously as she used every bit of strength to try to break free from his hold – kicking, punching, scratching – but he quickly overpowered her and wrapped his hands around her throat, terrifyingly tight. She gasped for breath, clawing at his fingers, but his grip constricted even more. Her boots lifting from the ground, her vision blurred … until, from the shadows, a fist connected with the side of her attacker's jaw with a bone-shattering crunch.
Flying backwards, her assailant landed with an almighty thud, sending bins tumbling and rolling, his body limp, motionless.
Her knight in shining armour turned to her. 'Indy?'
Heaving a breath and shaking like a leaf, Indigo fell into the safe haven of Harley Knight's arms.
---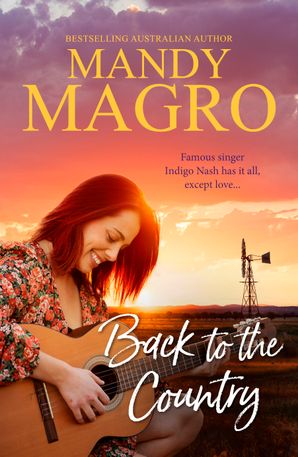 Back To The Country will be out in stores and online from the 4th of May 2022
Check out more of Mandy's rural romance titles