Author Alli Sinclair compares her latest release The Codebreakers to movies.
---
I love that storytelling comes in so many different forms: print, electronic and audio books; TV shows; podcasts and movies and we can pick and choose how to immerse ourselves in a story and characters. I find once I've written a draft of a book I need to refill my creative well and one of my favourite ways is to find a TV show or movie that whisks me away to different worlds full of characters I love (or love to loathe!).
Below you'll find a selection of my favourite movies. You'll quickly discover most of these are inspired by real-life people and events, just like The Codebreakers. I hope you enjoy watching them!
For the intelligent women working in a man's world: Hidden Figures
One of my all-time favourite movies that brings a group of highly intelligent Black women together in what is classified as 'men's work'. These wonderful women show they are just as capable (if not more) than the men who disparaged their abilities based on their sex and their race. Hidden Figures is inspired by the real-life female mathematicians who worked at NASA and it's a fabulous feel-good story that shines the light on a previously unknown part of history about incredible women doing amazing things.
For the friendships:  A League of Their Own
This fabulous movie is about a group of women in World War II who become part of the All-American Girls Professional Baseball League. These women are selected to play from all over the country and the friendships they form are powerful and, at times, fiery. Not only do they compete against other teams, they also compete for the attention of an apathetic public who don't think women can play baseball. As the women slowly gain followers, they battle other obstacles, including homesickness, losing their loved ones in the war as well as sibling rivalries (I love the competitive relationship between sisters Kit and Dottie). It's a feel-good, laugh-out-loud movie that has so many brilliant layers and shows us that girl power has been around for a very long time!
For the WWII and codebreaking atmosphere: Enigma
Set at Bletchley Park in the UK, this war thriller gives viewers a sense of how codes were cracked and the intense pressure everyone who worked for the war effort was under. A fictional story, it delves into espionage and takes viewers on a thrilling cat-and-mouse game.
For the heroine's strength and determination: On the Basis of Sex
Inspired by the real story of US Supreme Court Justice Ruth Bader Ginsburg, this movie follows Ruth's journey from being the only female law student at Harvard Law School while looking after her toddler and ill husband, to being one of the most influential women of her generation. Through determination and a strong sense of justice, Ruth takes on the American courts and constitution, fighting for the rights of women who have been unfairly discriminated against by the law. An uplifting and inspirational movie that will have you reaching for the tissues!
For the historical drama: The Imitation Game
Inspired by the life of Alan Turing and his involvement with Bletchley Park, where they worked on computers to crack the German's Enigma Code, this movie is more than a codebreaking story as it delves into the unjust treatment of gay people at the time, including one of the country's most intelligent men in history. Alan Turing and his team's development of codebreaking computers helped shorten the war in Europe and saved millions of lives. Much of what they developed helped shape the computers we use today.
For the epic love story: A Walk in the Clouds
Keanu Reeves is a returned soldier who chivalrously saves a young Italian woman from the wrath of her family? Yes, please! This beautiful historical romance blends post-WWII sensibilities and the challenges women and men faced after many years of upheaval and devastation around the world. The will they/won't they element of the romance is supported by a great cast of characters who do everything they can to keep these young lovers apart. If you're looking for a story with a beautiful HEA and leaves you with contended sighs, then this is the one for you. And, well, Keanu Reeves is always a bonus!
---
About the author: Alli Sinclair
Alli Sinclair, an adventurer at heart, has won multiple awards for her writing. She is Australian and has lived in Argentina, Peru and Canada, and has climbed some of the world's highest mountains, worked as a tour guide in South and Central America and has travelled the globe. She enjoys immersing herself in exotic destinations, cultures and languages but Australia has always been close to Alli's heart. Alli hosts retreats for writers and presents writing workshops around Australia, as well as working in film on international projects. She's a volunteer role model with Books in Homes and is an ambassador for the Fiji Book Drive. Alli's books explore history, culture, love and grief, and relationships between family, friends and lovers. She captures the romance and thrill of discovering old and new worlds, and loves taking readers on a journey of discovery.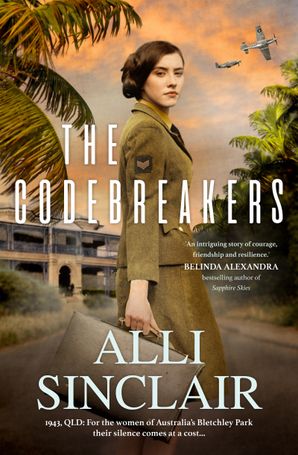 They will dedicate their lives to their country, but no one will ever know…
A compelling story about tenacity and friendship, inspired by the real codebreaking women of Australia's top-secret Central Bureau in WWII. For readers who love Judy Nunn and Kate Quinn.

1943, Brisbane: The war continues to devastate and the battle for the Pacific threatens Australian shores. For Ellie O'Sullivan, helping the war effort means utilising her engineering skills for Qantas as they evacuate civilians and deliver supplies to armed forces overseas. Her exceptional logic and integrity attract the attention of Central Bureau – an intelligence organisation working with England's Bletchley Park codebreakers. But joining Central Bureau means signing a lifetime secrecy contract. Breaking it is treason.
With her country's freedom at risk, Ellie works with a group of elite women who enter a world of volatile secrets; deciphering enemy communications to change the course of the war. Working under immense pressure, they form a close bond – yet there could be a traitor in their midst. Can the women uncover the culprit before it's too late?
As Ellie struggles with the magnitude of the promise she's made to her country, a wedge grows between her and those she holds dear. When the man she loves asks questions she's forbidden to answer, how will she prevent the double life she's leading from unravelling?
'An intriguing story of courage, friendship and resilience.' – Belinda Alexandra