Darry Fraser, author of the upcoming historical romance The Good Woman of Renmark, told us all about the history and inspiration behind her story.
---
By the time Daughter of the Murray had hit the shelves, my next story, Where The Murray River Runs, was going through its pre-publishing process. Someone remarked to me quite stringently that I 'keep referring to Sam and Maggie as if they're an important part of this story when they're not, so why bother mentioning them at all?'
The fact was, they were important; they weren't strangers—their own story was already winging its way about the batcave (my writing space/nook/brain) and in the way of family sagas, I knew that their story, after Dane and Georgina's, after Ard and Linley's, was on the boil. I was laying the foundations or hammering in signposts of what was to come. I found I really enjoyed the extended family idea, and all the storylines that could come from it.
In Daughter, I introduced the lovely O'Rourke family by way of an absent father in Liam O'Rourke. Suddenly, I had a springboard from which to launch many stories that would centre around the family on the mighty Murray, our much-loved Australian icon, and the social, economic and political climes of the late nineteenth century. What might all that have meant for women at the time?
It took a while for Sam and Maggie's story to come together, mainly because another story—also connected, but set forty years earlier—pushed its way in: The Widow of Ballarat. With that done, I revisited the Murray backdrop, and explored another part of the O'Rourke clan, in fact Liam's twin brother Lorcan's family. I already knew from Sam in Where The Murray River Runs that Maggie had taken off after an argument we weren't privy to at the time. Sam's best-friend-forever was Ard O'Rourke —who wasn't about to discuss his sister Maggie with Sam at all.
We knew that Maggie had stayed in Renmark after the irrigation scheme there had failed. She'd decided not to follow her family to Echuca to be part of the new venture—besides Sam was there; he'd followed Ard.
So what was it going to take to get Sam and Maggie together? That was the trick; two hard-headed people who knew they loved each other but somehow never found how to settle their differences and be together. That was my job. Oh boy—I had no clue.
You hear authors talk about the characters in their stories directing the author on the journey, not the other way around. It's true. Sam on the one hand was one-eyed; he loved Maggie with every ounce of his being BUT it didn't appear she loved him back, so he had to let her go for his own piece of mind. Let her go.
Maggie, on the other hand, began to realise that fear was driving her. (I didn't know that!) She was capable, clever and had an instinct for self-preservation. She was still a victim of her times, though, still a woman whose basic survival was almost impossible without a man beside her. Then after you married and, you know,had to do 'it' all the time, there was everything that entailed because then babies were inevitable. So frustrating for a modern-thinking woman like our Maggie.
Maggie, with her love of family and her staunch friendships, herself a decent person who highly valued honour and courage, found that her journey took her beyond what she thought she was capable of.
In the end, when we need to tap the deep well within, I think we're all a little bit surprised at how much strength and resilience we have inside.
By Darry Fraser
---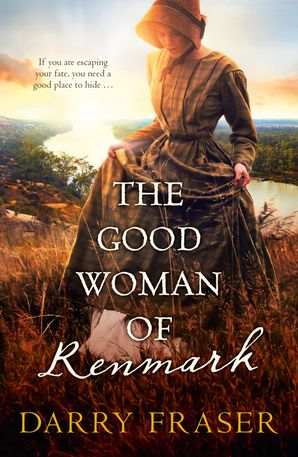 Adventure, romance and history combine in this thrilling 19th century journey through the South Australian bush and along the mighty Murray River in the company of a determined heroine.
1895, Renmark, South Australia
Maggie O'Rourke has always had a hard head. No man was going to tie her down to a life of babies and domestic slavery, even if that man was as good (and as annoyingly attractive) as Sam Taylor. Maggie is happily earning her own way as a maid in a house on the Murray River when disaster strikes.
Forced to defend herself and a friend from assault by an evil man, she flees downriver on a paddle steamer. With death at her heels, Maggie begins to realise that a man like Sam might be just who she wants in her hour of need. As for Sam, well, Maggie has always been what he wants.
The further Maggie runs, the more she discovers there are some things she cannot escape…