In my newest thriller, Mark of Guilt, reluctant psychic Lindsay Cavenaugh faces more than the usual challenges. Like a stigmatic acquiring the wounds of Christ, she spontaneously manifests the wounds of the victims she sees in her visions, while trying to convince cop-on-the-case and paranormal sceptic Garren Macklyn she isn't involved in the killings.
With shades of the popular TV series How to Get Away With Murder, my story is set on a (fictitious) Adelaide uni campus where students are falling victim to a serial strangler. Lindsay eventually teams up with Macklyn to solve the case (and in other ways!) but not before some mind-blowing phenomena and doubts on his part nearly drive her to despair.
With no control or understanding of her 'gift', Lindsay initially struggles to cope – a battle shared by the young protagonists of films The Shining and The Sixth Sense. For me it's the element of not being believed that strikes a particular chord. I used to have a recurring nightmare that everyone thought I was insane and no matter what I said to convince them otherwise it only made me sound crazier!
Another hero who endures this battle is Johnnie in the film (and follow-up TV series) Dead Zone. In struggling to come to terms with their 'gifts', such characters face the added challenge of their ability alienating them from the rest of society. In Mark of Guilt, Lindsay is estranged from her family, who were never quite able to come to terms with the abilities she displayed in childhood – a situation she fights to remedy through the course of the story. This struggle-to-find-acceptance theme is another that resonates strongly for me as it's one I think we all face in some form or another.
Anyone who loves characters with psychic abilities can't help but be drawn to the more recent series Stranger Things. In fact, as psychic characters go, Elle is top of my favourites list! I just love the mix of extreme vulnerability coupled with the enormous power this character exhibits. Traits that, not surprisingly, found their way into my heroine Lindsay.
What threw Lindsay into the ring with doubting cop Macklyn was the romantic thrillers of which I've long been a fan. Classics such as Hitchcock's Notorious, in which upright, dependable Dev falls head over heels for party-girl Alicia while at the same time questioning her motives and ethics. That tantalising mix of doubt and suspicious vs attraction gets me every time, especially between two such compelling characters.
Bottom line: if you like psychic heroines, hot cops and the sparks that often fly between them, my 'prediction' is you'll enjoy Mark of Guilt.
---
ABOUT THE AUTHOR: Diane Hester
Born in New York, Diane Hester is a former violinist with the Rochester Philharmonic and the Adelaide Symphony. Her debut thriller, Run To Me, short-listed in the 2014 U.S. Daphne du Maurier Awards. She lives with her family and numerous pets in Port Lincoln, South Australia.
Check out Diane's latest book Mark Of Guilt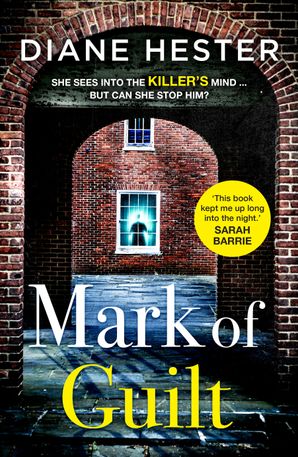 'A compelling read with an explosive ending. This book kept me up long into the night.' — Australian author Sarah Barrie
There's a murderer on campus. And Lindsay knows where to find the victims' bodies. But who is going to believe that she had nothing to do with the crimes?
All Lindsay Cavenaugh wants is to graduate university and prove to her family that she is normal. It's been almost ten years since she's had a vision, and she's sure she's grown out of her 'gift'. These days all she has to worry about is passing her exams and keeping her distance from her sleazy lecturer.
But when a girl disappears from campus, Lindsay's visions return with a vengeance. Not only does she see where the body of the missing student has been dumped, she also mysteriously acquires the bruises encircling the strangled girl's throat. The last thing Lindsay wants is to get involved with the police again, but how can she not report what she knows?
Detective Garren Macklyn has little patience for the so-called 'supernatural'. Those con artists are the reason his mother is lying in a hospital bed, fighting for her life. So, when Lindsay admits to knowing things only the killer could know, Mac has found his prime suspect. Even if she's not the murderer, Lindsay Cavenaugh is involved somehow, and Mac is going to get her to admit it.
But the more time Mac spends with Lindsay, the less sure he is. Is he letting his personal feelings cloud his judgement? Or is there really something more going on here? As the body count rises, Mac will need to decide if he can trust Lindsay. Her life may just depend on it.