Emily Madden's new book The Buchanan Girls is an Australian family saga set between 1940's and 2010's Sydney. To celebrate it's release we asked her to review another dual timeline love story, The Last Letter From Your Lover on Netflix.
---
'Don't Leave Your Love Story Unwritten.'
This is the tagline for the newly released movie The Last letter From Your Lover, a story of lost love and missed chances and the sacrifices we make, based on the 2012 novel by Jojo Moyes. The movie follows a pair of interwoven stories, one set in 1965, the other in the present.
Like The Last Letter From Your Lover, my upcoming release The Buchanan Girls is a dual-timeline novel. The two stories are linked together by a common thread and both deal with themes of lost love and missed opportunities.
A quick recap
In 1960s London, wealthy socialite Jennifer Stirling (played by Shailene Woodley) returns home after an accident—one that she has no recollection of. As Jennifer struggles to understand who she is and what her life was about before the accident, we get the sense that her marriage is perhaps not a happy one.
In the present, Ellie Haworth (played by Felicity Jones) takes on an assignment to write a story about The London Chronicles' recently deceased editor. As part of her research, Ellie needs to access the archives, which are guarded by quirky yet endearing Rory. It is here Ellie stumbles across a love letter, written to someone named 'J' from 'Boot'. Immediately, Ellie is hooked. Who were J and Boot? How did their story end?
As we traverse between past and present, we watch Jennifer and Anthony (who she affectionally names Boot) fall in love against the backdrop of the French Riviera, taking their relationship to a deeper level when they return to London. Their clandestine affair and depth of love is illustrated by their letters to each other.
When Anthony asks her to go to New York with him, despite being in a tenuous and loveless marriage, Jennifer is not willing to walk away. Jennifer feels bound by social responsibility and the financial security of her marriage. But, at the very last moment, Jennifer decides to follow her heart, and while rushing to meet Anthony, is involved in a devastating accident, resulting in her amnesia.
In the present, Ellie and Rory grow closer as they uncover more of the love letters. After spending the night with Rory, Ellie distances herself from him, afraid of getting hurt, and instead throws herself into her work.
When Ellie discovers that Jennifer and Anthony are still alive, she visits them both. It is through hearing about their regrets over their lost romance that Ellie realises she too does not want to live the same fate and pours her heart out to Rory, wanting to give their relationship another chance.
Upon Ellie's insistence, Anthony writes one last letter to Jennifer, asking her to meet him at Postman's Park, where he first asked her to go away with him.
When the two lovers reunite, through a sliding doors moment, they reimagine their past and we are given a glimpse of a world where Jennifer and Anthony ended up together.
As with many dual timeline stories, The Last letter From Your Lover is a roller-coaster of highs and lows. Let's start with the lows:
Jennifer's controlling husband, Lawrence, hiding Anthony's letter from her.
Lawrence again, lying to Jennifer when she discovers the hidden letter.
The look on Anthony's face as he's waiting for Jennifer (and the viewer knowing why she isn't going to turn up).
And now the highs:
The wonderfully quirky Rory. His straightlaced-ness against Ellie's free spirit is beautiful to watch.
Watching Jennifer and Anthony fall in love against the romantic backdrop of the French Riviera is sigh-worthy.
The moment when Jennifer and Anthony reunite at Postman's Park, where Anthony first asked Jennifer to go away with him, is a poignant way of linking the past and the present, as is the sliding doors moment.
The Last Letter From Your Lover teaches us that true love is about putting your heart and soul on the line. It's about taking a risk, a leap of faith. For if you don't, you may always be wondering…what if?
---
ABOUT THE AUTHOR: Emily Madden
Emily Madden covets books like some women covet shoes and handbags (although she has a decent collection of each of those too!). While she reads anything and everything, stories that touch the heart and uplift the soul are what she loves the most. Emily lives in Sydney with her two girls and husband. She's a coffee lover and can often be found writing at her local haunts.
You can email her at emilymaddenauthor@gmail.com, or connect with her on Facebook, Twitter, or Instagram.
Don't miss her brand-new book The Buchanan Girls. Out now!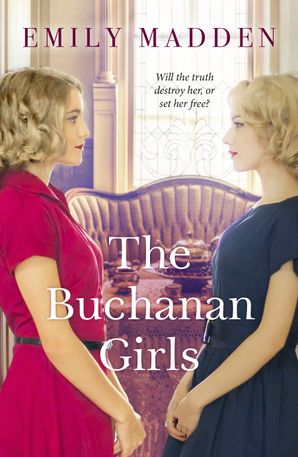 A sweeping family saga about betrayal, forgiveness and the cost of love.
Sydney, 1941: Olive and Ivy may be identical twins, but they couldn't be more different. While Olive is focused on marrying a man appropriate to her station, Ivy wants to do more, to be more. Joining the Australian Women's Army Service is the perfect chance for her to escape her family obligations and make a real difference in the world. She doesn't expect serving her country to lead to romance … or devastating betrayal and unthinkable grief.
As the war progresses, both Olive and Ivy find themselves wanting the same thing: for their loves to return safely. But neither of the Buchanan girls is ready for what the future has in store for them.
Sydney, 2008: Escaping her husband's betrayal and an impossible personal loss, Madeline returns home to Sydney to nurse her broken heart. As she settles into her new routine, it's too easy to consider never returning to New York and her old life. But her husband won't give up on what they have so easily, and Madeline can't ignore his messages reminding her of why they fell in love in the first place. With her grandmother's support, Madeline has to decide if forgiveness means reconciliation. But is the biggest betrayal yet to come?