Author Eva Scott recaps all the highs and lows of The Bachelor Australia premiere
---
Drama. Drama. Drama.
The Bachelor Australia 2020 season kicked off straight into controversy before we could draw breath. This year is going to be explosive one way or the other with girls already drawing lines in the sand and squaring up to fight over the Bachelor.
But first let's talk about Locklan 'Locky' Gilbert, a tall, dark, handsome free-diving base jumper and Survivor alum who loves burritos and wears his heart on his sleeve. (Is all that crying going to get annoying? We'll have to wait and see.) He looks like the kind of guy I'd write in the hero role of a steamy novel. Perfect. I like him.
Osher primes Locky up in his arbour of flowers and bring in the girls thick and fast. I'm a little concerned for the pathway. Looks a bit dodgy for high heels and a part of me is hoping for a spill or two. I am disappointed.
The girls are, as you'd expect, all gorgeous. Steph, Izzy, Nicole (*chemistry alert*), Irena (*chemistry alert*), Marlaina and her dog, Juliette and Maddy gracing the arbour in varying stages of nerves, all looking gorgeous.
Remember when two strangers could touch each other? #TheBachelorAU pic.twitter.com/HF7krS6PD7

— PUNKEE (@itspunkee) August 12, 2020
Then comes Areeba. She looks she's been watching far too many episodes of Keeping up with the Kardashians and has taken to the Boss culture like she invented it. She lays down the law to Locky, who takes a moment to find his feet after the onslaught of entitlement coming his way. He manages her beautifully but I suspect he's in for a bumpy ride with this one.
At this point in the show, it's become obvious to me that there are four categories of girls:
Sweet – think Maddy or Marg
Full On ¬– think Izzy. That girl is a giggle machine
Bombshell – Locky's term, not mine
And finally, The Piece of Work – I don't think you need my help filling in the names for this category. Oh, alright then. You've twisted my arm – Areeba, Laura and Zoe-Clare certainly fit the bill.
Then we have Rosemary in her penguin suit, a bold move that annoys a few of the contestants. (How about the moment when she peels off that costume to reveal an elegant black number hiding beneath? Genius.) The annoyance turns to upset later on when Locky picks her for the first date. He admires her moxie. He runs an adventure company in Bali, ladies. Of course he's going to go for a girl who isn't afraid to put herself out there.
But I digress. We need to talk about Zoe-Clare. She's introduced to us after the fun-loving Rosemary and what a contrast! This girl doesn't just have a chip on her shoulder, she's carrying the whole quarry! More about her later…
I could list the other girls for you but I'm not sure that's entirely necessary. Let's just say they are a bunch of sweeties, some with more potential to grab Locky's eye than others. Then comes Bella (*chemistry alert*) wearing what must be the most romantic dress of the evening.
Finally we get to the mix and mingle. This is where things get super interesting. The girls vie for attention and things get intense between Zoe-Clare and Areeba. Areeba crashes Zoe-Clare's chat time with Locky and it's gloves off.
Zoe-Clare is going to be one to watch this season, using terms like fanny flutter and moll that make me feel like I'm back in high school. Her obsession with her hair is curious. I don't think anyone gives a flying monkey that she's a redhead. I think her entitled attitude is what creates this chaos, that and possibly her bone structure…WTF? Later, Zoe-Clare is taken ill, which I suspect is a euphemism for having too much wine on an empty stomach but I could be wrong. She gets a rose in absentia anyway.
zoe-clare: the way the world treats girls and men with red hair needs to end.
australia watching #TheBachelorAU: pic.twitter.com/4DmZO0HMVQ

— stupid lamb 🐑 (@mynameistayIa) August 12, 2020
Areeba, Zoe-Clare and Laura are our bitchy queen bees this season. Laura does a nice line in criticism, slagging off many of the contestants who she clearly feels are beneath her. Although her attitude towards Bali (it's too dangerous and you can't drink the water) might put Locky off given that he runs an adventure business there and loves the place.
This season the major prize is the Triple Threat Rose. This rose entitles the receiver to a guaranteed single date, a place on the group date and a one-on-one at the Bachelor pad. Needless to say, competition is going to be fierce.
The first Triple Threat Rose goes to our dancer, Nicole. Locky is smitten, saying she's spontaneous, adventurous and has the kind of happy energy he likes to be around. After their Dirty Dancing lesson where they performed the iconic lift, I think we're safe in saying Nicole is a frontrunner for Locky's heart.
Nadine and Paige went home at the end of the evening, having missed out on a rose. While Laura got a rose she appears very bitter for many reasons mostly to do with her self-assessed superiority to the other girls.
Already this season has a train-wreck quality that's going to make it addictive watching until the end.
---
Eva Scott
Eva comes from a family of storytellers and has been writing her own stories since she could hold a pencil. Growing up in a multicultural neighbourhood in Melbourne, Eva developed her wanderlust and a passion for culture and language. She travelled the world, living in Britain before coming home to Australia to study Anthropology. Wanderlust got the better of her again, so Eva packed up and headed to Papua New Guinea to live and work where she was completely in her element. Eva's passion for the Australian country is born of her large extended family, which is spread out across the land. She volunteers at the local primary schools, teaching writing and working with children to incite a love of books and reading. Eva's books explore relationships, culture, our roles in changing society, love and loss. She loves finding connections with readers over shared experiences.
If you'd like to know more about Eva, her books, or to connect with her online, you can visit her website: evascottwriter.com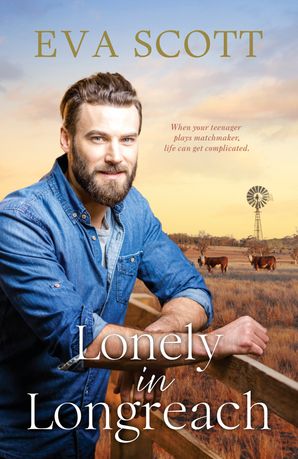 In the red heart of Queensland, two teenagers playing matchmaker are about to turn more than one life upside-down.
Widower Sam Costello has no time for love. When he's not working on his farm, he's trying to figure out how to connect with his teenage son Levi.
But Levi is about to finish high school, and he has big plans to move to Sydney for university with his best friend Maddie. If only he didn't feel so guilty about abandoning his dad. Maddie has her own reasons for wanting to go to Sydney and she's not going to let Levi's dad ruin her future happiness. Mr Costello needs a girlfriend and, with her talent for matchmaking, Maddie is the girl to make it happen. By the time Mr C figures out what she's done, surely he'll be too in love to be angry.
Journalist Sarah Lewis has a good job, a nice boyfriend and a safe life in Sydney. Though sometimes she wonders if life has more to offer than nice and safe. When she starts working on an article about finding love in the outback she finds herself asking whether journalists should become this invested in their research. But there's just something about Lonely in Longreach. Could it be that the man behind the dating profile is the key to the passion she has been looking for?
Sleepless in Seattle meets rural Australia in this fresh romantic comedy about optimism, online dating and love at first sight. 
Featured image credit: Network 10