We are SO excited that Farmer Wants a Wife is FINALLY airing on our TV screens. So, to celebrate, we asked some of our favourite Aussie authors to recap each episode for us. For the premiere we asked bestselling author of Something To Talk About, Rachael Johns. Also, don't miss Rachael's recap of Episode 1. 
---
This episode began with our farmers taking their chosen girls back to their farms for twenty-four hours of alone time before their other three contestants joined them. Anticipation and excitement were high and there were also a few nerves.
After a tour around the farms, the guys treat the girls to a romantic dinner. Some went all out to show off their culinary skills and charms, others left a little to be desired. There was only ONE kiss (or actually two but by the same couple), yet it looked like all couples enjoyed their evenings.
Neil skips straight to dessert, cooking chocolate fondue for Chantele. They get along really well, but she's worried that she's friend-zoning him! Harry doesn't only farm lamb, he also cooks a delicious-looking roast one for shy girl Madison. They seem to have a lovely night, both have been burnt before, but I fear Harry is more open to a new relationship than she is. Alex goes all out and cooks Jess a romantic dinner in the shearing shed, which he decks out with candles. Not only is it magical – his words – but it rains for the first time in EIGHT years!! Surely this is a good omen. Their evening ends with this season's first kiss and they both seem pretty damn happy about it. Alex even says he doesn't really want the other girls to come.
Meanwhile in Tassie, Nick takes Liz out to a fancy restaurant and woos her with someone else's wine. Hmm…anyone else find this a little weird? He owns a winery – surely he'd want to show off his wine? However, Liz seems less worried about the wine and more about having babies. She doesn't beat around the bush with Nick – almost immediately asking him whether he wants to have kids. I don't know if it's just me, but I'm not sure I believed his answers and I don't think Liz did either.
But this isn't as bizarre as Sam's situation. Sophie is not impressed when he presents her with a salad. 'I was expecting an Italian feast and I get a salad!' Of course, Mum saves the day when she turns up with a homecooked lasagne. Or does she? Sophie doesn't look as pleased by this turn of events as Sam thinks she is.
The next morning some lovely moments are had over breakfast – Alex makes Jess a sandwich and they banter about this. Seriously, it's like they're already newlyweds –someone get a celebrant already!! Harry and Madison share a little moment where he makes her promise not to go back into her shell when the other girls arrive. She agrees, but we soon learn she can't keep this promise. I'm not even sure she's trying (or am I being harsh?).
Now the fun begins when the other ladies arrive at each of the farms. Each of the three latecomers seem pretty chummy, but all are definitely dark and feeling a little behind the eight ball that they didn't get twenty-four hours alone with their farmer. Mostly the girls seem to get on really well with each other – some are definitely louder and more forward than others (*cough-Henrietta-cough*) but Madison doesn't seem to know how to play well with others. She's either extremely shy or so damaged from her past relationship that it really was too soon to come on this show.
The women are just starting to relax and enjoy themselves – feeding lambs, picking fruit, etc – when a letter arrives that drops a bombshell. The farmers are told that if they're not feeling chemistry or a future with any of the ladies, they can send one of them home TODAY!! Everyone is shell-shocked. The farmers are stressed at having to make such a big and hasty decision. The ladies are terrified they'll have to go home when they've only just arrived.
In the end, only Farmer Neil accepts the offer to send someone home, and I get the feeling he thought he didn't have a choice? He farewells Chantele because – she was right – he's put her in the friend zone. His other three ladies are shocked, but they also see what a genuine guy he is when they realise how hard this decision was for him. No one else sends anyone home, although I gotta say I thought Liz was going to walk out herself after asking Nick again about kids and not getting a favourable answer, and I thought for sure Harry would 'nicely' show Madison the door. The fact he didn't makes me think he really likes her, but I'm not sure they'd be compatible long term as he seems like a pleasantly social character, where she seems to struggle unless they're one on one.
The highs:
• Alex and Jess's pash in the rain and then again when he swept her up into his arms.
• Chantele telling Neil she doesn't need anyone but she wants somebody.
• Neil telling the girls that the secret ingredient to his dinner is love. And when one of the girls (think Justine) asks if the sauce came in a jar, him replying that 'love doesn't come in a jar.'
• Liz asking Nick the hard questions. I get the feeling he's a bit of a child despite being one of the oldest farmers on the show. She wants kids and he doesn't really give her a satisfying answer. She doesn't only ask him once, she asks him again in front of the others when she says the cabin he's renovated isn't kid friendly. Although I didn't warm to Liz at first, I'm liking her more and more.
The lows:
• Madison abandoning dinner, Harry finding her crying in her bedroom and then her not really accepting his attempts to comfort her. Girl – do you know how hard it is to find a guy like him?
• The look on some of Neil's girls' faces when they were trying to muster the sheep.
• Neil almost crying as he sent Chantele home – I was screaming at the TV that he didn't have to send anyone home if he didn't want to.
• Marnie! Puh-leese. Anyone else feel she's trying just that little bit too hard. 'Do you reckon they've had a kissy poo?' Who says that?
• Madison refusing to participate when they all went to feed the lambs! WHY?
Love watching Farmer Wants A Wife? You'd love these rural romance reads!
Huh? moments:
• Sam getting his mummy to cook dinner for his first date with Sophie. Get out NOW, girl!! Sure, we like a family guy, but there's family guy and then there's WAY too attached.
Lingering questions:
• Did Neil get confused and think he HAD to send someone home OR is he just the most mature and doesn't want to waste anyone's time?
• Do the producers have faves? I feel like we saw a lot more of Alex and Jess than we did of the others or is that just me?
Predictions:
• Harry will either tire of Madison's crippling shyness and refusal to even try to get close and send her home OR he'll marry her. At the moment, I'm leaning towards the first option. My bet's on Stace and Harry for the long haul.
• Nick will send Liz home the next time she asks about babies. As I mentioned above, I kinda thought she'd leave, so the fact she didn't has me a little confused. She says she knows what she wants and isn't going to apologise for that and yet I get the feeling she's also a woman who likes to win and doesn't want to retreat for this reason! Maybe she's as confused as I am.
• Alex and Jess will get married and have a zillion babies.
• Neil will choose Megan. Or maybe Justine? Or maybe Carissa?
• Sam's mum will decide none of the girls are good enough for her baby and they'll all go home with naked fingers!
---
Rachael Johns
Rachael Johns, an English teacher by trade and a mum 24/7, is the bestselling ABIA-winning author of The Patterson Girls and a number of other romance and women's fiction books including The Art of Keeping Secrets, The Greatest Gift and Lost Without You. She is currently Australia's leading writer of contemporary relationship stories around women's issues, a genre she has coined 'life-lit'. Rachael lives in the Perth hills with her hyperactive husband, three mostly gorgeous heroes-in-training and a very badly behaved dog. She rarely sleeps and never irons.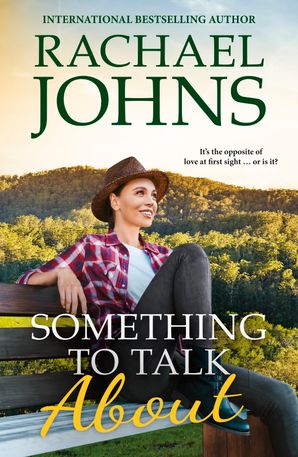 It's the opposite of love at first sight…or is it?
Dairy farmer Tabitha Cooper-Jones has a heart of gold, yet she's the eternal bridesmaid. Everyone's best mate. Despite facing some serious challenges over the years, she's built a successful ice-cream business and cafe, she's adored by her family and is an integral part of her hometown – there's just one thing missing from her life. But the last thing Tab wants is a man – or worse, love – to stop her achieving her dream.
In town for a temporary teaching contract, Fergus McWilliams thinks the small community of Walsh will be the perfect place to stay under the radar but he couldn't be more wrong. Suddenly, the kids' cricket team coached by Ferg is inundated with female supporters – single female supporters – and that's only the beginning.
The only woman who doesn't seem to have her sights set on Ferg is Tabitha. Despite a disastrous first meeting and a visit from a past love, circumstances keep throwing them together. Neither can deny the sparks between them, but can friendship even be possible for these two strong-willed people?
A moving story of overcoming obstacles and learning to love, from ABIA award-winning author Rachael Johns.
Featured Image via Fremantle Media