We are SO excited that Farmer Wants a Wife is FINALLY airing on our TV screens. So, to celebrate, we asked some of our favourite Aussie authors to recap each episode for us. For the third & fourth episodes recap we asked author of rural romance, Starting From Scratch, Penelope Janu.
---
It's been a lot of fun escaping to the farm for the Sunday and Monday night episodes of The Farmer Wants a Wife.  And an additional part of the fun this year has been having a few of my adult children (forcibly at home because of the NSW restrictions) watching with me.  Here are the highs, the lows, and all the other things I thought about when delving into the (for-better-or-worse) world of real life romance …
Sunday Night
Sunday night saw a few individual dates, and more time spent on the farmers' respective farms. Then the farmers and women all supposedly go to Farmer Rob's farm, but the giant hall they're in, with animal skins on the floor and antlers on the walls, does NOT look homely at all. Or does Rob have a secret wedding reception business on the side and grabbed the opportunity for a promo?
Farmer Andrew
The girls get to meet Farmer Andrew's dad, who says there's no room for false eyelashes or lattes at the farm. He has been married to Andrew's mum Robyn for 38 years – and that sort of commitment is what Andrew is looking for. Being a tea drinker, I loved Dad's recipe for bulk tea (half a kilo of tea to a forty-four gallon drum of water).
Andrew has a fun date with Rachel, but still seems to have a strong connection to Jess. At the pig spit shindig at Farmer Rob's place, the women make a pact that they can kiss and not tell, but when this is relayed to Andrew, he thinks it's all too much drama and retreats like a grumpy bear to his shady den to reflect. When Ash fights through the shadows to find him all alone by the fire, she's obviously a ray of light because he tells her she's drama-free and that's what he's looking for. And of course she gets the next date!
Farmer Will
Farmer Will dons his authentic blue singlet and takes his women to Bogan Shire, but all they seem to do there is drop by The Big Bogan at Nyngan. At the pig spit (do they have to keep showing that rotisserie?), Jessica rests her fancy shimmery boots (yes please!) on Will's thigh and makes equally shimmery eyes at him. And naturally she wins the date for the next day! Why Will feels the need to tell Jaimee all the dirt on his chat with Jessica is a mystery, but she is understandably upset because she was falling for Will, and she hasn't been on a date with him yet!
Farmer Rob
Farmer Rob demonstrates how to ear tag calves. Yes, it's a farm and a reality of farm life, but this process can be painful and stressful for the calves, and I thought there'd be some sort of acknowledgement of this. Or are all the women so determined to prove they are cut out for the country they don't react – it's not that they couldn't deal with it, but I think you might say ouch because … ouch! I love Meg but kind of cringed when she did the earring and nipple ring poses – the calves weren't laughing as the pins went through their cartilage!
Farmer Sam
Farmer Sam and his four women are in a ute and on a farm but there's something a bit fishy going on … for a start, what is it with all the echium plantagineum? Sure, the purple flowers are pretty, but this plant – also known as Paterson's Curse, and lots of other curses – is an invasive toxic weed! Surely not good farming practise!
Poor young Sam doesn't seem comfortable in the country or in a pub or anywhere else. At the pig spit, he speaks to Demi, Mackenzie and Allanah, but there's nothing to suggest any special vibes from them – except that they're treating Sam as some sort of prize in a game show …
Note: The pig on the spit caused division in my household. The menfolk echoed the men's views on the farm about good crackling while my vegetarian daughter walked out, never to return.
Monday night
More fun on the farm on Monday, and a surprise date at the end – which was a little Big Brotherish. A reality TV crossover perhaps?
Farmer Andrew
Farmer Andrew and Ash went kayaking, and then sat around a fire – thighs and arms pressed together – under the stars. These two get on really well – chemistry and connection. And Ash wields a mean chainsaw. The next day, Jess interrogates Andrew about whether he kissed Ash on the date and doesn't seem to like his answer. Andrew elects not to bring Emily, the date Mum organised, home. Good on him for avoiding drama (though he tries to create a little drama by pretending he has brought her home …)
When Andrew is asked by Caity whether she'd be the one that he'd send home, he says yes, and she leaves. Another undramatic drama for Andrew!
Farmer Matt
Farmer Matt and Brydie go to the local no-frills Chinese restaurant for their date, where she has the honey chicken and he has the honey king prawns (he likes the big boys). These two seem to get on well – but who wouldn't get on with Brydie. She's my fave! And being a plumber, she'd be so well suited to farm life!
Back on the farm with Matt, Tara seems to be surprised he has other women around. She's even snarkier when Matt brings Mum's choice Jacqui home from the pub. Someone might need to remind Tara of the rules of the game. Or Matt should cut to the chase and send her home.
Farmer Rob
Farmer Rob and Kate go on a helicopter flight over the Snowy Mountains, and then lunch somewhere nice where not the chemistry and connection words, or even the commitment word, but the kid word come up. Is this the beginning of the end for Rob? In a surprise plot twist, he subsequently sends Luce, Meg and Kate all the way home! Rob is a nice enough guy, and if he couldn't go any further with these three, fair enough. But it wasn't them, it was him! I'll miss the nightly aerial shots of his gorgeous property …
Farmer Will
Farmer Will and Jessica sit under the stars in the back of his ute, and Will presents her with a certificate – he's had a star named after Jess! No kissing for the cameras, but these two seem to get on well, so who knows what happened after the producer called cut?
He goes on a date with Brooke the embryologist, chosen by Will's mum. I would have liked a few questions from Will about transferable skills, and whether she could pursue her city career in the country. In the end, he tells her he has a connection with someone else (Jamiee or Jessica?). Much as this was the honest thing to do, I would have liked to get to know Brooke better. In her words, we might see her again on Pilot Wants a Wife. Another interesting premise. But wait, isn't that the next season of The Bachelor?
Farmer Sam
Farmer Sam and Alannah go on a picnic and of course he kisses her (because he kisses everyone). I suspect he might be better off spending more time with sheep and cattle and getting a connection and chemistry with the land he professes to farm. For the mum date? Sam, naturally, brings Chelsea home. And the women are NOT happy.
The Highs
Andrew's Dad's response to a question about his son's love life: 'We're a very close family, but not that close.'
Corn isn't easy to eat delicately off the cob. My daughters admired the women who did that.
All the farmers were prepared to give their mum's suggestions a go.
The Lows
Rob's comment: 'Another happy customer' every time a calf was tagged.
Rob couldn't find a 'lightning bolt connection' with any of the women. Why not?
My daughter's traumatisation re the pig on the spit.
Andrew's comment to Caity: 'I hope you find someone'. All very well for him to say when he's got three options waiting for him back on the farm.
Huh? Moments
Will and Jess both seem to be drinking flat champagne in the back of the ute.
Alannah: 'I've been in love before, and that feeling is indescribable.' Does she think about Sam in the way she thinks about the earlier bloke? Which poses the question, what happened?
Lingering Questions
Will Mackenzie ever unfurrow her brow?
Will Will's blue eyes fade with age?
Will Rob's lightning bolt arrive via his newly established Instagram account?
Predictions
Andrew and Ash
Will and Jess
Matt and Brydie
Sam and … no one. They all need to grow up.
Rob and … if he put his children first, it was the right call for now.
Love all-things rural romance? Check out our favourite Aussie reads below
---
ABOUT THE AUTHOR: Penelope Janu
Penelope Janu lives on the coast in northern Sydney with six wonderful children and a distracting husband. She enjoys exploring the Australian countryside and dreaming up travelling and hiking breaks. A lawyer for many years, she has a passion for social justice, and the natural environment.
Whether coastal or rural, Penelope's novels celebrate Australian characters and communities. Her first novel, In at the Deep End, was published by Harlequin in 2017, and her second, On the Right Track, in 2018. Nothing makes Penelope happier as a writer than readers falling in love with her smart and adventurous heroines and heroes. She loves to hear from readers, and can be contacted at www.penelopejanu.com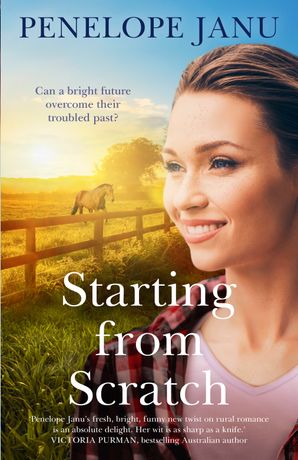 For readers of Karly Lane and Tricia Stringer…misunderstandings and injured pride stand in the way of true love in this charming rural romance from an award-winning and much-loved author.
'Penelope Janu's fresh, bright, funny new twist on rural romance is an absolute delight. Her wit is as sharp as a knife. She is one of my absolute must-read authors.' Victoria Purman, bestselling Australian author
After a troubled childhood and the loss of her beloved grandmother, Sapphie Brown finally finds somewhere to call home – the close-knit rural community of Horseshoe Hill.
The locals love Sapphie because she never gives up – as chair of the environment committee, with the children in her classes, the troubled teens at the youth centre, the ex-racehorses she cares for and even the neglected farmhouse and gardens she wants make her own. Sapphie gives second chances to everything and everyone. Except Matts Laaksonen.
An impossibly attractive environmental engineer who travels the world, Matts was Sapphie's closest childhood friend. He came to deliver a warning – now he doesn't want to leave.
All Sapphie wants to do is forget their painful past, but thrown together they discover an attraction that challenges what they thought they knew about each other. Do they have a chance to recapture what they lost so long ago? Or will long-buried secrets tear them apart?
In the flowers she creates from paper and the beauty that grows on the land, Sapphie has found perfect imperfection. Could that be what love is like too?


MORE PRAISE
'Intriguing characters and a colourful setting: if you like romance and a little mystery, get ready to enjoy this novel.' Tricia Stringer