We are SO excited that Farmer Wants a Wife is FINALLY airing on our TV screens. So, to celebrate, we asked some of our favourite Aussie authors to recap each episode for us. For the third & fourth episodes recap we asked author of rural romance, Summer In Serenity, Nicola Marsh.
---
This season of Farmer Wants a Wife is posing some interesting questions, particularly around Farmer Rob – more on that later – and Farmer Sam – is that really his farm?
So what happened this week?
On Tuesday night we see more snippets of farm life before the farmers and their ladies head to the Country Ball. Lots of flirting and 'what the …' moments, including the ROB BOMBSHELL!
On Wednesday night, the farmers go all out to impress their one-on-one dates. Questions are raised, the biggie being when Farmer Andrew asks his favourite, Jess, 'will you move here?' and I'm left wondering why you'd go on a show like this if you weren't willing to move; and some ladies, including a favourite, are farewelled. Tara is one of Farmer Matt's favourites but she's had enough of competing for his affections and walks!
The Highs
The Country Ball. Loved the colourful fashion and the daggy dancing.
Farmer Will and Farmer Sam get their ladies working on the farm. A good test to see how they'd fit into a life on the land.
Farmer Andrew's dad is a cutie (love his sense of humour; he didn't have to woo Andrew's mum, he just opened his arms!)
Andrew's giggly mum is a cutie too, dropping less-than-subtle hints about wanting her son married ASAP.
Rachel's sense of humour. Love her zingy one-liners.
The Lows
Farmer Matt bringing his mum's choice, Jacqui, home, when there doesn't seem much of a spark between them.
Jess being whiny: 'how many times did you kiss Ash, Andrew?'
Chelsea's embarrassing 'take over' while Farmer Sam is dancing with Nickia. Awkward!
Nickia pushing Farmer Sam backwards off the hay bale. Just plain weird. Some new kind of courting ritual I'm unaware of?
Jess torn between her career/friends/family in Melbourne and life with Farmer Andrew. Uh … why go on a show like this if not willing to move? Especially when the guy is really into you!
Leah's hayfever on Farmer Rob's farm. Uh … major problem if you want to live on that farm permanently!
Farmer Will's silent dinner with his ladies.
Tara moping for an entire episode, then leaving.
Huh? Moments
Jessica speaking sheep. Oh my.
Farmer Rob sending home his three remaining ladies (including the delightful Meg, sob).
Farmer Rob getting four new ladies. I mean, talk about setting a precedent! What's to stop other farmers doing the same in the future? At first I was like 'good on him for not leading them on' but to get a complete do-over … Rob must have a lot of lucky four-leaf clovers in his paddock because that was just … wow.
Some of the skimpy crop tops and short-shorts worn for farm work. Impractical!
Farmer Will's weird fist pumping at the Country Ball.
Am I the only one who has noticed Alex is Sam Frost's (of Home and Away/Bachelorette fame) double? I saw the resemblance the first night and thought it was Sam's sister!
Sam not too enthused on his hot air balloon date. Appeared completely bored. Poor Nickia, who's so bubbly and making an effort.
Farmer Rob's hand on Vici's butt helping her into the saddle. Uh … an accomplished horsewoman wouldn't need the help so was he copping a feel?
Farmer Rob's kiss on the lips with Leah as a greeting where the other girls got a cheek kiss.
Farmer Will's cockatoo shirt. My eyes!
Lingering Questions
The spark between Jess and Farmer Andrew seems strong, but will she move to the farm for love?
Ash appears the perfect choice for Farmer Andrew and is willing to move, but am I the only one who doesn't see a strong connection?
Is Farmer Sam genuine? He doesn't seem particularly drawn to any of his ladies.
Since Farmer Matt came out and said he doesn't see a future with Brydie (the plumber who I think is lovely) or Chelsea, why keep them around even if Tara left voluntarily?
Does anyone else see potential with two of Farmer Rob's new ladies, Leah (the mountain guide) and Vici (the horse nutritionist)? Both could slot into his lifestyle easily.
Predictions
Farmer Matt will stick with his original choice, Hayley.
Farmer Andrew and Jess are good together but I fear she'll break his heart and Ash will help mend it.
Farmer Will and Jessica would be a great couple but I think Jaimee has captured his heart.
Mackenzie and Farmer Sam: she's the logical choice but not sure this is going to happen …
Farmer Rob and Leah would be perfect, if she can get the hayfever under control.
Love all-things rural romance? Check out our favourite Aussie reads below
---
ABOUT THE AUTHOR: Nicola Marsh
USA Today bestselling and multi-award winning author Nicola Marsh writes feel-good fiction…with a twist.
She has published seventy books and sold over eight million copies worldwide. She currently writes rural romance for HarperCollins Australia's Mira imprint, emotional domestic suspense for Hachette UK's Bookouture and contemporary romance for Harlequin Dare.
She's a Romantic Book of the Year and National Readers' Choice Award winner.
A physiotherapist for thirteen years, she now adores writing full time, raising her two dashing young heroes, sharing fine food with family and friends, barracking loudly for her beloved North Melbourne Kangaroos footy team, and curling up with a good book!
Readers can visit Nicola at her website: www.nicolamarsh.com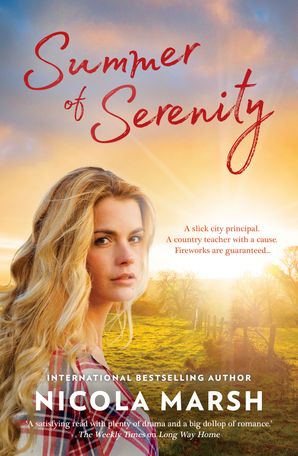 Opposites clash in the addictive new small-town romance from USA Today bestselling Australian author Nicola Marsh.
A slick city boy with a mission. A free-spirited country girl with a cause. Fireworks are guaranteed…
Upstanding principal Jay Atherton dreads the next four weeks. As punishment for crossing his bosses, he's been lumped with the inglorious task of assessing Acacia Haven's tiny school with its, dare he say, 'hippie' curriculum. With the lowest test scores in the state, it's no wonder shutting it down is practically a forgone conclusion. But then he crosses paths with a spitfire who knocks him for six – pity he's already public enemy number one…
Teacher Summer O'Reilly loves her small town nestled along the beautiful coast. Returning was the best decision she ever made. The intentional living community of Serenity is thriving, and the children are its future. No way will she allow a jumped-up suit – no matter how good-looking – to close the school her precious students need.
For Rayne O'Reilly, Acacia Haven has always been serene on the surface, but there's a dark secret she's kept from everyone for decades, including her daughter, Summer. But after reviving old friendships and reconnecting with the past, will she finally have the courage to tear down the walls that have kept her trapped?
PRAISE FOR NICOLA MARSH:
'I've fallen in love with the small town and the close-knit community.' Instagram review @wherethefksyourcake
'A beautiful and touching story, underscored by emotional themes, Second Chance Lane is not to be missed.' – Mrs B's Book Reviews
'A satisfying read with plenty of drama and a big dollop of romance.' – The Weekly Times