We are SO excited that Farmer Wants a Wife is FINALLY airing on our TV screens. So, to celebrate, we asked some of our favourite Aussie authors to recap each episode for us. For the ninth & tenth episodes recap we asked author of rural romance, Outback Secrets, Rachael Johns.
---
What happened this week?
It was a couple of big nights on FWAW with lots of surprising twists and turns. I spent a lot of time yelling at the TV – or rather at the farmers for making stupid decisions.
I've got to say, there's not a lot of actual farm work happening on episodes nine or ten. The big event is the camping trip, where all the farmers and their ladies reunite for a night sitting around the campfire. But before night falls, there is PLENTY of drama – the biggest in the form of Tara returning, after deciding to go home the previous episode, and asking Farmer Matt to take her back. He only hesitates a moment before welcoming her with a massive hug, but back at the campsite his other girls aren't so welcoming. And who can blame them? This experience must be emotional and confronting enough without girls coming and going as they please!
It's clear the latecomer Chelsea (Farmer Sam's mum's pick) is struggling, and after a heart-to-heart with Sam, who admits he only sees her as a friend, she decides to head home.
With the final one-on-one date up for grabs, the girls are all trying to get time alone with their farmers to plead their cases. In the end, Farmer Will picks Kristina, Farmer Sam picks Mackenzie, Farmer Rob picks Kate, Farmer Matt picks Hayley, and Farmer Andrew picks Rach. I've got to admit I'm gutted Andrew didn't give Ash another go, but when he admits it's because he feels sparks with Ash and Jess and just wants to check there's nothing more with Rach, he redeems himself a smidge. Love ya Rach, but Ash is my pick for Andy!
The dates (mostly) go well, but they definitely clear a few things up. We see abseiling, motorbike riding, a romantic seafood meal, a trip to the zoo and a couples massage. Sadly, Rach and Andrew's date ends in her going home. It's a gracious exit on both their parts, but it's clear Rach has stronger feelings than he does for her.
When they get back to the farms, things start moving pretty fast.
Matt quickly packs off Brydie and Jacqui – telling them he's friend-zoned them both. But the biggest surprise is when Will takes Kristina and Jaimee yabby-hunting and on their return Jessica is nowhere to be found. That's right – she's absconded without a word to Will or the other women. WTF?! The least she could have done is left a note! Now there are only three farmers that actually have to send ladies home at dinner as the decision was taken out of Andrew and Will's hands. Rob tells Leah she's just friend material and Sam says goodbye to Demi.
But the biggest surprise of night is when Matt sends Hayley home – thought she was his frontrunner for certain!
Finally, all the farmers are down to two ladies and, honestly, I feel like it's still anyone's game.
Highs:
Jaimee's jumper! So bright and colourful.
When Andrew said his date with Ash was the best he's had
When Kate starts drawing on a serviette to explain relationship connections to Rob.
When Ash proposes a contest with Jess – the girl who does the best sheep drafting wins some one-on-one time with Andrew! Of course she wins.
Lows:
Hayley crying when she talks to Matt. He's clearly torn between Tara and Hayley.
Andrew telling Rach he only sees her as a friend. I felt so bad for her as she walked off alone to contemplate the situation by the dam.
Matt sending Hayley home – what the actual!?!!
Huh moments?
Tara being allowed to come back.
OMG, Jessica broke her wrist doing some late-night gardening. (Is that code for 'got pissed and fell down'?) WHY didn't we see that!? 
Andrew taking Rach on the one-on-one date! But then he explains he has a better connection with Ash and wants to explore if there's anything there with Rach. Hmm … I get his reasoning, but is he doing too much due diligence?
Jessica leaving Farmer Will's farm without saying goodbye to him or the other women.
Lingering questions:
Will the girls get the chance to take the farmers home to meet their families?
Is Rob really back for the right reasons or is he just biding time until he can put FWAW behind him?
Do Farmer Sam's girls know the truth about his home/work situation? Is he actually a farmer or a truck driver?
Will we ever hear from Jessica again?
Where do the girls go when they leave the farm late at night? Are they taken to the local motel to drown their sorrows?
Love all-things rural romance? Check out our favourite Aussie reads below
---
ABOUT THE AUTHOR: Rachael Johns
Rachael Johns, an English teacher by trade and a mum 24/7, is the bestselling ABIA-winning author of The Patterson Girls and a number of other romance and women's fiction books including The Art of Keeping Secrets, The Greatest Gift and Lost Without You. She is currently Australia's leading writer of contemporary relationship stories around women's issues, a genre she has coined 'life-lit'. Rachael lives in the Perth hills with her hyperactive husband, three mostly gorgeous heroes-in-training and a very badly behaved dog. She rarely sleeps and never irons.
Check out Rachael's upcoming book Outback Secrets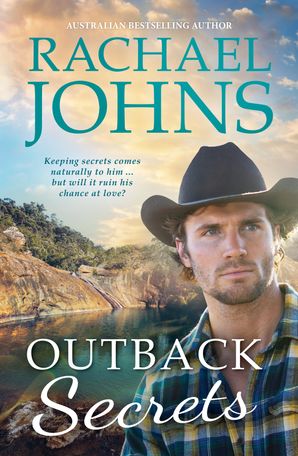 Keeping secrets comes naturally to him … but will it ruin his chance at love?
Liam Castle knows the secrets of everyone in Bunyip Bay. As the owner of the pub, he's heard it all – from marriage proposals and farming disasters to family rifts and everything in between. The locals love to confide in him, but no one knows he's hiding a tragic past.
And he wants to keep it that way.
Agricultural pilot Henrietta Forward lives for her job, choosing work over romance. But when an incident in the air brings Henri home to Bunyip Bay earlier than planned, she finds herself questioning everything she believes about herself.
But Henri's secret isn't her only problem.
Her mother will stop at nothing to have her settled down back in the Bay, and while Henri had always known domesticity wasn't the life for her, now she wonders what her future holds. So when Liam – always the first to lend a hand to those in need – agrees to play along with Henri's scheme to ward off her mother, she has mixed feelings. What happens when a pretend romance starts to feel like the real thing?
Will Henri's demons and Liam's traumatic past prove too great a barrier to love?