We are SO excited that Farmer Wants a Wife is FINALLY airing on our TV screens. So, to celebrate, we asked some of our favourite Aussie authors to recap each episode for us. For the first episode's recap we asked author of debut rural romance, The Vet From Snowy River, Stella Quinn.
---
And we're off …
Park your cynicism in the shed with the old tractor, viewers, and prepare to be charmed … the 2021 season premiere of Farmer Wants a Wife was a ripper! Luscious film of rolling paddocks and kelpies chasing sheep along high country creeks set the scene for romance … rural style. Here is Stella Quinn's recap of the first episode.
For those of you who don't know the format, it's this:
Five farmers have each chosen eight candidates from a pool of thousands of wife entrants
Each farmer has a one-on-one chat with their eight and must whittle the wife candidates down to five women who will be invited onto their farm
One potential wife is given top billing – and a chance to head to the farm with their farmer 24 hours ahead of their competitors
Three potential wives must leave the show
Okay, you've got the set-up, now let's give the blokes a rundown:
Farmer Rob is 40 – I know, that silver fox beard is a little disconcerting; get over it – and a sweetheart. 'I'd love the lightning bolt to strike again,' he says. He's the most relaxed of the blokes. You get the feeling if a bushfire happened to rip through the Hunter Valley lodge where the meet & greets are happening, he'd be able to drive everyone to safety and hose the place down, all while spinning a yarn about his beloved Snowy River country.
Farmer Will is (I'm guessing) next in age. A cattle farmer from Longwood Victoria, he tells us he's shy when meeting women: 'not ballsy enough to go up and use a line,' he says, but his shyness wears off pretty quick. He's got high hopes for Farmer Wants A Wife – his best mates Rob and Jo are a successful pairing from a prior season – and you can see he is Taking This Seriously. He comes across as smart and sweet, and I'm pretty sure viewers' hearts across Australia melted when he said of his future, 'all you have is hope'. Oh. And did I mention those eyes? As one of his eight candidates said, 'he's strappingly good looking'.
Farmer Andrew. Be still my beating heart. This sheep farmer from Delegate, NSW, population 350 (351 after I move there tomorrow) was my favourite after one minute of air time. Was it the flanny shirt? The blush that rushed up his face and didn't recede when he had to catwalk through the 40 women at the start of the show? His charm had a practical streak, however. 'So you'll have a crack on the farm?' he asks candidate Ash.
Farmer Matt looked so nervous. Incredibly nervous. He refers to himself as an Aussie bogan and won my heart when he said he hoped his future would include 'kids jumping across the hay bales'. He spoke lovingly of his dad – his hero – who had not long passed away.
Farmer Sam is the youngster, and it showed. By turns a little cocky and a little cringy, he cleaned his own slate and became a sweetheart again before the end of the episode when he said, 'I'm hoping the ladies will see a less nervous side of me'. A bloke capable of self-reflection? Yes, please.
Whittling down the wife candidates from 8 to 5
Us reality-TV show experts know that time on screen in the first episode gives us a hint as to who'll be sticking around for the rest of the show, and it comes as no surprise that the three wife candidates the farmers chose to go home were women we hadn't heard from. The exception was the lovely Natalie, who was quick enough to recognise she had shot herself in the foot with too much footy talk: 'I friend-zoned myself'.
A few awkward moments presented themselves. Most notably, Farmer Sam's line 'Have I caught you yet?' to the woman who liked fishing was enough to make my teenager 'tap out' from viewing! Farmer Rob won comment of the night when he asked the forensic pathologist if she could unravel a few mystery sheep deaths for him. He threw back his silver beard and laughed, though, and you know what? Farmer Rob can deliver a line. His date was charmed.
The 'date' locations were suitably romantic for the task: a vintage flatbed truck, prettied up with hay bales and a tartan rug; a wicker setting on a wide verandah; a snug, panelled library; and a sawn-off ute (who knew that was a thing?) with cushions and some greenery trailed whimsically across its roof.
For some reason that no doubt has its roots in unconscious bias and boarding school and not being breastfed, I wasn't expecting to warm to the women. I mean … there is something a little weird about volunteering to be chosen like stock in a cattle yard. I did warm to them, however. Among the frocks and the heels (and more vino chugging than you'd see at a B & S ball) there were warm hearts, and anxious faces, and stories of women who really, genuinely, hoped Farmer Wants A Wife would be a turning point in their lives. It was desperately sad seeing the unchosen few gather their pride and walk away. #respect
Once the dates were done, the Farmers Five gathered around a wine barrel for some much needed bloke time before the big sort, and were then called out one by one to announce out the names of the five wife candidates who'd be invited to the farm.
Farmer Andrew won major points from me when he said goodbye to his unlucky three and hugged them all. Farmer Will won points, too, when he said, as his unlucky three departed, 'I hope the girls left meet someone far, far better than me'.
Stella's photocopier-chit-chat predictions
If your workplace is anything like mine, the serious business of the day happens in two places: at the kettle, or around the photocopier. That's where we debrief on the important issues of the day, like who of the five women each farmer invited back to the farm will stick it out to the home paddock.
Here are my predictions:
For Farmer Will, I reckon Jamie will be a close contender, and there'll be some angsty stargazing while her merits are catalogued, but ultimately I'm betting on Tammy for the win. Farmer Will might agree with me, because Tammy was his choice for getting the 24 hour home farm advantage, but he was cagey about it: 'she needs the farm experience', he explained, as he whisked her away into the starry twilight.
For Farmer Matt, I predict Hayley for the win, and Brydie for the on-again, off-again yes-but-ultimately-no contender. Farmer Matt chose Hayley to be his 24 hour companion.
I'm taking thelong odds for Farmer Rob. His first choice was Meg, and she was pretty chuffed about it. I predict: too chuffed. No way all that good humour can last a dark and dirty night plucking frozen lambs out of a ditch, or whatever else the FWAF producers have in store. I'm predicting the Scottish lassie Shannon for the win.
For our young nervous chatterer Farmer Sam, I'm picking Mackenzie for the win, with Nickia being the favourite to beat.
And Farmer Andrew? Gosh, if someone had tossed him a bouquet he might've dropped to his knee on the spot. Jess will be the candidate for the other four women to out-wife. He was smitten, and who could blame him? These two had enough chemistry to set the spark plugs afire on the old vintage ute they had their date on. Desperate to know more? Strap yourself to your couch tonight at 7.30 for the next episode of Farmer Wants A Wife. Can't wait until then? Maybe you need to check out some rural romance where the happy endings already decided …
Love a bit of Australian rural romance?
---
ABOUT THE AUTHOR: Stella Quinn
Stella Quinn has had a love affair with books since she first discovered the alphabet. She lives in sunny Queensland now, but has lived in England, Hong Kong and Papua New Guinea. Boarding school in a Queensland country town left Stella with a love of small towns and heritage buildings (and a fear of chenille bedspreads and meatloaf!) and that is why she loves writing rural romance. Stella is a keen scrabble player, she's very partial to her four kids and anything with four furry feet, and she is a mediocre grower of orchids. An active member of Romance Writers of Australia, Stella has won their Emerald, Sapphire and Valerie Parv Awards, and finaled in their R*BY Romantic Book of the Year award.
You can find and follow Stella Quinn via her website.
Love Australian rural romance? Check out Stella's debut book The Vet From Snowy River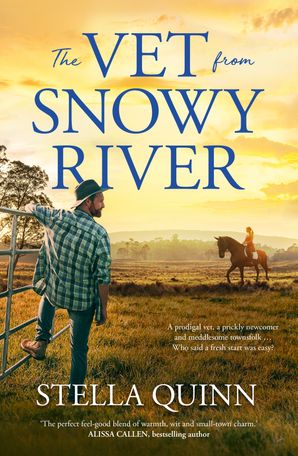 A hot vet. A rebellious teenager. And meddling but well-meaning townsfolk. Vera gets more than she bargains for when she runs off to a new life in the country … A fresh and funny rural romance, perfect for readers of Alissa Callen and Rachael Johns.
Vera De Rossi no longer believes in love …
And thanks to her ex-boyfriend­ she's also broke, jobless, and staring down the barrel of a court case that could land her in prison. Turning to her talent for baking, Vera opens a cafe in Hanrahan, a cosy tourist town in the foothills of the Snowy Mountains.
Josh Cody, once Hanrahan's golden boy, escaped sixteen years ago with gossip hard on his heels and a pregnant girlfriend in tow. Now he's back: a qualified veterinarian – and a single dad with a lot to prove. A new start and a grumpy teenage daughter … it's a lot to juggle, and there's no room in his life for further complications. But that's before he walks into The Billy Button Cafe and meets its prickly owner …
Reeling from the past, Vera has no intention of being sidetracked by the hot vet with a killer smile. But fate has a way of tripping up our best intentions and between a stray cat and a busybody with a heart of gold, this is a town – a family – unlike any other. And, whether Vera wants it or not, is there anything a family won't do to help one of its own?
PRAISE:
'The perfect feel-good blend of warmth, wit and small-town charm. This debut will leave you smiling.' Alissa Callen bestselling author of Snowy Mountains Daughter