We are SO excited that Farmer Wants a Wife is FINALLY airing on our TV screens. So, to celebrate, we asked some of our favourite Aussie authors to recap each episode for us. For the final week's recap we asked author of upcoming rural romance, Second Chance Lane, Nicola Marsh.
---
I can't believe this season of Farmer Wants a Wife is done and dusted. Watching the relationships develop between the farmers and their respective ladies has been riveting. There has been heartbreak along the way (poor Sam) but some sweet highs too.
So, how did the finale pan out?
WHAT HAPPENED ON SUNDAY?
In Sunday night's episode, the ladies left the farms and headed home, giving the farmers a week of soul-searching before making their final decision. After a week apart, the farmers visit the respective towns where their ladies live.
First up, Neil travels to Caloundra, Justine's hometown. He meets her kids and it's incredibly sweet. Then he heads to Bathurst to spend time with Karissa, her mum and her brother. The fact she doesn't introduce him to her kids pretty much gave away who he's going to choose. She's a protective mum and why bother introducing him to her children if he's not a keeper?
Harry travels to Buderim, where Madison lives. He leaves kissing her until this final parting, saying he wanted to do that from the start? Then Harry travels to Geelong to see Stacey. They are adorable together.
Nick heads to Sydney to spend time with city girl Naomi. He meets her friends, who give him a good old-fashioned grilling! His time spent with Liz in her home city of Brisbane is much more relaxed, even if her three close male friends intimidate him.
Alex visits Geelong to spend time with Jess, her mum and her sisters. Jess's sisters scare him off with how close Jess is to her family and has him doubting if he can tear her away. Thankfully, Jess reassures him she's happy to move for love.
Lastly, Alex meets with Henrietta at her 'local pub', the gloriously posh Palazzo Versace hotel on the Gold Coast. (As someone who has stayed in this gorgeous place, it is NOT a local pub!) Henrietta confronts Alex, telling him to be sure, then walks out on him and we're left knowing/hoping he chooses Jess.
THE HIGHS
• The vivid sky-blue of Alex's shirt bringing out the blue of his eyes. (Yes, he's my unabashed favourite!)
• Stacey using her horse to get up close and personal with Harry. The two of them riding together was beyond cute.
• Karissa's classy exit speech.
• Naomi's friend confronting Nick on the street and asking the hard questions. Bravo!
THE LOWS
• Neil giving away his choice early, confirming he has a friendship connection with one woman and a romantic connection with the other. Pretty obvious who was who!
• The producers fooling us into thinking Harry would ditch Stacey by having her arrive first. There was a collective 'noooooooo!' reverberating around Australia before all was well with his choice.
• Harry fake proposing by getting down on bended knee at the end. Don't get our hopes up like that, sweet Harry!
• Jess's sisters sabotaging her chances with Alex by accentuating their close family bond.
• Nick saying he's a little scared of Naomi and 'would you like to kiss my bubble' on his cocktail. Cringey!
HUH? MOMENTS
• 'This view is going to miss you,' Nick says to Liz and Naomi as they leave his farm. He still can't articulate his feelings and say 'I'll miss you'?
• Harry saying he wished he got closer to Mads earlier rather than pushing her away. Then how did she end up in the final two?
• Justine being blunt – 'If you pick me I can't pack my bags and move in with you' –because of her kids and life in Caloundra. Then why go on the show in the first place?
• Harry arriving on Stacey's doorstep – his drawn-out hug was fine but his expression appeared pained, almost a grimace?
• Naomi saying if her friends don't like Nick she doesn't want to date him. Uh…whose life is it?
• Harry pashing Mads and giving Stacey a chaste peck before leaving both girls?
• Alex and his dad wearing matching blue shirts. (I know, I'm obsessed with the shirt!)
LINGERING QUESTIONS
• If Justine's not willing to move to Neil's farm, how will their relationship develop?
• What happens if the spark fades, Neil? Basing your decision on spark alone can be dangerous.
• Will Nick want to have kids as fast as Liz?
PREDICTIONS
• Megan will come back to be Neil and Justine's life coach as they throw a massive birthday bash for one of their kids at the Big Merino.
• Emma is judge for Best Wine in Tassie 2021 and she doesn't choose Nick's entry.
• Karlana's mystery man turns out to be Harry's cousin and their farms share a border.
• Alex renovates his shed to replicate a glam 'local pub.'
• Sam comes back for another crack at finding a spouse on next season of Farmer Wants a Wife (All predictions are firmly tongue in cheek, except this one.)
THE REUNION
SHORT RECAP
Alex chooses Jess because…well, we all thought they were perfect for each other and Henrietta had walked out on him. They take a trip to Tassie and appear smitten.
Neil was a passenger in a car accident, leaving him with a broken ankle and hand.
All the farmers have been working hard.
A month later, the farmers, including the previously heartbroken Sam, return to the studio for an 'on the couch' reunion where viewers got the lowdown on their romances…or not.
THE HIGHS
• Jess is so sweetly self-deprecating and, together with Alex, they're couple goals.
• After Neil comes out of hospital following a car accident, Justine drops everything and rushes to be by his side for four days. Aww…
• Sam finding love via the show…sort of. Kristen contacted him via one of his posts on Insta, they started dating and appear blissfully happy. Yay!
THE LOWS
• Harry and Stacey not working out. Sob! They seemed so perfect for each other.
• Nick choosing Liz, then withdrawing from her ONE WEEK later, using work as an excuse. Poor form.
• Alex friend-zoning Jess.
HUH? MOMENTS
• Alex initially saying 'I'm scared she'll hurt me' after Henrietta walks out on him, then later hooks up with her when things don't work out with Jess?
• Henrietta saying 'he has no idea how I feel' after walking out on Alex, yet she'd just told him 'you're not the one for me' so I'm pretty sure he knows?
• Alex hooking up with Henrietta after how she treated him?
• Nick doing an odd couples dance by himself at the end of the show, with no one in his arms. Fitting?
LINGERING QUESTIONS
• While Neil and Justine appear smitten, how will a relationship develop when they only caught up a few times in a month and chat online? As they said, there are ex partners and kids involved, so how will this relationship work in the long term when neither have the flexibility to move?
• Nick said he wanted to take his relationship slow, then gave it a week before calling it off. Will he ever be open to a real relationship? Saying 'you should date the complementary opposite' then choosing a woman he repeatedly said was the female version of him might show he wasn't truly invested in this process?
• Will Henrietta, who either jumped or cried around the animals on Alex's farm, ever move there?
• Was a week on Harry's farm long enough for Stacey and Harry to explore their relationship? Arguments are part of relationships. She met his friends and family. Seven days seems a really short time to call it quits…will Harry pull an Alex and reach out again?
Sad Farmer Wants a Wife is over for 2020? These books are the perfect balm to tide you over until the next season!
---
USA Today bestselling and multi-award winning author Nicola Marsh writes feel-good fiction…with a twist.
She has published seventy books and sold over eight million copies worldwide. She currently writes rural romance for HarperCollins Australia's Mira imprint, emotional domestic suspense for Hachette UK's Bookouture and contemporary romance for Harlequin Dare.
She's a Romantic Book of the Year and National Readers' Choice Award winner.
A physiotherapist for thirteen years, she now adores writing full time, raising her two dashing young heroes, sharing fine food with family and friends, barracking loudly for her beloved North Melbourne Kangaroos footy team, and curling up with a good book!
Readers can visit Nicola at her website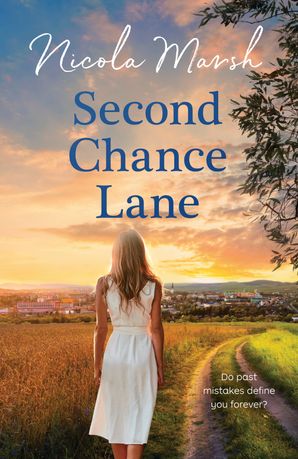 From USA Today bestselling Australian author Nicola Marsh comes a compelling story of love, redemption and community.
When the past crashes into the future, there's more than hearts on the line.
Natasha Trigg leads a simple life in small-town Brockenridge. She works at the roadhouse, has good friends, and at the centre of her world is her daughter, Isla. She knows dumping musician Kody Lansdowne thirteen years ago by misleading him about her pregnancy was best in the long run. She drove him away so he could achieve his dreams but has always felt guilty. When a matchmaking Isla invites a surprise new neighbour to dinner, Tash and Kody come face to face once again…
Now a bona fide rockstar, Kody's in hiding to sort through the mess his life has become after a concert resulted in devastation. The last thing he needs is discovering he has a child. Especially as it means the one woman he's never been able to forget is now permanently part of his life. Pity he's so furious with her…
For Jane Jefferson, who has deliberately fooled townsfolk into believing her reputation is worse than it is for years, a second chance is something she thought she'd never get. Reconnecting with friendships she thought lost forces her to face the question: do past mistakes define you forever?
While navigating the troubled waters of forgiveness, friendship and love, will these three Brockenridge residents discover everyone deserves a second chance?
PRAISE FOR NICOLA MARSH:
'A satisfying read with plenty of drama and a big dollop of romance.' – The Weekly Times
'Her style is compassionate, witty and engaging with a diverse character set and a palpable love of the region she has set the story. ' – Mic Loves Books