We are SO excited that Farmer Wants a Wife is FINALLY airing on our TV screens. So, to celebrate, we asked some of our favourite Aussie authors to recap each episode for us. For the premiere we asked bestselling author of Something To Talk About, Rachael Johns.
---
How many years have we been waiting for a return of Farmer Wants a Wife?
We love a good rural romance and can't wait to watch #FarmerAU! https://t.co/7JWS1VQ24y

— Harlequin Australia (@HarlequinAUS) July 16, 2020
I've been hanging out for a new season of this rural romance reality TV show for SO long (or at least it feels that way) and I'm so excited for this new season! Five hot farmers and FORTY women – what could possibly go wrong?!
What happened this week:
This series began with a gorgeous intro reminding us of all the successful romances and marriages and babies that have come from Farmer Wants a Wife over the last ten years. It was so heartwarming to see all the photos of previous contestants – it really does feel like this show has a track record of success that not many other dating reality TV shows have.
First things first. Host Natalie introduces the five farmers.
• Alex is adorable and so innocent, or so he seems
• Harry is gorgeous and down to earth, reckons he tells things how they are
• Neil speaks very fondly of his first wife – if their marriage was so good, I can't help wondering what went wrong
• Nick. I'm not sure how I feel about him yet
• and Sam. Is he a little bit cocky?
We have a good spread of guys – in age range and what they farm, everything from sheep and cattle to cotton, fruit and grapes. Can't help noticing a few of the girls were VERY keen on the idea of marrying a guy who runs a vineyard. Move over diamonds, I think wine is the new girl's best friend!
The farmer's profiles were put online and women from all over the country applied, and the farmers chose their favourite eight to meet. The women talk about why they applied and it's clear they're all hoping that the farmers will be a bit more real, a bit more honest, bit more 'old school' than the city boys they meet on Tinder. Tonight, each farmer had a quick 'date' (conversation) with each of their eight potential suitors, and then they had to choose four to take back to the farm.
The highs:
• Alex talking about his Tinder radius going up to 160 kilometres, finding five women and no matches!
• Harry saying he's looking for a girl like a John Deere tractor – reliable but hopefully not as expensive.
• Sam's mum's advice. Don't go for looks, go for personality!
• When Harry had to deal with tears on his very first 'date'.
• I love that one of the women is also a farmer. When Chantele told Neil that her farm was bigger than his, I was like 'Go girl!'
• Tahlia offering to milk a cow with Alex.
• Sam falling in love left, right and centre. 'If there was a jeweller's shop next door, I'd ask her to marry me right now', then to the next girl, 'Do you wanna just get married right now?'
• Harry saying he didn't know he had to pick as he'd never seen an episode of the show before.
• Stacey's happy tears when Harry picks her!
The lows, or, rather, the cringeworthy moments:
• Natalie trying to speak Italian with Sam – it made him look really stupid. And she looked really unimpressed that he couldn't understand her.
• Some of the cheesy lines. (Ok, I couldn't actually decide whether these were highs or lows):
Ainsley to Sam 'You could be my Crocodile Dundee.' Alex to Sarah 'I'm feeling good now I'm here with you.'
• One of the girls to Harry 'How big's your bed? Can you fit all eight of us?'
• Sam to one of the girls 'You're like an angel that fell from heaven!'
• Nick to Marnie 'This is my first rodeo.' Marnie back to Nick 'Gonna be a good ride.'
• Emma giving Nick a bottle opener because he is a wine guy and then him telling her they're not really needed anymore. Awkward. And Nick – didn't your mother teach you how to politely accept a gift even if you don't want it or it's useless?
Huh?? moments:
• Surprise that Nick didn't pick Rachel – they seemed to have a lot in common and a connection.
• Sam admitting he didn't think much of Riley's appearance but that her personality surprised him and then choosing her!! OMG! Way to win the girls over, Sam. Must admit I already had my doubts about Sam by this stage – he seems a little full of himself and this sealed the deal for me. If we were voting out the boys, I'd send him home!
Lingering questions:
• Is this more Bachelor-esque than other seasons of Farmer Wants a Wife was – or is my memory that shocking?
• Will Sarah tell Alex that she doesn't believe in sex before marriage OR will one of his other three girls let it slip?! The LOOK on their faces when she told them!! But good on Sarah for staying true to herself.
• Did anyone else see the cat when Neil was picking his four?
Predictions
• Henrietta isn't above playing dirty to get Alex onside. I'm not sure he can handle her. But my bet is he'll end up with Brittany or Sarah.
• Nick will choose Naomi – it was love at first sight – and Liz will be DARK about it.
• Sam will end up with Emily or Sophie, and Riley will find a guy who deserves her WAY more than he does.
• Neil had fabulous chemistry with Carissa and I thought she was the one from the start, but he and Justine both have kids and seemed to get along well too. It could go either way!
• Although Stacey and Harry clearly get along well and have a lot in common, my bet is on Madison. I think she'll really come out of her shell over the next few weeks.
Ooh I made the above predictions just before the bombshell was announced that they had to choose one woman to take to the farm and spend twenty-four hours with before the others arrived!! Interesting that Neil chose Chantele. Stoked that Harry chose Madison. Nick and Liz might actually be made for each other – not sure I trust either of them! I actually love that Alex chose Jessica – maybe my predictions above are all wrong!
The teaser for the next episode has reeled me in, and I cannot WAIT to see what happens when all the girls are on the farms and trying to win the affections of their farmer!
Love rural romance? Check out some of our recent favourites…
---
Rachael Johns
Rachael Johns, an English teacher by trade and a mum 24/7, is the bestselling ABIA-winning author of The Patterson Girls and a number of other romance and women's fiction books including The Art of Keeping Secrets, The Greatest Gift and Lost Without You. She is currently Australia's leading writer of contemporary relationship stories around women's issues, a genre she has coined 'life-lit'. Rachael lives in the Perth hills with her hyperactive husband, three mostly gorgeous heroes-in-training and a very badly behaved dog. She rarely sleeps and never irons.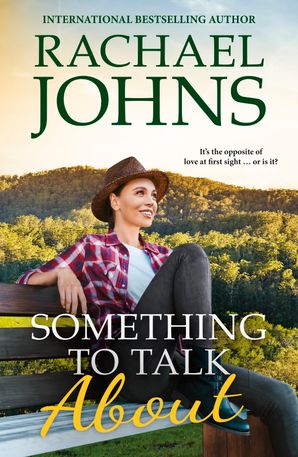 It's the opposite of love at first sight…or is it?
Dairy farmer Tabitha Cooper-Jones has a heart of gold, yet she's the eternal bridesmaid. Everyone's best mate. Despite facing some serious challenges over the years, she's built a successful ice-cream business and cafe, she's adored by her family and is an integral part of her hometown – there's just one thing missing from her life. But the last thing Tab wants is a man – or worse, love – to stop her achieving her dream.
In town for a temporary teaching contract, Fergus McWilliams thinks the small community of Walsh will be the perfect place to stay under the radar but he couldn't be more wrong. Suddenly, the kids' cricket team coached by Ferg is inundated with female supporters – single female supporters – and that's only the beginning.
The only woman who doesn't seem to have her sights set on Ferg is Tabitha. Despite a disastrous first meeting and a visit from a past love, circumstances keep throwing them together. Neither can deny the sparks between them, but can friendship even be possible for these two strong-willed people?
A moving story of overcoming obstacles and learning to love, from ABIA award-winning author Rachael Johns. 
Featured Image via Fremantle Media