We are SO excited that Farmer Wants a Wife is FINALLY airing on our TV screens. So, to celebrate, we asked some of our favourite Aussie authors to recap each episode for us. For the third week's recap we asked author of Up On Horseshoe Hill, Penelope Janu.
---
What happened this week?
The episode opened with a perfect setting for a country dance – a roomy rustic shed, gardens, drinks, food, music, hay bales and fire pits – for the farmers and the women they'd chosen to spend more time with. The farmers also shared one-on-one time with some of the women, so secrets were shared and a few hearts were, if not shattered, perhaps a little bruised.
The Highs
# Neil, the man who can't bear to let anyone go, certainly had his share of drama this week. While Justine was understandably upset that Neil had told Karissa and Megan that he'd kissed her on their date, she behaved like a cranky teenager for most of the evening. And even though Karissa (who, like Justine, should arguably have been dressed in green) spent half the night saying it was over with Neil and she'd had enough, she was back in the thick of things the next day.
# Neil took the three women to meet his (also blonde) ex-wife. And guess what? I think he should choose her! Though…that's right, they've broken up.
# We haven't been given much background on Nick – for example, he's been in the US for twenty-seven years but not quite sure what he was doing there…Tonight we met his mother and she was lovely! Even more importantly, when Nick didn't want to send anyone home, she posited a sensible solution – he should identify who was most special to him and hang on to her. Go the mums of this world! Which brings me to ask…where is Sam's mum, because this week finished with him in quite a pickle!
# Sam and Riley went horse riding at a beautiful beach location. The surroundings and horses were gorgeous, but Sam was riding in thin cotton shorts (with a saddle – not bareback). This immediately suggested to me that he wasn't planning too much action below the waist in the next few days. After the ride, he told Riley that there was no spark, and he preferred Sophie and Emily. Poor Riley!
# Emily told Sam she wanted to go home because she can't see a romance developing, which was kind and honest of her. And we also know that Sam is in the friend-zone, along with Riley. But if both these women go home, that leaves only Sophie. I guess we'll have to work out what happens on that next week, but I hope Sam's mum and nonna are around to pick up the pieces.
Loving the rural romance of Farmer Wants A Wife? Check out some of our favourite rural romance reads
The Lows
# Sarah told Alex she doesn't believe in sex before marriage, and he seemed okay with her 'old fashioned' values, which was good. Because surely if he liked her enough it wouldn't be too much of a burden to wait around? After all, he says he wants a forever relationship, and he'll move hell and high water if he finds the right girl. Weddings can be organised very quickly! And Sarah is only twenty-two to Alex's twenty-nine, so I think that is something else he could take into account when deciding who might be right for him. Sex before marriage doesn't mean there can't be intimacy in many other ways!
# I am a supporter of nice-guy Harry, but I wasn't too keen on his notion that Karlana had 'betrayed' him. Having a chat to a film crew guy on set does not a betrayal make, and would (should!) not have been a threat in any way. If Harry had liked Karlana enough, he could have tried to convince her he was the better bloke and he wanted the chance to prove that. If he didn't think a long-term relationship with Karlana was going to happen, he could have wished her all the best with finding love elsewhere. I suspect this was a reality television twist, but it didn't show Harry in a very good light.
# Harry went on a date with mechanical fitter Ash, but it was clear their parts weren't really meant for each other at all. And the pub for a date was pretty lame. I didn't get any chemistry there and wasn't surprised – and I don't think Ash was either – when she was sent home. She said she'd miss the show a lot, but I wasn't convinced she'd miss Harry. This leaves Madison and Stacey. We hardly saw any of Stacey this week, but Harry did say that he wanted to kiss Stacey 'every second of the day' so this looks promising for Stacey!
# According to Alex this week, 'It never rains, it pours – and tonight it's flooding!' Alex opens up and tells the women that his parents split up when he was nine, and all his relationships have failed, and he doesn't want that. Does he have abandonment issues and that's why he has trouble letting anyone go? Finally he does make a decision though (garnering respect in his household) and sends Brittany home.
Huh? moments
# After telling Karissa that '110% there is a connection', Neil says 'You're far from last'. What does this mean?
# Brittany works so hard cleaning the house for Alex – pretty much the only air time she gets – but she's the one who has to go home!
# Karlana, who eats fish but not meat or poultry, not only has to cook Harry a hearty carnivore breakfast, she is traumatised when herding the lambs because they get upset. Was she ever going to adapt to life on a working farm? Thank goodness there was no dehorning or castrating going on this week.
# Nick didn't kiss Naomi because he had a sniffle (which has a whole new meaning nowadays…). But he did say there was 'More chemistry than a test tube factory'. Are we in a high school lab here?
Predictions
Sam and Sophie might be the only two left standing on his farm, so they might make a match.
Harry and Stacey. I hope Harry has the opportunity to let his kindness and decency shine through again next week.
Nick and…no idea. I wasn't sure about Nick at first but now I know he's surrounded himself with strong women, I suspect he can do little harm in terms of breaking their hearts.
Alex and Jess. These two seem to get along together well.
Neil and Justine are a good match in some ways because neither of them can make up their minds about how they feel, but I'm not sure there is enough in this relationship to make it last long term. Megan is still a possibility, and I hope we see more of her next week.
---
Penelope Janu
Penelope Janu lives on the coast in northern Sydney with six wonderful children and a distracting husband. She enjoys exploring the Australian countryside and dreaming up travelling and hiking breaks. A lawyer for many years, she has a passion for social justice, and the natural environment.
Whether coastal or rural, Penelope's novels celebrate Australian characters and communities. Her first novel, In at the Deep End, was published by Harlequin in 2017, and her second, On the Right Track, in 2018. Nothing makes Penelope happier as a writer than readers falling in love with her smart and adventurous heroines and heroes. She loves to hear from readers, and can be contacted at www.penelopejanu.com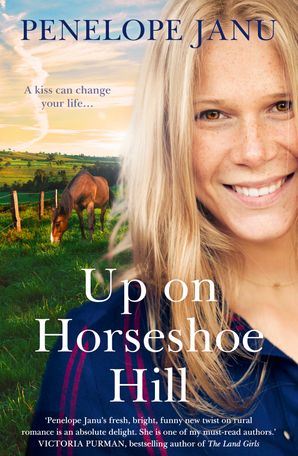 'Penelope Janu's fresh, bright, funny new twist on rural romance is an absolute delight. Her wit is as sharp as a knife. She is one of my absolute must-read authors.' Victoria Purman, bestselling Australian author
A kiss can change your life …
Jemima Kincaid loves her home, her horses and her job as a farrier. Life has not been kind to her, but Jemima is happy in the close-knit rural community of Horseshoe Hill, which rallied around in her hour of need. Even so, she is fiercely independent and will never rely on anyone again.
Particularly a man like Finn Blackwood.
An infuriatingly attractive geneticist and wild animal vet, Finn threatens not only the serenity of Jemima's present, but that of the future she has so carefully mapped out. But as their paths continue to cross, she finds her attraction to Finn impossible to counter, even as the trauma of her past threatens to undo her. Finn is fascinated by Jemima's solitary nature and unique vulnerabilities but Jemima knows all about loss and how to avoid it. Don't let anyone get close in the first place …
As the past begins to cast long shadows, Jemima and Finn discover that a kiss can bring worlds together-or tear them apart. Will they finally face their fears and find love on Horseshoe Hill?